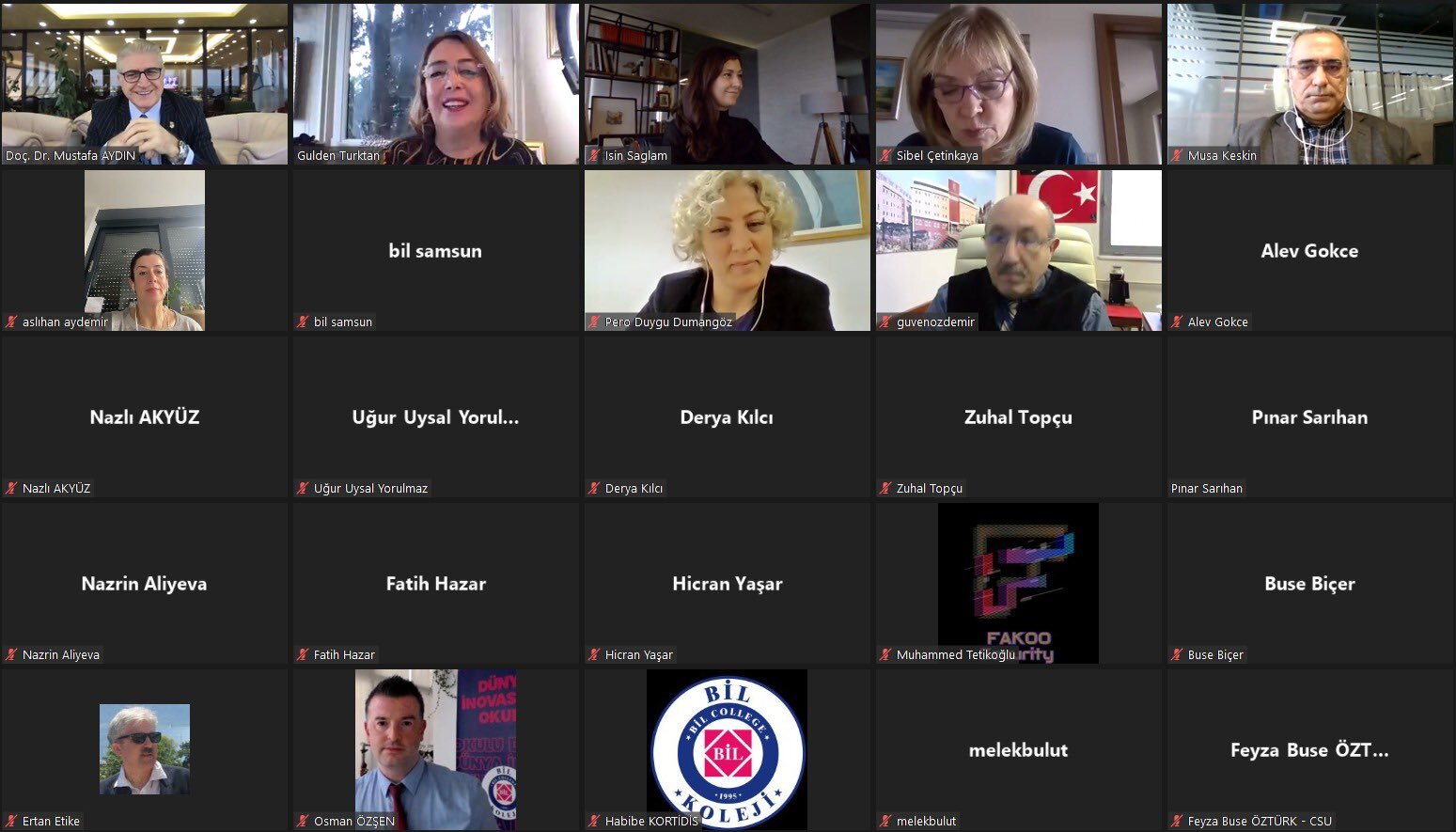 İstanbul Aydın Üniversitesi (İAÜ) Mütevelli Heyet Başkanı Doç. Dr. Mustafa Aydın, International Women's Forumun (IWF) düzenlediği çevrim içi toplantıya katıldı.
Doç. Dr. Mustafa Aydın, toplantıda yaptığı konuşmada iş dünyasındaki cinsiyet eşitsizliğine dikkat çekti. Aydın, "Kadının toplumdaki yeri, o toplumun medeniyet düzeyini gösterir." dedi ve dünyada kadınlara yönelik cinsiyet eşitsizliğinin, en çok siyaset alanında yaşandığını belirtti.
Doç. Dr. Mustafa Aydın, İAÜ'deki kadın istihdam oranlarını açıklayarak; öğrencilerin yüzde 52'sinin, öğretim personelinin de yüzde 45'inin kadınlardan oluştuğunu vurguladı. Aydın, Türkiye'deki kadınların iş gücüne katılım oranının ise yüzde 34 civarında olduğunu ifade etti.
Tarihin, kadınların eğitiminin ve her alandaki varlığının önemini ispatladığını da dile getiren Aydın; "Kurtuluş Savaşı'nda canla başla mücadele veren Kara Fatmalar, Şerife Bacılar, Halide Edipler, Tayyar Rahimeler ve Halime Çavuşlar; öne çıkan kadın kahramanlarımızdan sadece bazılarıdır. Ayrıca İslam dininin 'Oku!' şeklindeki ilk emri de, cinsiyet ayrımı yapmaksızın bütün bir insanlığa hitap etmektedir. Eğitimden yoksun bir öğretim, geleceği sadece karanlığa sürükler. Bunu unutmamalıyız." diye konuştu.
"Kadın isterse bir eliyle beşiği, diğer eliyle dünyayı sallar." sözünün önemine de dikkat çeken Aydın, kadınların tüm alanlardaki varlığının her zaman destekçisi olacaklarını söyledi.
---
"WOMEN'S PLACE IN SOCIETY SHOWS THE LEVEL OF CIVILIZATION"
The president of Istanbul Aydın University (IAU) Assoc. Prof. Mustafa Aydın attended the online meeting organized by the International Women's Forum (IWF).
At the meeting, Assoc. Prof. Mustafa Aydın drew attention to gender inequality in business world. "Women's place in society shows the level of civilization of that society." he said and he stated that gender inequality in the world is mostly experienced in the field of politics.
Assoc. Prof. Mustafa Aydın declared the female employment rates in IAU and emphasized that 52 percent of the students and 45 percent of academic staff are women. Aydın stated that the labor force participation rate of women in Turkey is around 34 percent.
Aydın also stated that history has proven the importance of women's education and their presence in every field. "Kara Fatma, Şerife Bacı, Halide Edip, Tayyar Rahime and Halime Sergeants who fought with their heart in the War of Independence are just some of our prominent heroines. In addition, the first command of the religion of Islam, 'Read!' appeals to all humanity, regardless of gender. Teaching without education will only obscure the future. We must not forget that." he said.
"If a woman wants, she can rock the cradle with one hand and the world with the other." Drawing attention to the importance of his word, Aydın said that they will always support the existence of women in all fields.