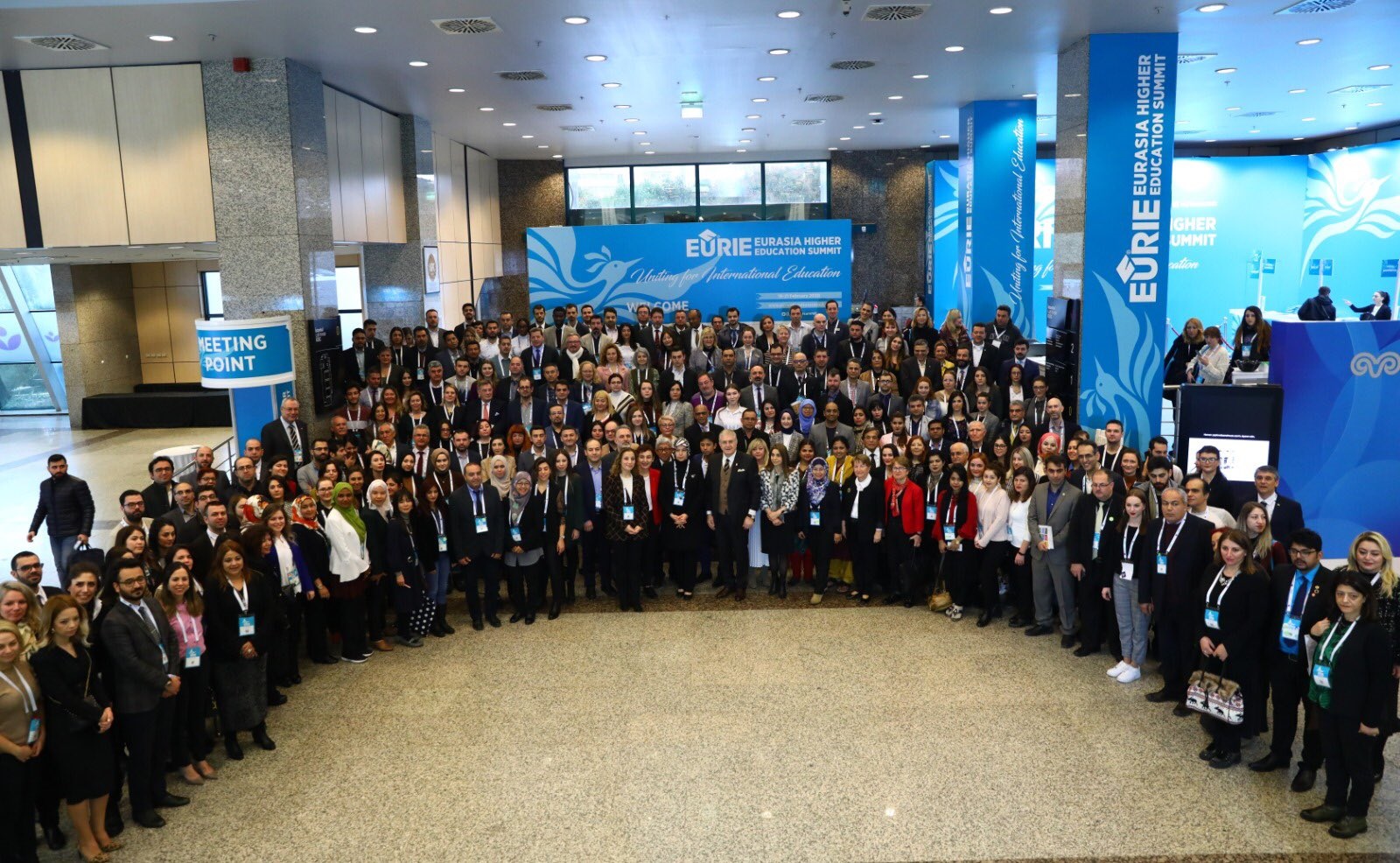 EURAS'ın bu yıl beşincisini düzenlediği Avrasya Yükseköğretim Zirvesi (EURIE) çalışmalarını tamamladı.
Avrasya Üniversiteler Birliği (EURAS) tarafından bu yıl beşinci kez düzenlenen Avrasya Yükseköğretim Zirvesi-EURIE 2020, Lütfi Kırdar Kongre ve Sergi Sarayı'nda aile fotoğrafının çekildiği kapanış seremonisi ile sona erdi.
Aile fotoğrafıyla kapanış
Toplam 60 ülke ve 200'ün üstünde üniversiteden 2 bin 500'den fazla üst düzey akademik temsilcinin iştirak ettiği zirve üç gün sürdü. Zirveyle eş zamanlı olarak yaklaşık 150 stanttan oluşan bir de yükseköğretim fuarı gerçekleştirildi. İnovatif girişimcileri bir araya getiren ve bu yıl ikincisi gerçekleştirilen Imagine Tomorrow Uluslararası İnovasyon ve Girişimcilik Etkinliği'nde ise 70 farklı girişim projesi yatırımcıyla buluştu. Zirve boyunca üniversiteler arasında yaklaşık 300 farklı ikili iş birliği anlaşması imzalandı. Yükseköğretimde Kadın Liderliği panelinin büyük ilgi gördüğü zirve, 21 Şubat Cuma günü zirveye katılan tüm üniversite temsilcilerinin katıldığı geleneksel aile fotoğrafı merasimi ile sona erdi.
Doç. Dr. Mustafa Aydın: "Sorunların çözümü için iş birliği şart"
Zirveyi değerlendiren EURAS ve EURIE Genel Başkanı Doç. Dr. Mustafa Aydın, "Zirvenin bu yılki sloganını 'Yükseköğretimde uluslararasılaşma için birleşiyoruz' olarak belirlemiştik. Nitekim yedi iklim dört bucaktan akademik camia mensupları bir araya geldi. Dünyada yaşanan problemleri artık hiçbir üniversite tek başına çözemez. Bunun için bir araya gelmek, el ele vermek, iş birlikleri geliştirmek ve bir sinerji oluşturmak gerekiyor. EURIE gibi zirveler de bu çabalar için büyük bir fırsat. Üç gün boyunca burada üniversiteler arasında temaslar yaşandı, ikili iş birlikleri gerçekleştirildi. Bu yıl beşinci defa gerçekleştirdiğimiz EURIE'yi yükseköğretimde bir dünya markası haline getiren tüm paydaşlarımıza teşekkür ediyorum" açıklamalarında bulundu.
---
Fifth Eurasia Higher Education Summit (EURIE) organized by EURAS completed its operations.
Eurasia Higher Education Summit-EURIE 2020, fifth of which was organized this year by Eurasia Universities Union (EURAS) ended with the closing ceremony where a family picture was taken in Lütfi Kırdar International Convention and Exhibition Center.
Closing with a family picture
Summit, attended by more than 2,500 top-tier academy representatives from more than 200 universities in 60 countries, went on for three days. Simultaneously with the Summit, there was a higher education expo with around 150 stands. In the Imagine Tomorrow International Innovation and Entrepreneurship Event, bringing together innovative entrepreneurs and had its second held this year, on the other hand, 70 different enterprise projects met with investors. During the Summit, around 300 different cooperation protocols were signed between universities. The Summit, in which Women Leadership in Higher Education panel received great attention, ended on February 21, Friday with the taking of traditional family picture including all university representatives attending the summit.
Assoc. Prof. Dr. Mustafa Aydın: 'Cooperation is a must for solving the problems'
EURAS and EURIE President Assoc. Prof. Dr. Mustafa Aydın, evaluating the summit, said 'We had determined this year's summit slogan to be "We are uniting for the internationalization of higher education."' Indeed, individuals from the academies everywhere came together. The problems of the world can no longer be sold by a single university. That is why we need to come together, join our forces, develop cooperation and create a synergy. Summits such as EURIE are great opportunities in terms of these efforts. For three days, universities came into contact with one another, they signed cooperation protocols. I thank all our stakeholders who made EURIE, fifth of which we are holding this year, a world brand in higher education.'