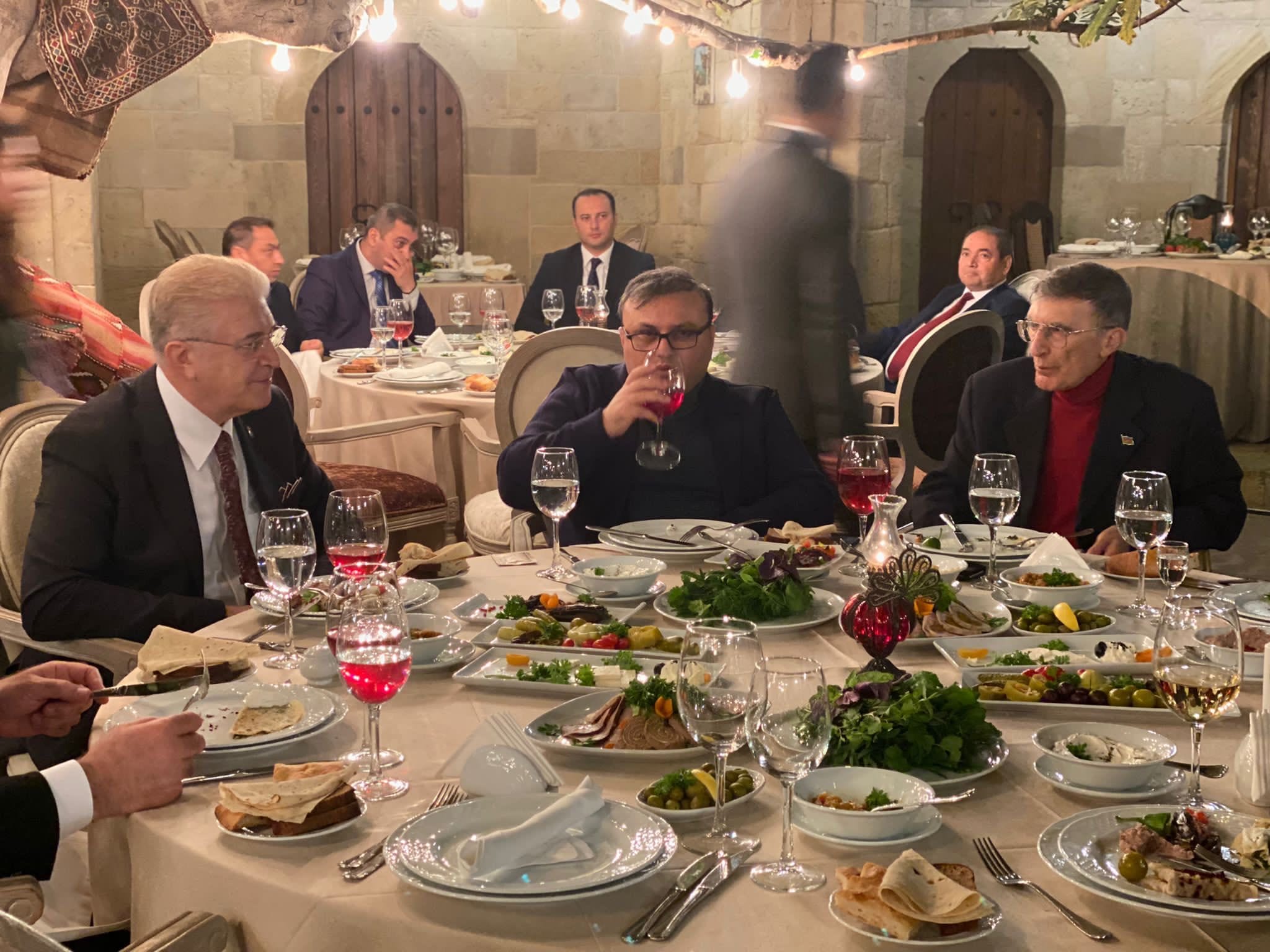 İstanbul Aydın Üniversitesi (İAÜ) Mütevelli Heyet Başkanı Doç. Dr. Mustafa Aydın, Azerbaycan ziyaretinde Azerbaycan İktisat Üniversitesi Rektörü Prof. Dr. Adalet Murad'ın ev sahipliğinde UNEC ECONOMY FORUM 2021 başlığıyla düzenlenen gala yemeğine katıldı.
Doç. Dr. Mustafa Aydın, yemekte 2015 Nobel Kimya Ödülü'nü alan Prof. Dr. Aziz Sancar ile bir araya geldi. Aydın; kurulduğu 2003 yılından bu yana bilime ve teknolojik gelişmelere göre kendisini sürekli yenileyen İAÜ'nün Aziz Sancar'ın adını verdiği, tek bir alanda kurulu sayılı üniversite teknoloji merkezi olan "Prof. Dr. Aziz Sancar Techno Center"ın çalışmalarını anlattı.
Gıda, medikal, haberleşme ve iletişim stüdyolarından teknoloji araştırma ve uygulama laboratuvarlarına kadar birçok Ar-Ge çalışmalarının olduğu Aziz Sancar Teknoloji Merkezi'nde yürütülen projeler hakkında Sancar'a bilgilendirmede bulunan Aydın; yeni gelişmeler ışığında üniversite olarak çalışmalara hız kesmeden devam ettiklerini belirtti.
---
AYDIN MET WITH PROF. DR. AZIZ SANCAR AT UNEC ECONOMY FORUM PREMIER DINNER
The president of Istanbul Aydın University (IAU) Assoc. Prof. Mustafa Aydın attend to UNEC ECONOMY FORUM 2021 premier dinner hosted by the Rector of Azerbaijan University of Economics Prof. Dr. Adalet Murad.
Assoc. Prof. Mustafa Aydın came together with Prof. Dr. Aziz Sancar who was awarded the Nobel Prize in Chemistry in 2015. Aydın talks about the projects of techno center which named after Aziz Sancar and renews itself according to technological innovations and science since it was established in 2003.
Aydın gave information about projects which are carried out in the Aziz Sancar Techno Center, which many r&d activities are carried out in different areas such as food, medical, communication and technology research and application laboratories to Aziz Sancar and he stated that our university continues to study without slowing down in the light of current developments.