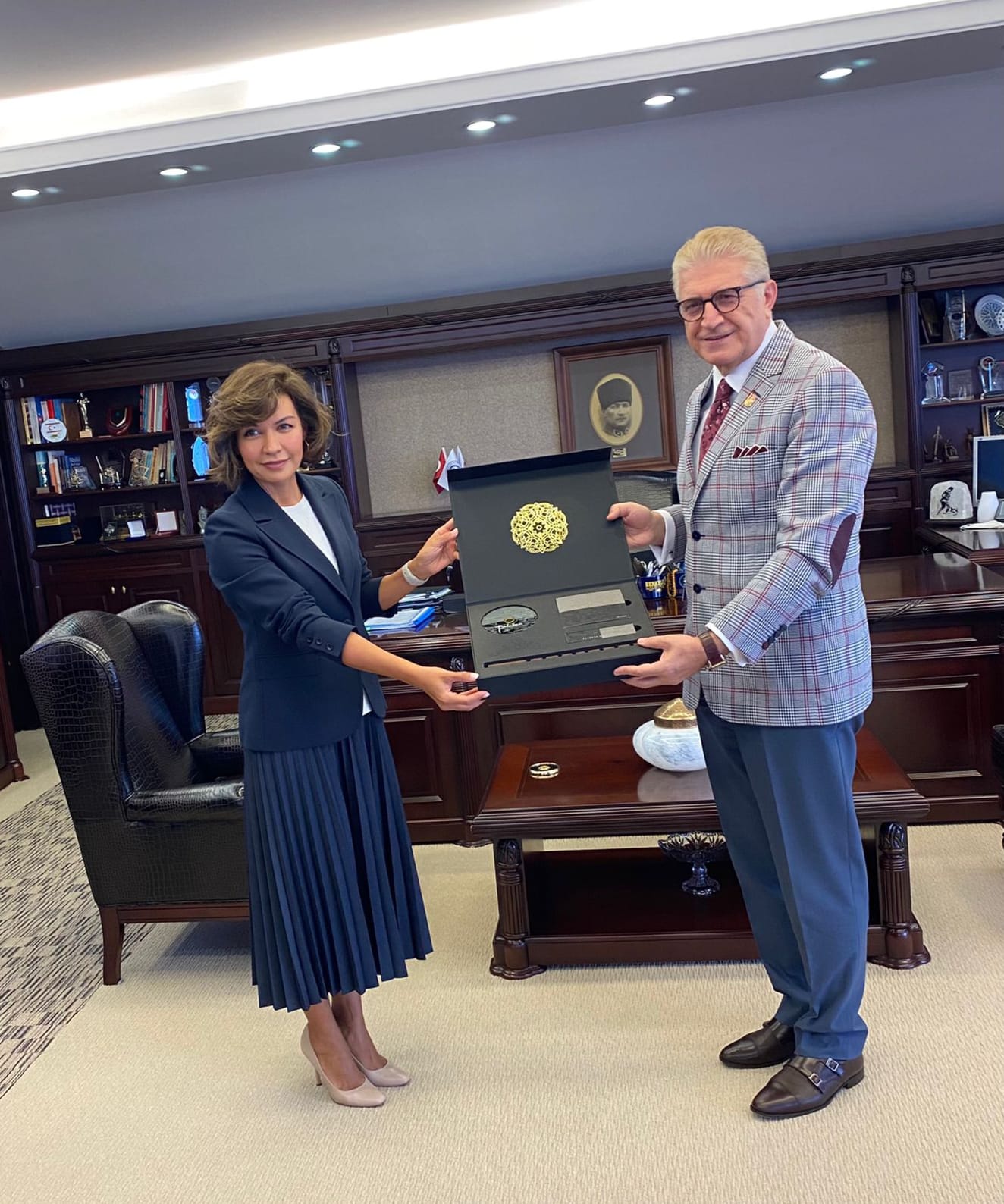 Azerbaycan İstanbul Başkonsolosu Narmina Mustafayeva, İstanbul Aydın Üniversitesini (İAÜ) ziyaret ederek İAÜ Mütevelli Heyet Başkanı Doç. Dr. Mustafa Aydın ile makamında bir araya geldi.
Doç. Dr. Mustafa Aydın, Azerbaycan İstanbul Başkonsolosu Mustafayeva ile görüşmesinde İAÜ olarak özellikle uluslararasılaşmaya verdikleri önemi dile getirdi. İAÜ'de kardeş ülke Azerbaycan'dan üniversitemizde okuyan çok öğrenci olduğunu ve bu sayının her geçen yıl artmasından duydukları mutluluğu ifade etti.
İki kardeş ülke arasında karşılıklı olarak öğrenci sayısının artmasını da her zaman desteklediklerini belirten Aydın, Azerbaycan'daki üniversitelerle İAÜ arasında iş birliklerinin geliştirilmesi için de çaba harcamaya devam edeceklerini vurgulayarak Azerbaycan'daki üniversitelerle projeleri geliştirmek için atılacak her türlü adıma da öncülük etmekten çekinmeyeceklerinin altını çizdi.
Mustafayeva da görüşmede İAÜ'yü ziyaret etmekten duyduğu mutluluğu belirterek kampüsü çok beğendiğini ve öğrencilerin hem akademik kariyerlerinin desteklenmesinde hem de sosyal etkinliklere katılımlarının sağlanmasında gösterilen hassasiyetin çok önemli olduğunu söyledi.
İAÜ'nün öğrencilerine sunduğu tüm imkânları dinleyen Azerbaycan İstanbul Başkonsolosu Narmina Mustafayeva, özellikle yüzde 83,6 işe yerleşme oranının çok önemli bir oran olduğunun altını çizerek Doç. Dr. Mustafa Aydın'ı tebrik etti ve Azerbaycan'daki üniversitelerle birlikte daha büyük başarılara imza atılmasını temenni ettiğini söyledi.
---
AZERBAIJAN ISTANBUL CONSUL GENERAL AT IAU
Azerbaijan Istanbul Consul General Narmina Mustafayeva visited Istanbul Aydın University (IAU) and the president of IAU Assoc. Prof. Mustafa Aydın met with him in his office.
At the meeting with the Consul General of Azerbaijan Mustafayeva, Aydın expressed the importance they attach to internationalization as IAU. He expressed his happiness that there are many students studying at our university from Azerbaijan at IAU, and that this number is increasing every year.
Stating that they always support the increase in the number of students mutually between two countries, Aydın emphasized that they will continue to make efforts to develop cooperation between universities in Azerbaijan and IAU, and underlined that they will not hesitate to take any steps to develop projects with universities in Azerbaijan.
And, Mustafayeva stated that she was happy to visit IAU during the meeting and said that she liked the campus very much. She thinks that the sensitivity shown in supporting the students' academic careers and ensuring their participation in social activities is very important.
After the Consul General of Azerbaijan in Istanbul Narmina Mustafayeva listened to all the opportunities that IAU offers to its students, Mustafayeva underlined that the 83.6 percent job placement rate is a very high rate and she congratulated Assoc. Prof. Mustafa Aydın. She wished to achieve greater success with the universities in Azerbaijan.