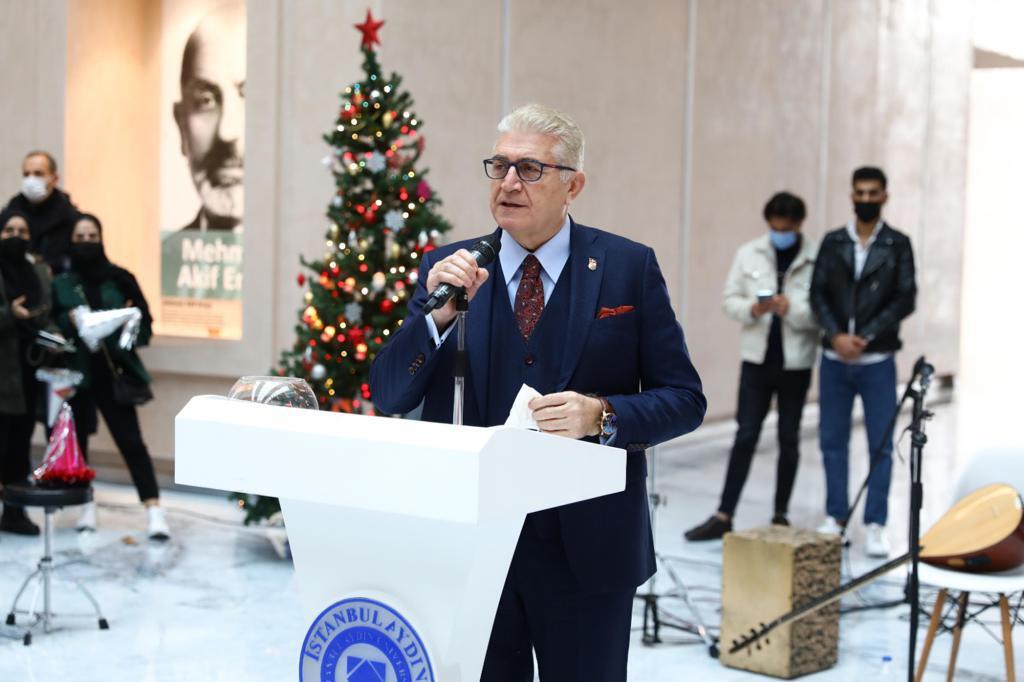 İstanbul Aydın Üniversitesi (İAÜ) yeni yıl etkinliği, İAÜ Mütevelli Heyet Başkanı Doç. Dr. Mustafa Aydın'ın katılımlarıyla düzenlendi.
Doç. Dr. Mustafa Aydın etkinlikte yaptığı konuşmada; birlikte hareket etmenin verdiği öz güven, büyük ve samimi bir aile olmanın sıcaklığıyla bir yılın daha geride kaldığını belirterek "Eğitim yolculuğumuzun kıdemli isimleri, arkalarından gelen yeni yol arkadaşlarımızı her zaman desteklemişlerdir. Çünkü bizler, kıymetli deneyimlerin ve bilgi birikiminin paylaştıkça çoğaldığına hep inandık. Yeni yılda da aynı bilinçle üretmeye devam edeceğiz. Kutsal eğitim ocağımızın ateşini diri tutan, nice görünmeyen kahramanlarımız var. Her birinin emekleri çok özel ve kıymetli. 2021'de bize kattıkları değer için onlara yürekten teşekkür ediyoruz." diye konuştu.
Başarıda sürdürülebilirliğin ilk şartının koşulsuz sevgi ve şefkat olduğunu da dile getiren Aydın, "2022'de de aynı duygu ve düşüncelerle üretmeye devam edeceğiz." dedi.
"UNCONDITIONAL LOVE AND COMPASSION ARE IMPORTANT CONDITIONS FOR SUSTAINABILITY IN SUCCESS"
Istanbul Aydın University (IAU) New Year event was organized with the participation of the president of Istanbul Aydın University (IAU) Assoc. Prof. Mustafa Aydın.
In his speech, Assoc. Prof. Mustafa Aydın stated that another year has passed with the self-confidence of acting together and the warmth of being a big and sincere family. He said, "The senior names of our education journey have always supported our new companions who follow them. Because we have always believed that valuable experiences and knowledge increase as we share. We will continue to work with the same awareness in the New Year. We have many unseen heroes who keep the fire of our sacred education hearth alive. The work of each of them is very special and valuable. We sincerely thank them for the value they added to us in 2021."
Aydın expressed that unconditional love and compassion are important conditions for sustainability in success "We will continue to work with the same feelings and thoughts in 2022." said.