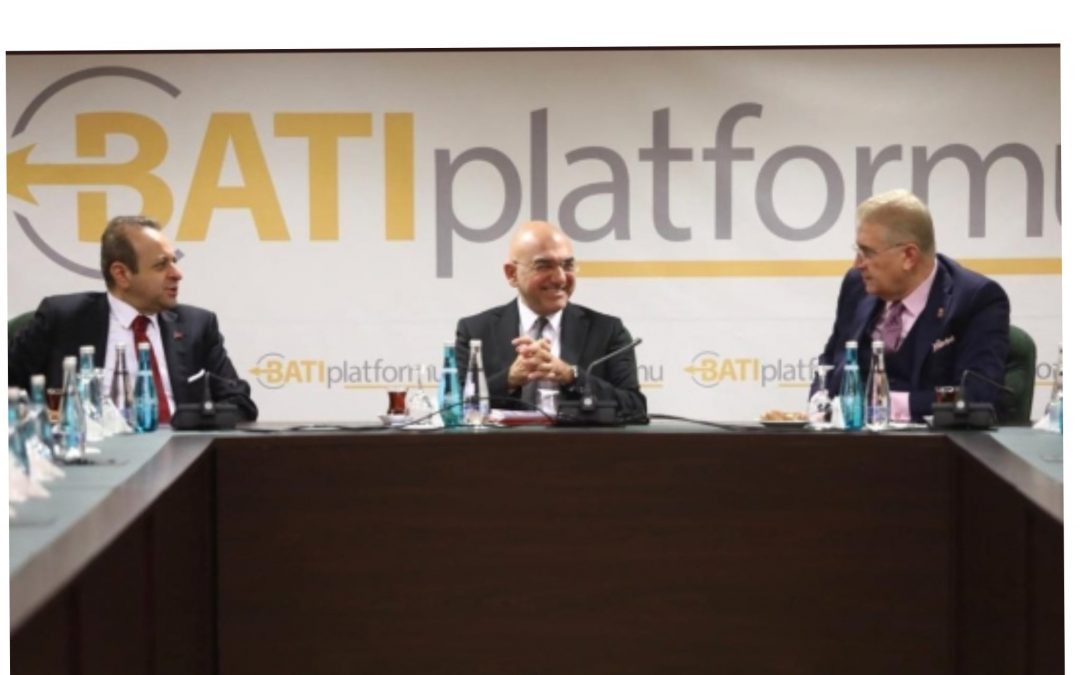 Batı Platformu başkanı değişirken, AB tartışıldı
İstanbul Aydın Üniversitesi'nde (İAÜ) düzenlenen Batı Platformu'nun yeni başkanı belli oldu. Platformun yeni başkanı Ozan Ceyhun olurken "Avrupa nereye gidiyor? Son gelişmeler" konusu tartışıldı
Prag Büyükelçisi ve İAÜ Batı Platformu Danışma Kurulu Eski Başkanı Egemen Bağış, Batı Platformu toplantısı için Çekya'dan gelerek Avrupa Parlamentosu 4'üncü ve 5'inci Dönem Milletvekili Ozan Ceyhun'a görevi devretti.
AB güçlü bir tarihe sahiptir
İAÜ Batı Platformu Danışma Kurulu Yeni Başkanı Ozan Ceyhun, Avrupa'nın ABD, Çin ve Rusya ile olan ilişkileri hakkında açıklamalarda bulunarak AB'nin yeni siyasi dönemi hakkında bilgi verdi. AB'nin güçlü bir tarihe sahip olduğunu söyleyen Ceyhun "Devletleri ülke yapan 2 temel unsurdan ilki tarih, 2'incisi ise teknoloji seviyesidir. İkisini birden yakalayan güçlü, tekini yakalayan topal, hiçbirini yakalamayan ise sömürülen devlettir. AB güçlü bir tarihe ve teknoloji seviyesine sahiptir. Bugün de yarın da var olacaktır" diye konuştu. Toplantı sonrası konuşan Doç. Dr. Mustafa Aydın ise "Batı platformu toplantımızda ağırladığımız kadim dostum Çekya Büyükelçimiz Sn. Egemen Bağış Bey'e ve Avrupa Parlamentosu 4'üncü ve 5'inci Dönem Milletvekili Sn. Ozan Ceyhun Bey'e bugünün anısına plaketlerimizi takdim ettik. Teşriflerinden dolayı kendilerine şükranlarımı sunuyorum" dedi.
---
As The President of the Western Platform was changed, the EU was discussed
The new president of the Western Platform held at Istanbul Aydın University (IAU) was announced. The new Chairman of the platform was Ozan Ceyhun and "The future of the EU? Latest developments" were discussed.
Egemen Bağış, the Ambassador of Prague and Former Chairman of the IUE Western Platform Advisory Board, came from the Czech Republic for the Western Platform meeting and delegated his duty to Ozan Ceyhun, the 4th and 5th Term Member of Parliament for the European Parliament.
The EU has a strong history
The new President of IAU Western Platform Advisory Board Ozan Ceyhun made explanations about Europe's relations with the USA, China and Russia and gave information about the new political period of the EU. Saying that the EU has a strong history, Ceyhun expressed that "The first of the two basic elements that make states a country is history and the second is the level of technology. It is the powerful state that has both, the lame that has one, and the exploited state does not have anyone. The EU has a strong history and technology level. It will exist today and tomorrow." Talking after the meeting, Assoc. Prof. Mustafa Aydın said "We presented our plaques to my old friend who we hosted at the Western Platform meeting, our Czech Republic ambassador Mr. Egemen Bağış and to Mr. Ozan Ceyhun who is the 4th and 5th term member of parliament of the European Parliament. I would like to express my gratitude for their participation".