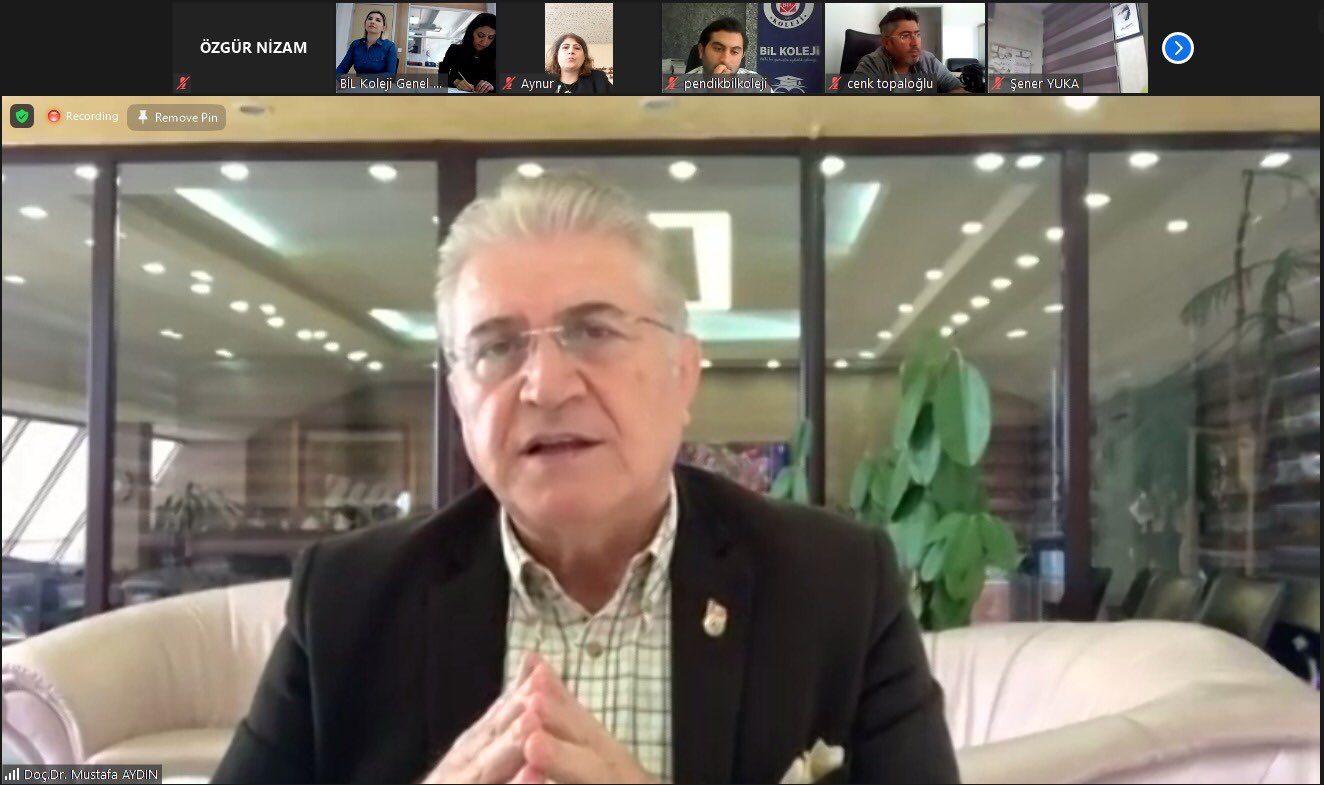 Bil koleji 20. Online kurucular kurulu toplantısı yönetim kurulu başkanı Doç. Dr. Mustafa Aydın'ın liderliğinde gerçekleştirildi.
Bil Koleji 20. online kurucular kurulu toplantısı her dönem olduğu gibi bu dönemde, Bil Holding ve Bil Eğitim Kurumları Yönetim Kurulu Başkanı Doç. Dr. Mustafa Aydın'ın liderliğinde 50 katılımcı ile zoom üzerinden gerçekleştirildi. Bil Koleji kurucular kurulu toplantısında, Kasım ayının eğitim dönemi için çok önemli olacağına değinildi. Aydın, "Öğretmenlerimize vereceğimiz eğitimlerin ayı olacak" sözleriyle kasım ayının öneminden bahsetti. Öğretmenlere anketler gönderilmesi ve anket verilerine göre, gelişime ihtiyaç duydukları alanların belirlenmesi ve bu eğitimlerin aydın üniversitesinin değerli akademisyenleri tarafından verilmesi kararına varıldı. Ulusal ve uluslararası yarışmalara katılım ve hedeflenen 100 birincilik kapsamında, şu ana kadar 14 birinciliğe ulaşan Bil Kolejlerinin, önümüzdeki haftadan itibaren yarışmalara katılım sayılarını ve hedeflerini nasıl yönlendireceği değerlendirildi. Toplantı süresince, dünya gündeminde de olan Covid-19'un eğitim sektöründeki etkileri ele alındı. Gelecek hedefler için planlanan yolların sorun ve çözüm önerileri konuşuldu. 
Bil College 20th online founders committee meeting was carried out under the presidency of Executive Board Assoc. Prof. Dr. Mustafa Aydın.
Bil College 20th online founders committee meeting, as in every term, was carried out this term with 50 participants via Zoom under the leadership of Bil Holding and Bil Education Institutions Executive Board President Assoc. Prof. Dr. Mustafa Aydın. It was mentioned that November would be very important for education term in the Bil College founders committee meeting. Aydın mentioned the importance of November with the words "It will be the monthly trainings for our teachers". It was determined that surveys will send to teachers, required fields will be determined according to survey data, and Istanbul Aydın University academicians will give trainings. Bil Colleges achieved 14 championships until now. The number of participating competitions and targets within national and international competitions and targeted 100 championships were evaluated starting from next week. Effects of Covid -19 on education sector were discussed during the meeting. Problems and solution suggestions of plans for next targets were discussed.