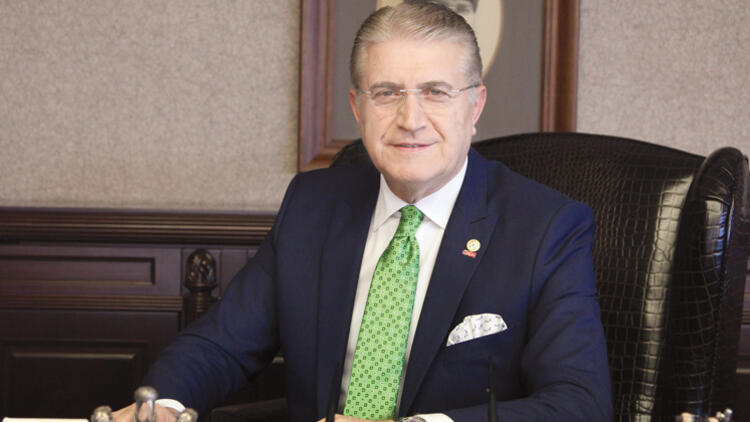 İstanbul Aydın Üniversitesi Mütevelli Heyet Başkanı Dr. Mustafa Aydın, Kıbrıslı öğrencilerin üniversiteye gerçekleştirdiği ziyarette bir konuşma yaptı. Dr. Aydın; "Düşmanlar bizim en önemli gücümüzün birlik ve beraberliğimiz olduğunu biliyorlar. Bu yüzden de bizi buradan vurmak istiyorlar. Gençlerimiz kültürel ve manevi değerlerini koruyarak buna engel olmalı" dedi.
İstanbul Aydın Üniversitesi, Yavru Vatan'dan öğrencileri ağırladı. Kuzey Kıbrıs Türk Cumhuriyeti'nden (KKTC) gelen çeşitli yaş gruplarındaki öğrenciler, İstanbul Aydın Üniversitesi'ni ziyaret ederek üniversite ve eğitim hakkında bilgi aldı. Öğrencilere bir konuşma yapan İstanbul Aydın Üniversitesi Mütevelli Heyet Başkanı Dr. Mustafa Aydın, "Tarihini bilmeyen, yanlış bilen, kültürünün zenginliğinden bihaber gencimizi geleceğimizin teminatı olarak göremeyiz" dedi.
"BENLİĞİMİZDEN KOPMADAN DÜNYAYA ENTEGRE OLMALIYIZ"
Türkiye'nin de içinde bulunduğu Orta Doğu coğrafyasının "pahalı bir coğrafya" olduğunun altını çizen Dr. Aydın, "Bu coğrafyada hayatta kalmak için dünyayla entegre olmak ve bilimsel alanda çok daha ileri gitmek zorundayız. Ancak bunu yaparken kendi değerlerimizden koparsak asimile olur, birlik ve beraberliğimizi kaybederiz. O zaman kendi benliğimizi, kendi kültürümüzü, değerlerimizi koruyup onlara sahip çıkarak dünyayla entegre olmamız şarttır. Aksi takdirde Batı'nın bir uydusu oluruz" diye konuştu. "Düşmanlarımız bizi en güçlü olduğumuz yerden vurmaya çalışıyor" diyen Dr. Aydın, "Düşmanlarımız bizim en güçlü noktamızın birlik ve beraberliğimiz olduğunu iyi biliyorlar. Ve bunu bozarlarsa başarıya ulaşacaklarını da biliyorlar. Bu nedenle birlik ve beraberliğimizi bozmak için en başta gençlerimizi yozlaştırmak ve kendilerine yabancılaştırmak için var güçleriyle çabalıyorlar. Özellikle Kıbrıs gibi netameli yerlerde yaşayan sizin gibi gençlerimizi daha kolay kandırabileceklerini düşünüyorlar. Siz gençler, kültürünüzü daha yakından tanıyıp ona sahip çıkarak ilerlediğiniz müddetçe Batı bu emeline asla ulaşamaz" ifadelerini kullandı.
———————————————————————————————————————————————————————————————–
President of Istanbul Aydın University Dr. Mustafa Aydın has met with Cypriot student at IAU. Giving a speech to the students Dr. Aydın "our enemies know that our togetherness is our strength. Our separation will make them happy. In order to protect our tradition and cultural values, young people should prevent this separation.
Istanbul Aydın University has a guest from TRNC. Different age Students from TRNC has visited Istanbul Aydın University for an information about education. During the speech, Dr. Aydın has expressed that we cannot see the youth who have no awareness of our history and the richness of our culture, as a guarantee of our future."
"We should be integrated to the World with sticking our values "
The Middle East where turkey is in it is a difficult geography. İn order to survive in this region we must be integrated with the World and develop on science.
However, if we ignore our cultural values, we will be assimilated and separated. Thus we have to be integrated into the world by protecting our own culture and our values. Otherwise, we can be a satellite of western countries. Our enemies watch for an opportunity to beat us. Our enemies know that our togetherness is our strength. They also know that if we split, they will be successful. That's why they put a great effort to corrupt our youth.
They think that it is easier to trick our young people especially in ominous places like Cyprus. As long as you protect our values the western countries will never be successful.