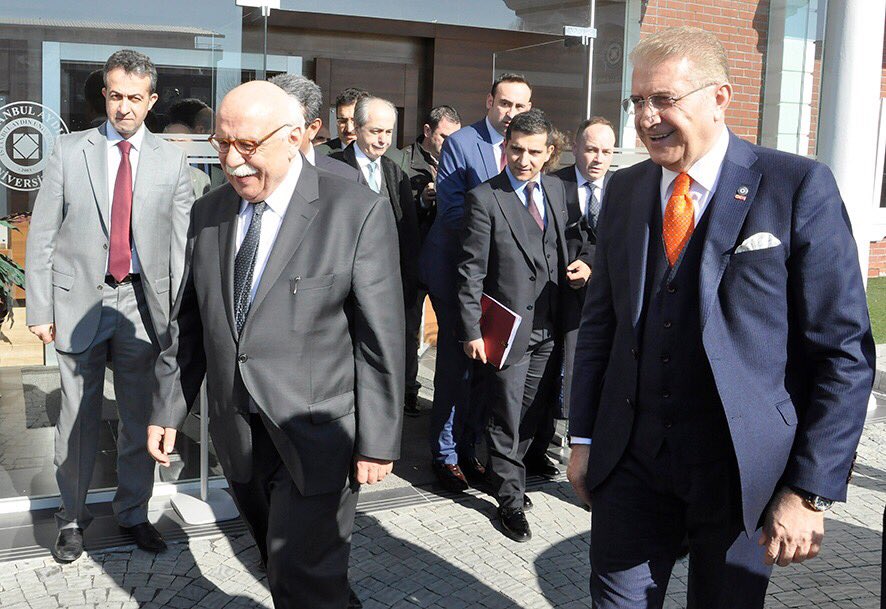 İAÜ Mütevelli Heyeti ve DEİK Eğitim Ekonomisi İş Konseyi Başkanı Dr. Mustafa Aydın, her yıl Mayıs ayında ABD'de düzenlenen bu senede 31 Mayıs – 4 Haziran 2016 tarihlerinde Colorado Eyaleti'nin Denver şehrinde gerçekleştirilen dünyanın en büyük uluslararası eğitim konferansı olan 68. NAFSA Eğitim Konferansı & Fuarına katıldı.
Bu yıl dünyanın dört bir yanından, 9500 'den fazla uluslararası eğitimcinin katıldığı NAFSA Konferansına İstanbul Aydın Üniversitesi olarak Mütevelli Heyet Başkanı Dr. Mustafa Aydın ile birlikte Üniversitemizin uluslararasılaşması ve ikili işbirliklerinin arttırılması amaçlarıyla Rektör Yardımcısı Prof. Dr. İbrahim Hakkı Aydın, Erasmus+ Kurum Koordinatörü Pınar Elbasan, Mütevelli Heyet Başkan Danışmanları Muzaffer Baca ve İrem Arman ile geniş bir heyet ile katılım sağladı.
NAFSA Yıllık Konferansı kampüs turları, çalıştaylar, eğitim oturumları, network fırsatları ve özel etkinlikler ile dolu beş gün için bu yıl da bir rekora imza atarak uluslararası eğitim alanından 10,000 'den fazla profesyoneli bir araya getirdi.
Konferans süresince uluslararası eğitime ilişkin çeşitli seminerlere katılan, yeni ortaklıklar ve ortak programlara yönelik görüşmeler başlatmak için çeşitli üniversitelerin temsilcileriyle bir araya gelen Dr. Mustafa Aydın ve IAU NAFSA Heyeti, birçok yükseköğretim kuruluşuyla işbirliklerinin temellerini attı.
Dr. Mustafa Aydın, bu yıl NAFSA tarihinde ikinci kez gerçekleştirilen Türkiye'de Yükseköğrenim Sistemi ile ilgili özel oturumda açılış konuşmasını gerçekleştirmesinin yanı sıra ayrıca Amerikan Üniversiteleri ile Türk Üniversitelerini bir araya getiren özel kahvaltıda yaptığı açılış konuşmasında Türkiye'nin yükseköğretimde bir cazibe merkezi haline geldiğini ve Amerikan Üniversiteleri ile işbirliğinin çok büyük önem arz ettiğini vurguladı.
"Türkiye yükseköğretimde yükselen bir yıldızdır"
Ekonomik, siyasi ve kültürel bütünleşme "Küresel dil" anlayışını ortaya çıkarmış; yeni uluslararası ilişkiler ağında uluslararası eğitim kavramını doğurmuştur. Uluslararası eğitim ile üniversiteler "dünya insanı" yetiştirerek bulundukları toplumun küresel bir ekonomiye sahip olmasına katkıda bulunurlar. Üniversitelerin yerel değil, evrensel ve global düşünebilen Dünya insanı yetiştirmek zorunda olduğuna değinen Dr. Mustafa Aydın, gelişmiş ve gelişmekte olan ülkelerde bulunan üniversitelerin en temel amacı; ülke ekonomisine katkı sağlayacak çağdaş toplumlar yetiştirmektir şeklinde ifade etmiştir. Ayrıca Dr. Aydın, her yıl NAFSA'ya Türk Üniversiteleri olarak DEİK – Eğitim Ekonomisi İş Konseyi tarafından organize edilen Study in Turkey Pavilyonu ile katılmakta olduğunu ve Türkiye'nin yükseköğretimde yükselen bir yıldız olmasını; "Study in Turkey" markasını dünyanın her bir yanına taşıyarak oluşturduklarını ve Türkiye'de eğitimi dünya devleri ile birlikte yer alması için her türlü çabayı gösterdiklerini ifade ederek; NAFSA Konferansının bu anlamda "Study in Turkey" markası ile Üniversitelerimizin tanınması için muazzam bir fırsat olduğunu belirtmiştir.
İşbirliklerinin geliştirilmesini, yükseköğretimdeki yeni trendlerin takip edilmesi ve teknolojinin yükseköğretimde kullanılması gibi farklı misyonlar için uluslararası eğitim profesyonellerini bir araya getiren NAFSA'nın Türk Üniversitelerinin her yıl katılması gereken bir konferans olduğunu sözlerine eklemiştir.
Bu yıl İstanbul Aydın ile birlikte Türkiye'den birçok devlet ve vakıf Ünivesitesi EEİK tarafından organize edilen Study in Turkey Pavilyonu çatısı altında NAFSA'ya katılarak ülkemizi temsil etme fırsatı buldular.
Fuara katılımın sağlanmasıyla, dünya çapında yükseköğretim kurumlarını keşfetmek, potansiyel ortaklıklar kurmak, öğrenci ve personelimize gerçek anlamda uluslararası bir deneyim sağlayacak yeni işbirlikleri başlatmak için Üniversitemiz adına mükemmel bir fırsat elde edilmiştir.
---

IAU President and DEIK Economics of Education Business Council Chair Dr. Mustafa Aydin participated at 68th NAFSA Education Conference and Exhibition.

IAU President and DEIK Economics of Education Business Council Chair Dr. Mustafa Aydin attended the 68th NAFSA Education Conference and Expo which is organized every May in the U.S. This years' exhibition took place in Denver, Colorado on May 31- June 3, 2016.
Over 9,500 international educators around the world attended to this years' NAFSA. Istanbul Aydin University President Dr. Mustafa Aydin and Vice Rector Dr. Ibrahim Hakki Aydin, Ph.D., Erasmus+ Coordinator Pınar Elbasan, Advisors to the president of IAU Muzaffer Baca and Irem Arman attended NAFSA in order to internationalize our university and improve collaborations with other universities.
NAFSA's annual conference brought over 10,000 professionals in international education field together and took five days with campus tours, workshops, education panels, networking opportunities and special events.
Attending various seminars about international education, meeting with other universities' delegations in order to initiate new partnerships and joint programs, Dr. Mustafa Aydin and IAU NAFSA delegation established collaborations with many higher education institutions.
Dr. Mustafa Aydin delivered the opening speech of the special panel titled ' Higher Education in Turkey' and emphasized that Turkey will be an attraction center in higher education during the breakfast organized to bring American and Turkish Universities together and stressed the importance of collaborations with American Universities.
"Turkey is a rising star in higher education"
Economic, political and cultural integration establishes global language and creates the notion of international education within the network of international relationships. Universities contribute to their country's economy to transform into a global economy by raising global citizens with their international education. Highlighting the importance of raising global citizens who has universal and global viewpoints, Dr. Mustafa Aydin expressed that the main objective of the universities in developed and developing countries is to raise modern societies to help the country's economy. Dr. Aydin also stated that Turkish universities participate at NAFSA every year at Study in Turkey pavillion organized by Economics of Education Business Council- DEIK. Dr. Aydin also emphasized that they made Turkey a rising star by taking 'Study in Turkey' brand around the globe and work hard for education in Turkey to have its place with the biggest of the world. NAFSA therefore is a great opportunity to promote our universities via "Study in Turkey." He also added that Turkish universities should attend NAFSA every year which brings international education professionals together in order to improve collaborations, follow new trends in higher education and use technology in higher education.
Istanbul Aydin University along with many other foundation universities from Turkey represented our country at Study in Turkey organized by EEIK.
By attending the exhibition, our university had the opportunity to explore higher education institutes worldwide, to establish prospective partnerships and new collaborations which would give our staff and students a real experience in internalization.
01.06.2016