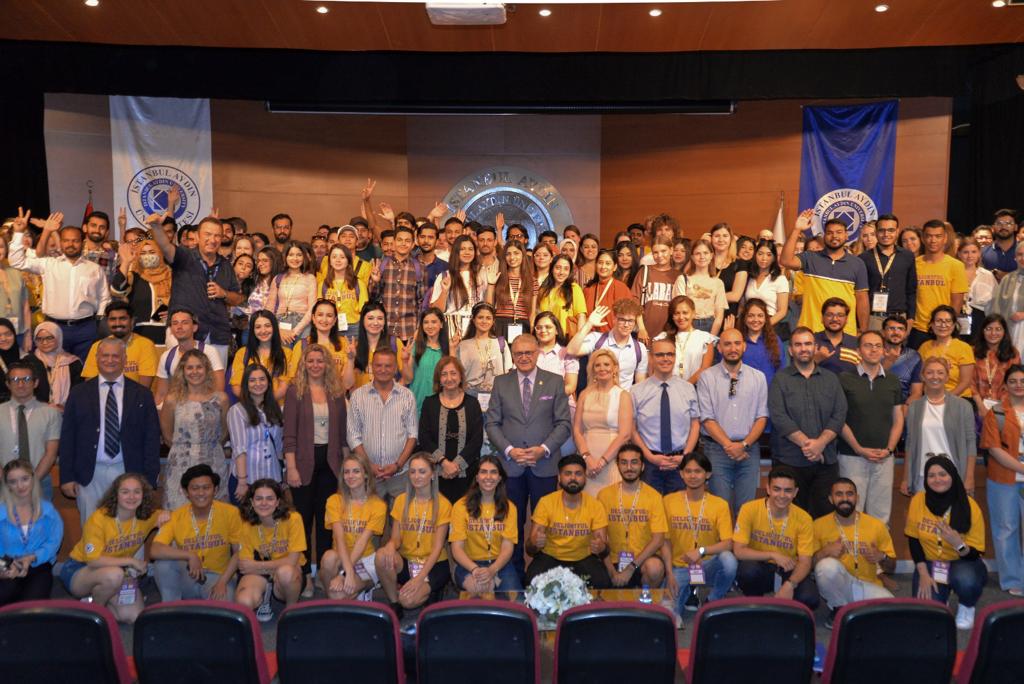 2014'ten beri başarıyla akademik çalışmalarına devam eden ve İAÜ'de bir marka hâline gelen Delightful İstanbul'un 2022 Yaz Okulu açılışı, 21 ülkeden 158 öğrencinin katılımıyla gerçekleşti.
Açılışa; İstanbul Aydın Üniversitesi (İAÜ) Mütevelli Heyet Başkanı Doç. Dr. MustafaAydın, Rektör Yardımcıları Prof. Dr. İbrahim Hakkı Aydın, Prof. Dr. Zafer Aslan, Prof. Dr. Mehmet Hakan Keskin, Prof. Mehmet Reşat Başar ve öğretim görevlileri katıldı.  Doç. Dr. Mustafa Aydın yaptığı açılış konuşmasında, "Verimli neticeler veren ve gelenekselleşen bu akademik programın başarıyla yürütülmesinde emeği geçen tüm hocalarımıza ve öğrencilerimize teşekkür ediyorum." dedi.
---
DELIGHTFUL ISTANBUL 2022 SUMMER SCHOOL INAUGURATED
The 2022 Summer School opening ceremony of Delightful Istanbul which has been successfully progressing its academic studies since 2014 and has become a brand at IAU, was held with the participation of 158 students from 21 countries.
Istanbul Aydın University President Assoc. prof. Mustafa Aydın, Vice Rectors Prof. Dr. İbrahim Hakkı Aydın, Prof. Dr. Zafer Aslan, Prof. Dr. Mehmet Hakan Keskin, Prof. Dr. Mehmet Reşat Başar and academicians also attended the opening. Assoc. Prof. Mustafa Aydın said "I would like to thank all students and academicians who contributed to the successful execution of this traditionalistic academic program which gave fruitful results."