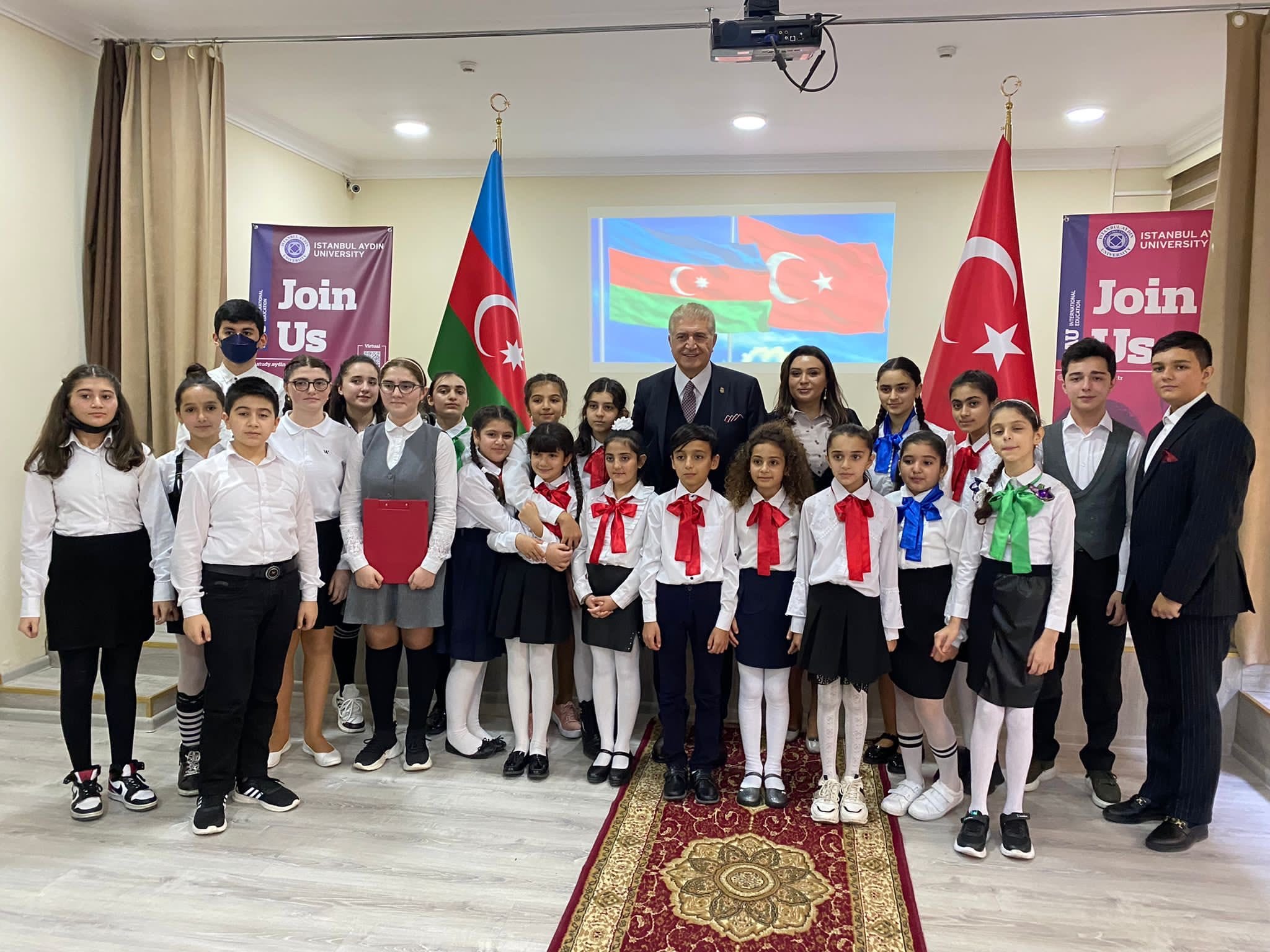 İstanbul Aydın Üniversitesi (İAÜ) Mütevelli Heyet Başkanı Doç. Dr. Mustafa Aydın; Bakü'deki 7 Numaralı Pilot Okulu'na ziyaret gerçekleştirerek, lise öğrencileriyle bir araya geldi. Aydın'ı Lise Müdürü Könül Safarova karşıladı ve ziyarete İlçe Eğitim Müdürlüğü ile Bakü Şehir Valiliği yetkilileri de katıldı.
Doç. Dr. Mustafa Aydın konuşmasında, Azerbaycan-Türkiye ilişkilerine ve Karabağ Zaferi'ne değindi. İki kardeş ülkenin ilişkilerinin her alanda ilerlemeye devam ettiğini vurgulayan Aydın, eğitim alanındaki iş birliklerinin 'uluslararasılaşma' temelinde sürdürüldüğüne de dikkat çekti.
---
ASSOC. PROF. MUSTAFA AYDIN CAME TOGETHER WITH HIGH SCHOOL STUDENTS AT PILOT SCHOOL NO.7
The president of Istanbul Aydın University (IAU) Assoc. Prof. Mustafa Aydın visited Pilot School No.7 in Baku and came together with high school students. High School Principal Könül Safarova greeted Aydın and the District Education Directorate and Baku City Governorship officials also attended the visit.
In his speech, Assoc. Prof. Mustafa Aydın mentioned the relationship between Turkey and Azerbaijan and the victory of Karabakh. And Aydın emphasized that the relationships between two countries have been improving in every field and that collaborations in education sector continue on the basis of "internationalization".