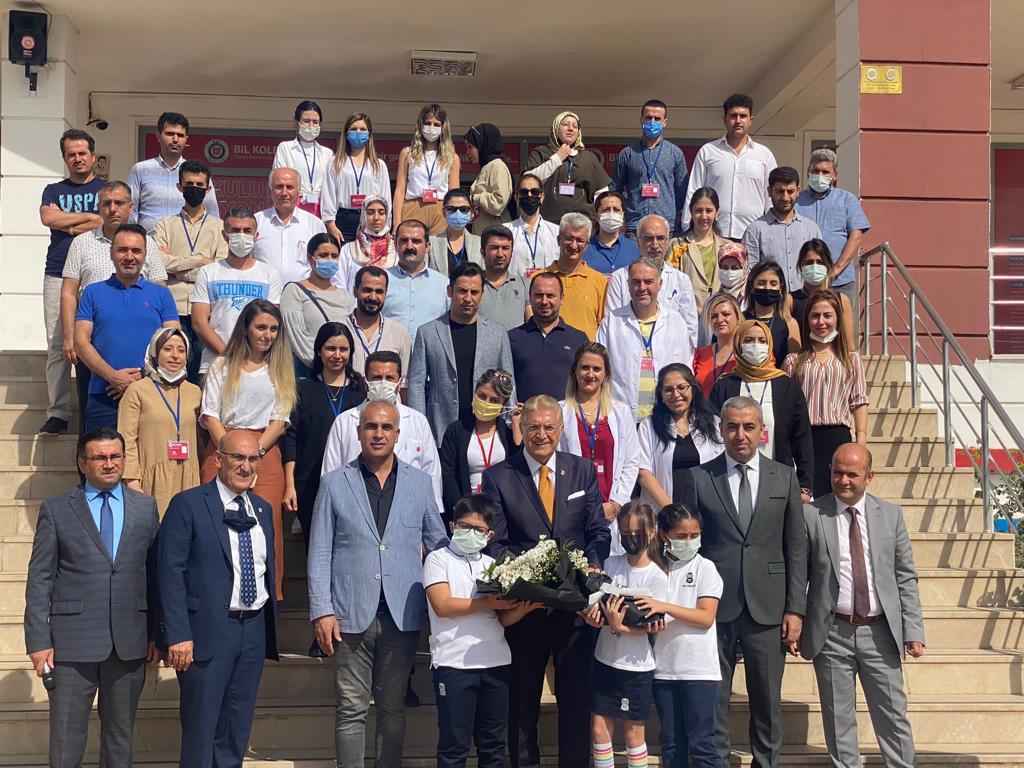 BİL Eğitim Kurumları Yönetim Kurulu Başkanı Doç. Dr. Mustafa Aydın 24 Eylül 2021 tarihinde Adıyaman'a giderek Adıyaman Bil Kolejini ziyaret etti.
2021-2022 Eğitim-Öğretim yılının açılışına katılan Aydın, öğretmen ve yöneticilerle bir araya geldi. Tüm Türkiye'de bulunan kampüslerin çevrim içi olarak katıldığı açılışta Aydın, Bil Kolejlerinin 1994 yılında çıkmış olduğu eğitim yolculuğuna kesintisiz olarak devam ettiğini belirtti.
Doç. Dr. Aydın, kültürel ve tarihi altyapısının yanı sıra stratejik önemiyle de Türkiye'nin önemli şehirlerinden biri olan Adıyaman'da eğitim sektörüne verilen desteğin çok önemli olduğunu belirtti. Türkiye'de 24 şehirde 45 kampüse ulaşan BİL Koleji'nin büyümesinin sevindirici ve memnuniyet verici olduğunu da belirten Doç. Dr. Aydın ayrıca geleceğe hazır olmanın dijital dünyaya hazır olmak ve yüz yüze eğitime hazır olmak olduğunu söyledi.  Aydın, Adıyaman BİL Koleji'nde de öğrencilere her türlü imkânın sağlandığını açıkladı.
---
ASSOC. PROF. MUSTAFA AYDIN IS ​​IN ADIYAMAN BIL COLLEGE
The president of BİL Educational Institutions Assoc. Prof. Mustafa Aydın went to Adıyaman on September 24, 2021 and visited Adıyaman Bil College.
After attending the opening of the 2021-2022 academic year, Aydın met with teachers and administrators. At the opening, where all campuses in Turkey participated online, Aydın stated that Bil Colleges continues their educational journey that started in 1994 without interruption.
Assoc. Prof. Aydın stated that the support given to the education sector is very important in Adıyaman, which is one of the important cities of Turkey with its strategic importance as well as its cultural and historical infrastructure. Stating that the growth of BİL College, which has reached 45 campuses in 24 cities in Turkey, is pleasing, Assoc. Prof. Aydın also said that being ready for the future means being ready for the digital world and being ready for face-to-face education. Aydın announced that all kinds of opportunities are provided to students in Adıyaman BİL College.