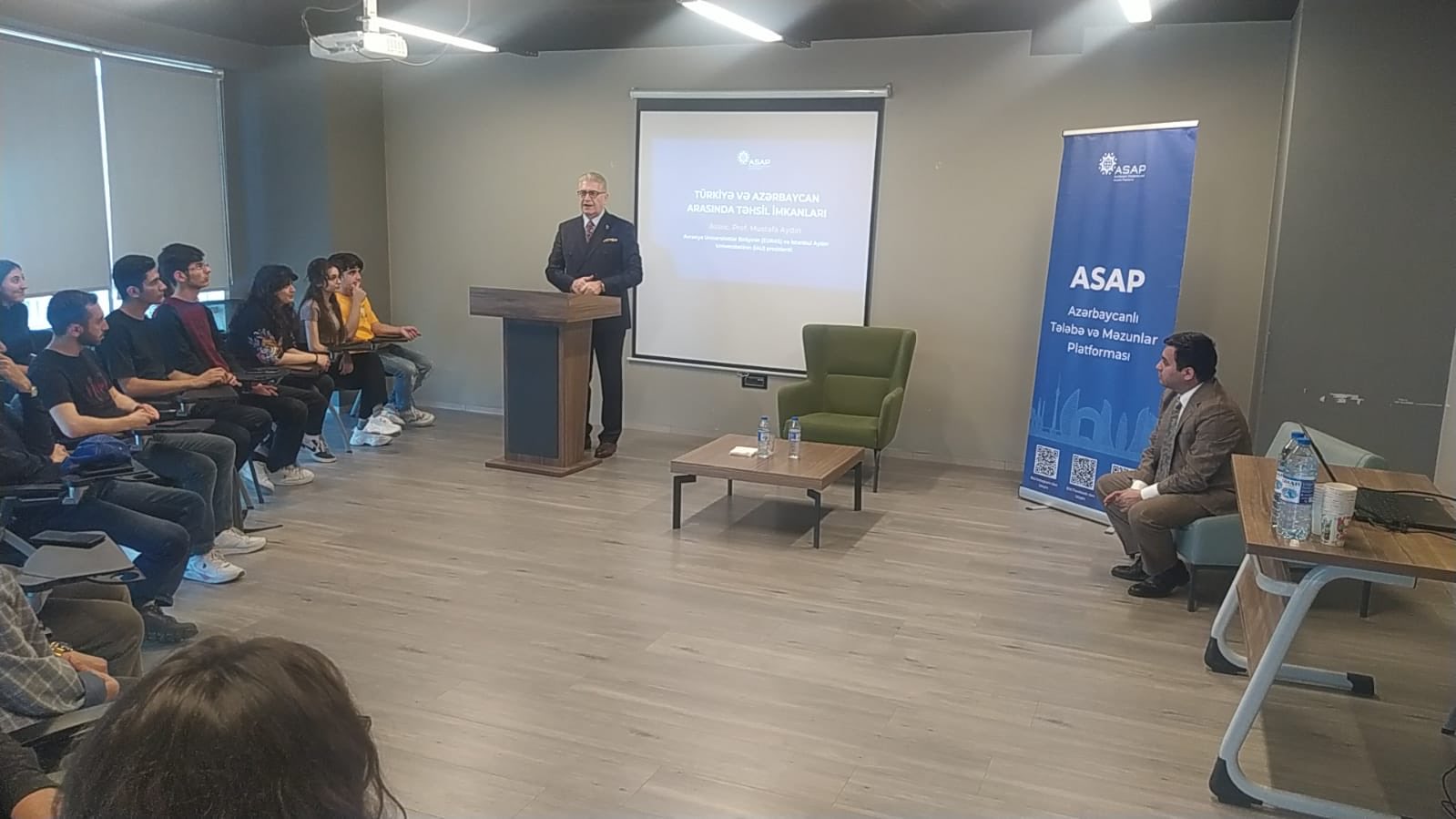 İAÜ Mütevelli Heyet Başkanı ve Avrasya Üniversiteler Birliği (EURAS) Genel Başkanı Doç. Dr. Mustafa Aydın, ASAP-Azeri Öğrenciler ve Mezunlar Platformunun düzenlediği "Türkiye ve Azerbaycan Arasında Öğrenim İmkânları" başlıklı söyleşiye katıldı.
Azerbaycanlı öğrencilerle bir araya gelen Doç. Dr. Mustafa Aydın, eğitim alanındaki başarılarını ve anılarını öğrencilerle paylaştı. Liderliğin ilkeleri, üniversitenin gençlere kazandırdıkları, modern teknolojinin eğitime entegrasyonu gibi konulara değinerek; zamanı yakalamanın gerekliliğine vurgu yaptı. Ayrıca konuşmasında yurt dışında eğitim, kendini geliştirme ve millî değerlerin önemi gibi hususlara da değinen Aydın; söyleşi sonunda öğrencilerin eğitime yönelik sorularını yanıtladı.
Kişisel birikimlerini öğrencilerle paylaşmaktan keyif aldığını belirten Doç. Dr. Mustafa Aydın; "Azerbaycan Gençlik Teşkilatında üniversite öğrencileri ile hayata dair bir söyleşi gerçekleştirmek, bizlere müthiş enerji veriyor. Hepsi pırıl pırıl! Onların gözlerindeki ışıltı sayesinde bizler de geleceğe umutla bakıyoruz. Alınları dik, bahtları ve yolları açık olsun." dedi.
---
ASSOC. PROF. MUSTAFA AYDIN ATTENDED AN INTERVIEW ORGANIZED BY AZERBAIJANI STUDENTS AND ALUMNI PLATFORM-ASAP
Istanbul Aydın University and Eurasian Universities Union (EURAS) President Assoc. Prof. Mustafa Aydın attended an interview on "Education Opportunities between Turkish and Azerbaijan" organized by Azerbaijani Students and Alumni Platform.
Assoc. Prof. Mustafa Aydın came together with Azerbaijani students and shared his memories and successes in the field of education with students. He emphasized the necessity of getting up to date and mentioned issues such as the principles of leadership, what the university contributions to young people and the integration of modern technology into education. Aydin also touched upon the issues of studying abroad, self-development and the importance of national values in his speech; at the end of the interview, he answered the questions of the students about education.
Stating that he enjoys sharing his personal knowledge with the students, Assoc. Prof. Mustafa Aydın said "Having an interview about life with university students in the Azerbaijan Youth Organization gives us great energy. All our young people are enlightened! We look to the future with hope under favor of the gleam in their eyes. I wish all the best for all of you!"