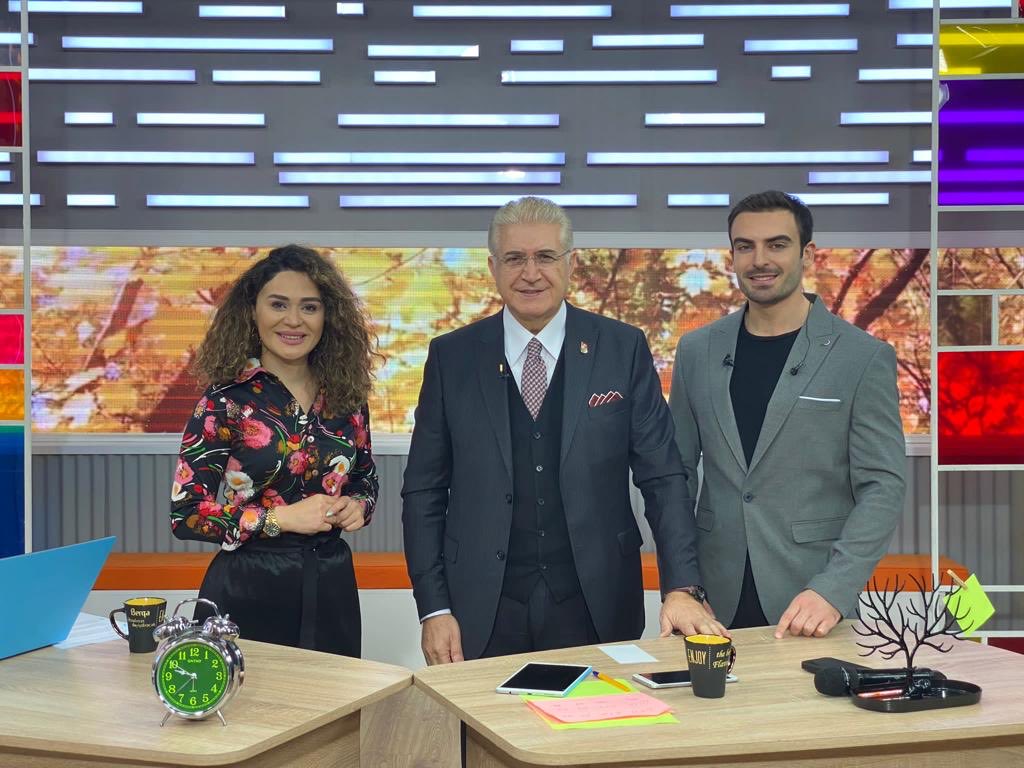 İstanbul Aydın Üniversitesi (İAÜ) Mütevelli Heyet Başkanı Doç. Dr. Mustafa Aydın, Azerbaycan ziyaretinde Space TV'ye konuk oldu. Aydın programda, pandemi sonrasında yoğunlaşan dijital eğitim modellerini ve Türkiye-Azerbaycan ilişkilerini değerlendirdi.
Pandeminin ardından eğitimin uzaktan ve dijital platformlarda gerçekleştirilmesiyle 'e-öğrenme'nin belirgin bir yükseliş gösterdiğini ifade eden Aydın, eğitim sisteminin 'çevrim içi kültür' yoluyla önemli ölçüde değiştiğini ve 'hibrit model'in önem kazandığını söyledi. Dünyanın birçok yerinde eğitimde dijitale geçişin bu kadar ani olmasıyla birlikte, 'çevrim içi öğrenme'nin benimsenmesinin pandemi sonrası devam edip etmeyeceğinin de merak edildiğini belirten Aydın; 'yüz yüze' ve 'çevrim içi eğitim'in harmanlanması şeklindeki yeni eğitim modelinin uygulanabilir görüldüğünü vurguladı.
Çevrim içi öğrenmenin, bilgilerin kalıcılığını artırarak daha az zaman almasıyla da tercih edilen bir yöntem olduğuna ilişkin araştırmalara dikkat çeken Doç. Dr. Mustafa Aydın; değişen dünyadaki öğrenme metotlarının da zaten bu değişime uyum sağlamasının kaçınılmaz olduğunu söyledi. Küresel etkiye sahip olayların, inovasyon için genellikle bir dönüm noktası olduğunu da kaydeden Aydın; bilginin yayılmasının, pandemiyle birlikte daha da önemli hâle geldiğini vurguladı.
Azerbaycan'da yayın yapan Space TV'de Türkiye-Azerbaycan ilişkilerini de değerlendiren Doç. Dr. Mustafa Aydın; Türkiye ve Azerbaycan halklarının daima "Tek Millet İki Devlet" anlayışıyla hareket ettiklerini, kardeşten öte topluluklar olduklarını belirtti. Azerbaycan'ın her zaman Türkiye'ye, Türkiye'nin de Azerbaycan'a destek olduğunun altını çizen Aydın; bu güçlü uyumun, sosyal ve kültürel birliktelikten kaynaklandığını ifade etti.
Doç. Dr. Mustafa Aydın 'eğitimde uluslararasılaşma'nın önemine de değinerek, iki ülke arasındaki iş birliğinin eğitim sektöründe de devam ettiğini aktardı. Aydın, İAÜ'nün II. Karabağ Savaşı boyunca şehit ve gazi olan askerlerin çocuklarına eğitim bursu verdiğini de anımsatarak; "II. Karabağ Savaşı'nda 26 yıllık hasreti dindiren kahramanlarımızın evlatları, tüm şehit ve gazilerimizin evlatları gibi Türkiye ile Azerbaycan halklarına birer emanettir. Azerbaycan halkının emaneti, bizim emanetimizdir. Onlara sahip çıkmak, boynumuzun borcudur. Bu evlatlarımızın en iyi imkânlarla çağdaş bir eğitim alabilmeleri için elimizden geleni yapmaya hazırız." dedi.
---
ASSOC. PROF. MUSTAFA AYDIN WAS A GUEST OF SPACE TV DURING HIS VISIT TO AZERBAIJAN
The president of Istanbul Aydın University (IAU) Assoc. Prof. Mustafa Aydın was a guest of Space TV during his visit to Azerbaijan. Aydın evaluated the latest developments in education and Turkey-Azerbaijan relations after the pandemic.
Expressing that e-learning has risen markedly with distance education on digital platforms after the pandemic, Aydın said that the education system has changed significantly in this sense and "hybrid" model has gained importance. Stating that he was wondering whether the adoption of online learning would continue after the pandemic, with the transition to digital in education being so sudden in many parts of the world, Aydın reminded that the feasibility of the new education model, which was created by blending face-to-face and online education, was seen.
Drawing attention to the researches that online learning is a preferred method as it increases the permanence of information and takes less time, Assoc. Prof. Mustafa Aydın said that in a changing world, it is inevitable for learning methods to adapt to this change. Noting that events with a global impact are often a turning point for innovation, Aydın stated that the importance of dissemination of information also increased with the pandemic.
Assoc. Prof. Mustafa Aydın evaluated Turkey-Azerbaijan relations on Space TV broadcasting in Azerbaijan, and he stated that people in Turkey and people in Azerbaijan are like brothers and sisters in accordance with the principle of "One Nation Two States". Underlining that Azerbaijan always supports Turkey and vice versa, Aydın stated that this strong unity results from social and cultural association.
Assoc. Prof. Mustafa Aydın emphasized the importance of internationalization in education and he stated that the cooperation between the two countries continues in the education sector. Aydın declared that he gave education scholarships to the children of the martyrs and veterans in the Second Karabakh War. "The children of our heroes, who relieved the longing for 26 years in the II. Karabakh War, are entrusted to the people of Turkey and the people of Azerbaijan, just like the children of all our martyrs and veterans. The trust of the Azerbaijani people is our trust. It is our duty to protect them. We are ready to do our best for these children to receive the best and most modern education." Aydın said.