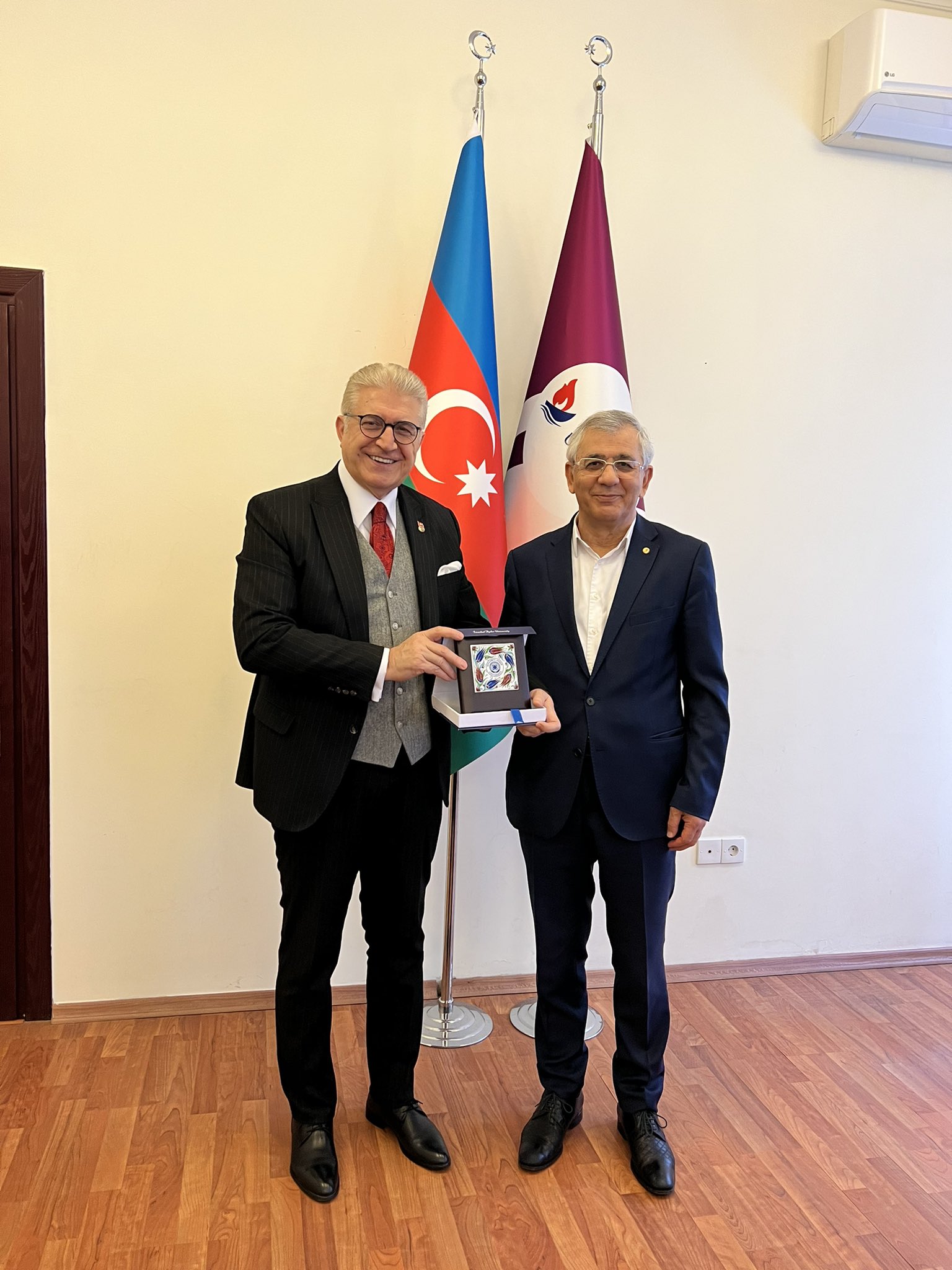 Doç. Dr. Mustafa Aydın, Azerbaycan'da gerçekleştirdiği temaslar çerçevesinde EURAS Üyesi ve Bakü Yüksek Petrol Üniversitesi Rektörü Elmar Gasimov ve Bakü Hazar Üniversitesi Başkanı Prof. Dr. Hamlet İshakanlı ile görüştü.
Yapılan ikili görüşmelerde, üniversiteler arası iş birliklerine yönelik verimli değerlendirmelerde bulunuldu. Bu kapsamda Bakü Petrol Okulunun kampüsünü de ziyaret eden Aydın, yetkililerle eğitimde çağdaş yöntemler noktasında fikir alışverişinde bulundu.
Ayrıca Hazar Üniversitesi Mütevelli Heyeti Başkanı Prof. Dr. Hamlet İshakanlı, üniversite rektörü ve rektör yardımcısıyla da görüşen Aydın; Hazar Üniversitesinin dünya eğitim kalite sıralamasındaki konumuna ilişkin değerlendirmelerini paylaştı. EURAS çatısı altındaki uluslararası yayın faaliyetleri için çeşitli planlamaların da yapıldığı görüşmede, ortak projelere ilişkin güncel adımlar konuşuldu. 
---
ASSOC. PROF. MUSTAFA AYDIN MET WITH THE RECTOR OF BAKU HIGHER OIL SCHOOL ELMAR GASIMOV AND THE PRESIDENT OF BAKU KHAZAR UNIVERSITY PROF. DR. HAMLET ISHAKANLI
Assoc. Prof. Mustafa Aydın met with the Rector of Baku Higher Oil School & EURAS member Elmar Gasimov and Baku Khazar University President Prof. Dr. Hamlet İsahakanlı in Azerbaijan.
There were fruitful evaluations on cooperation between universities in the bilateral meetings. In this context, visiting the Baku Oil school Aydın exchanged ideas with the authorities on modern methods in education.
In addition, President Aydin met with the university rector and vice-rector along with Khazar University President Prof. Dr. Hamlet Ishakanli . He shared his comments regarding the situation of Khazar University in the world education quality rankings. During the meeting, various plans for international broadcasting activities under the EURAS, current steps regarding joint projects were discussed.