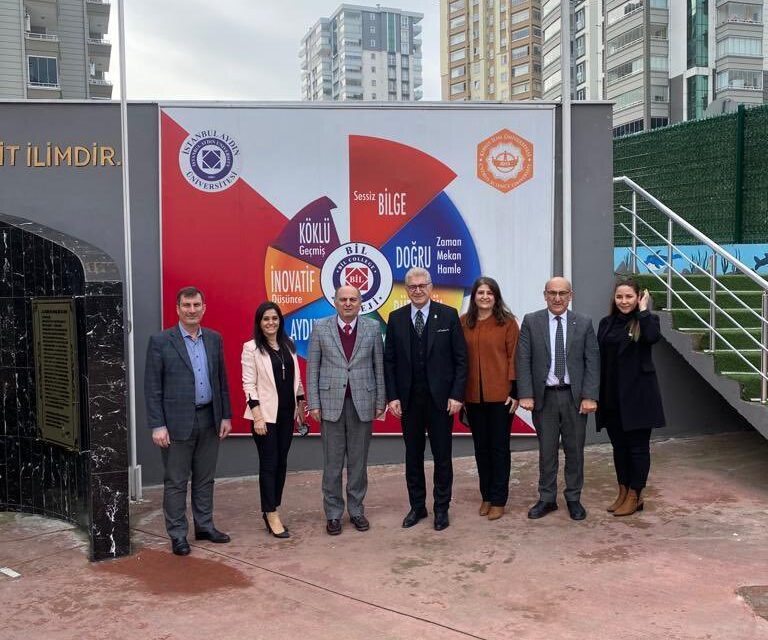 BİL Holding ve BİL Eğitim Kurumları Yönetim Kurulu Başkanı Doç. Dr. Mustafa Aydın, BİL Koleji Samsun Kampüsünü ziyaret etti.
BİL Kolejinin yöneticileri, eğitimcileri ve öğrencileriyle bir araya gelen Aydın; eğitim alanındaki hızlı değişime vurgu yaparak, iletişim teknolojilerinin bugün geldiği nokta çerçevesinde eğitim-öğretim alanında kullanılan mevcut uygulamaların sürekli olarak güncellenmesi gerektiğini dile getirdi.
Yenilikçi uygulamalara yönelik kolej yönetimi ile de karşılıklı fikir alışverişinde bulunan Doç. Dr. Mustafa Aydın, "Bil kolejinde başarı bir kültürdür diyorsak, başarının sonu olmayan bir yenilenme süreciyle başa baş ilerlediği gerçeğini de gündemimize almak durumundayız." şeklinde konuştu.
---
ASSOC. PROF. MUSTAFA AYDIN WAS IN SAMSUN BIL COLLEGE
President of Bil Educational Institutions and Bil Holding Assoc. Prof. Mustafa Aydın visited Samsun Bil College.
Assoc. Prof. Mustafa Aydın came together with Bil College's managers, teachers and students, emphasized the quick change in education and mentioned that existing practices used in the field of education should always be updated within the frame of current applications of communication technologies.
Assoc. Prof. Mustafa Aydın exchanged ideas with college management for innovative applications. He said "If we say the success is a culture in Bil College, we have to put on the agenda which the truth that success and endless renewal process proceed in the same line'