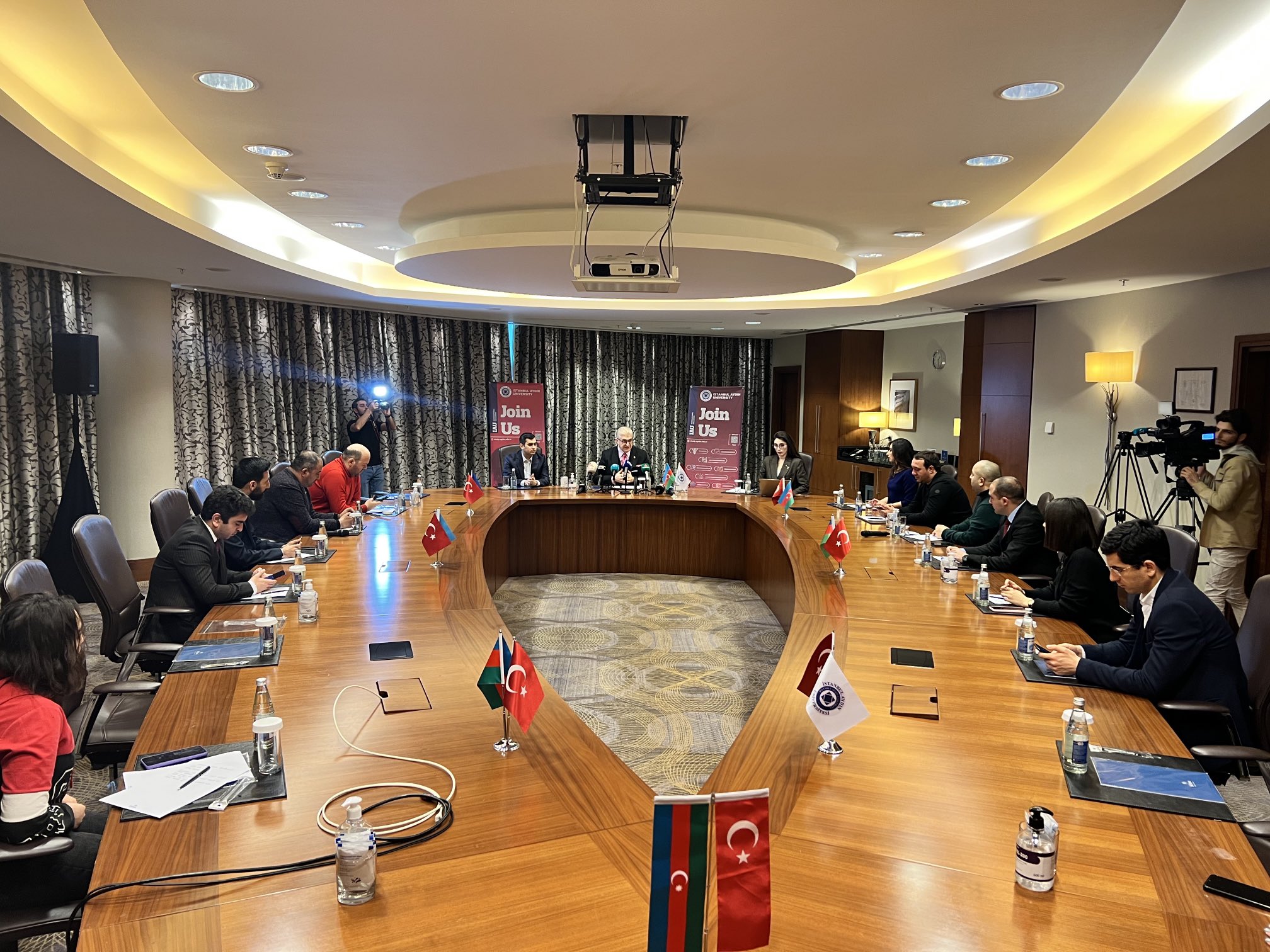 Ukrayna'da yaşanan çatışma ortamından dolayı eğitimi yarım kalan öğrenciler ile ilgili soruna dikkat çekmek isteyen Doç. Dr. Mustafa Aydın, konu ile ilgili basın açıklamasında bulundu.
Ukrayna'daki olaylardan dolayı eğitimi aksayan Türkiye Cumhuriyeti ya da Azerbaycan Cumhuriyeti vatandaşı öğrencilerin, yarım kalan eğitimlerine Türkiye'de devam edebileceklerini belirten Aydın; "Türkiye'nin hem devlet hem de vakıf üniversiteleri, Ukrayna'da eğitimi yarım kalan öğrencilerimize kapılarını açıyor." dedi.
İstanbul Aydın Üniversitesi Mütevelli Heyet Başkanı Doç. Dr. Mustafa Aydın'ın Bakü'de İAÜ Azerbaycan Temsilcisi ve Islahatçı Gençler Birliği Başkanı Farid Şahbazlı'nın da katılımıyla gerçekleştirdiği basın toplantısı, Azerbaycan basınında geniş yankı buldu.
---
ASSOC. PROF. MUSTAFA AYDIN HELD THE PRESS CONFERENCE ABOUT WAR-WEARY STUDENTS IN UKRAINE
Assoc. Prof. Mustafa Aydın made a statement to the press to draw attention about the students beacuse of they incomplete their eucation due to the clash enviroment in Ukrain.
Aydın stated that students who are citizens of the Republic of Turkey or the Republic of Azerbaijan, whose education is disrupted due to the events in Ukraine, will able to continue their uncompleted education in Turkey. He added to his statement: " Both state and foundation universities of Turkey always open their doors to students whose education was incomplete in Ukrain."
The press conference, which was performed by the President of İstanbul Aydın University Assoc. Prof. Mustafa Aydın, with the participation of IAU Azerbaijan Representative and President of Reformist Youth Union Farid Şahbazlı, had wide repercussions in the Azerbaijani press.