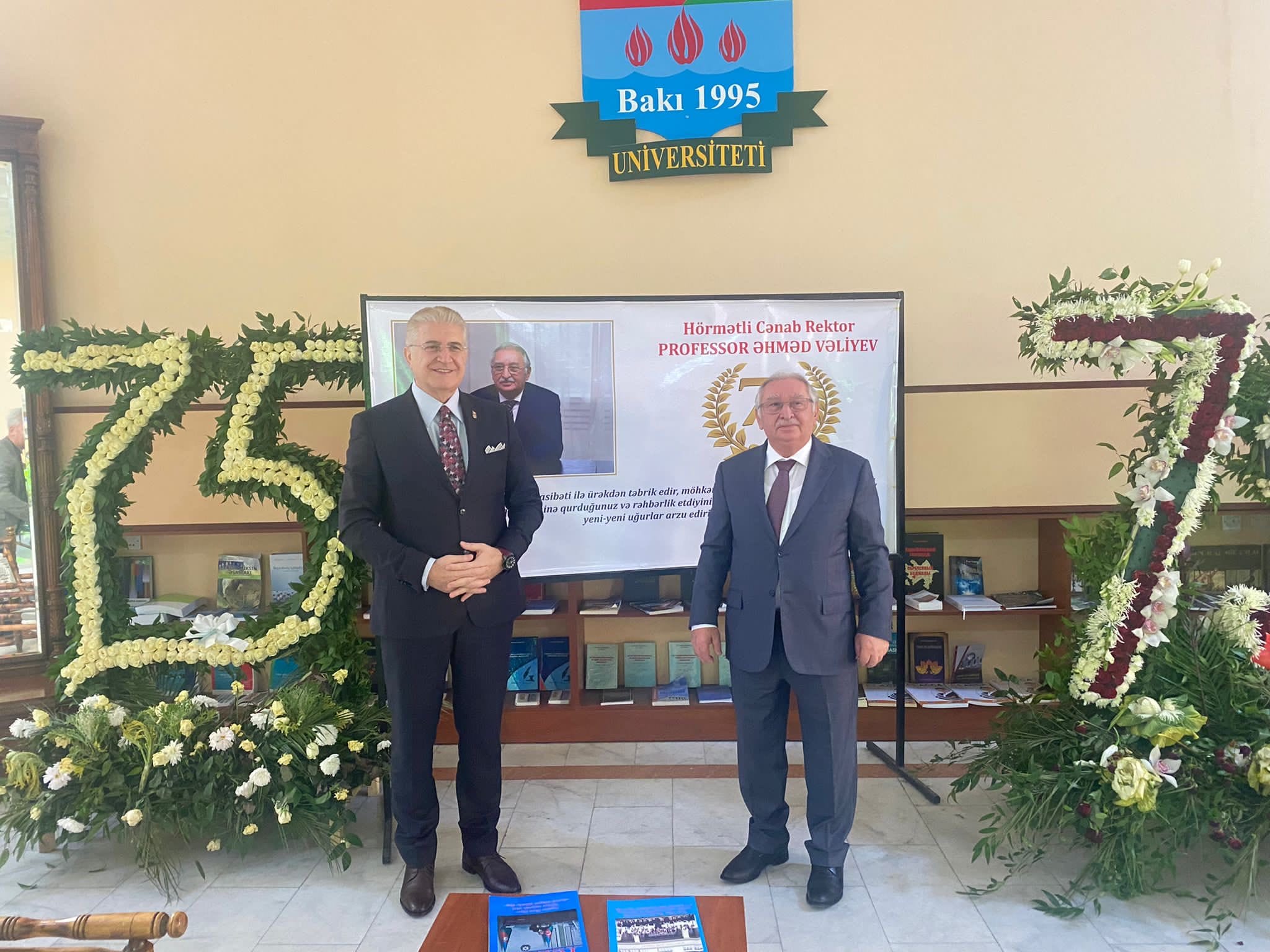 İstanbul Aydın Üniversitesi (İAÜ) Mütevelli Heyet Başkanı Doç. Dr. Mustafa Aydın, Azerbaycan'da 2015 yılında kendisine fahri doktora veren Bakü Odlar Yurdu Üniversitesi Rektörü Ahmet Valiyev ile bir araya geldi. Valiyev'in 75. doğum yılını tebrik eden Aydın, iki üniversite arasındaki iş birliği çalışmalarını da değerlendirdi.
Aydın, iki üniversitenin de en yüksek uluslararası standartları karşılayan bir seviye için çabalayarak eğitim sürecini sürekli iyileştirdiklerini dile getirdi ve yenilikçi projelerin başarıyla uygulandığını, uluslararası iş birliklerinin tesis edildiğini söyledi.
Üniversitelerin dinamik olarak gelişmeye devam ettiklerinin ve yeni zirvelere emin adımlarla ilerlediklerinin altını çizen Aydın, bilimsel ve yaratıcı projeleri ortaya çıkarmaya yardımcı olacak her türlü çabayı desteklemeye de daima hazır olduklarını vurguladı.
---
ASSOC. PROF. MUSTAFA AYDIN CONGRATULATED VALIYEV
The president of Istanbul Aydın University (IAU) Assoc. Prof. Mustafa Aydın met with the Rector of Baku Odlar Yurdu University Ahmet Valiyev, who awarded him an honorary doctorate in Azerbaijan in 2015. Congratulating Valiyev's 75th birthday, Aydın also evaluated the cooperation between the two universities.
Aydın stated that both universities continuously improve their education system by striving for a level that meets the highest international standards, and he said that innovative projects have been successfully implemented and international collaborations have been established.
Underlining that universities continue to develop dynamically and take firm steps forward to a new record high, Aydın emphasized that they are always ready to support any effort that will help bring out scientific and creative projects.