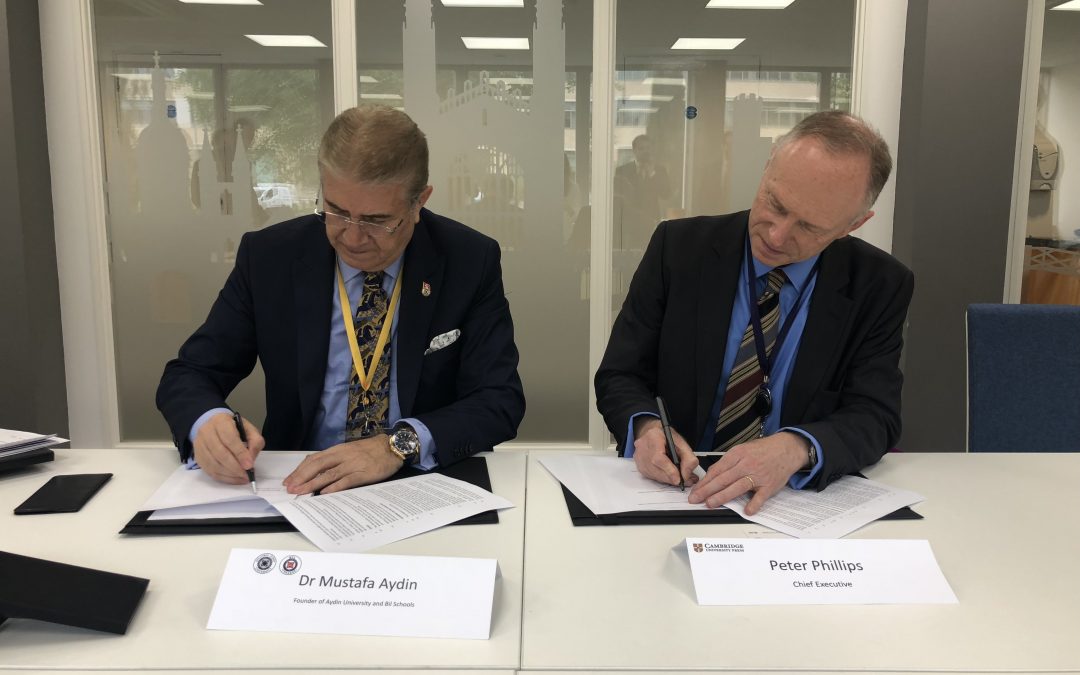 İstanbul Aydın Üniversitesi Mütevelli Heyeti Başkanı ve BİL Kolejleri Yönetim Kurulu Başkanı Dr. Mustafa Aydın, İngiltere'ye ekibiyle birlikte bir çalışma ziyareti gerçekleştirdi. Ziyaret kapsamında eğitim modellerini yerinde tespit, toplantılar ve ikili görüşmeler gerçekleştirildi. Dr. Mustafa Aydın ve Peter Philips arasında gerçekleşen imzalarla Cambridge University Press (CUP) ile geniş kapsamlı bir protokole imza atıldı.
CUP ziyareti sonrası Londra ki School 21 Okullarını da ziyaret eden Dr. Mustafa, School 21'in işleyişi hakkında ve "ORACY" olarak adlandırılan öğrencilere kendilerini bulma konusunda yardımcı olma amacını taşıyan kavram hakkında bilgi aldı.
Çalışma ziyareti kapsamında Cambridge'de gerçekleşen toplantılarda, Dr. Mustafa Aydın ve İrem Arman'ın üniversiteyle ilgili görüşlerini ifade etmesinin akabinde Dr. Neil Mercer, ORACY'le ilgili araştırma ve gelişmelerden bahsetti.
————————————————————————————————————————————————————————————————
President of Istanbul Aydın University and Chairman of Bil Collage Dr. Mustafa Aydın has gone to the United Kingdom for new cooperation. During the visiting, he has made some bilateral negotiations, on-site monitoring about education. Dr. Aydın has also signed a MoU with Peter Philips who is the CEO of Cambridge University Press (CUP)
After CUP visiting, Dr. Aydın has also visited School 21 in order to on-site monitoring and to take some information about ORACY which helps the student to find their own way.
During the Cambridge meeting, Dr. Aydın and his consultant Mrs. İrem Arman have expressed his thoughts and future plans about Istanbul Aydın University. Dr. Neil Mercer who is the founder of Oracy has given some information about works of Oracy and its research.