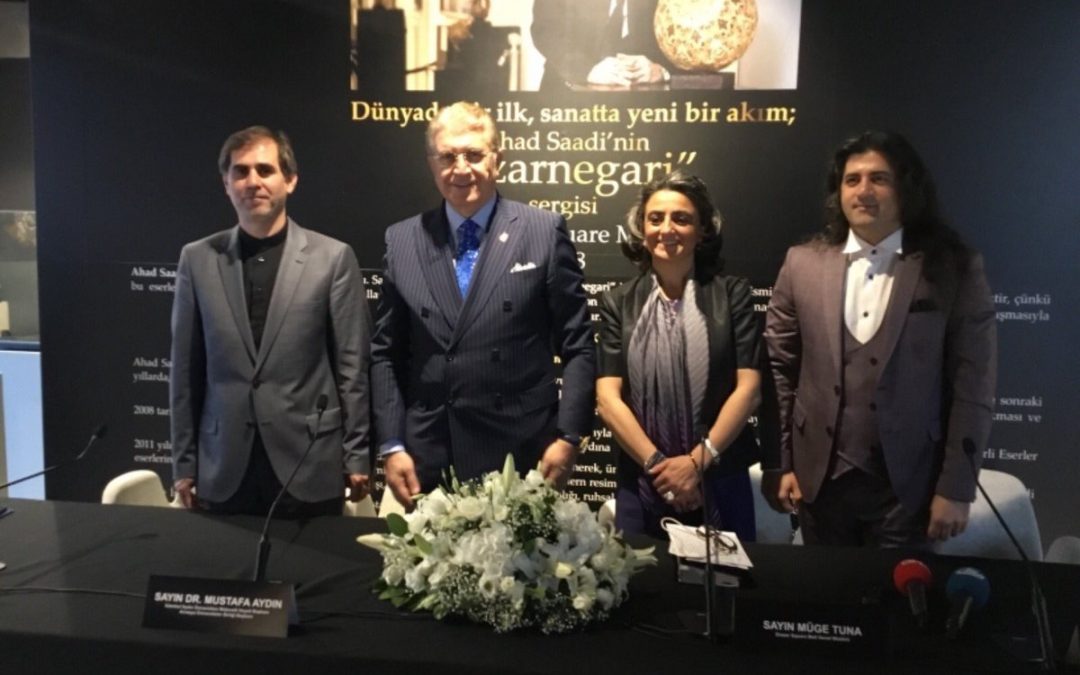 Ateşle çizim yapan İranlı Sanatçı Ahad Saadi'nin Azarnegari tekniğiyle yarattığı sanat eserlerinin sergilendiği 'Aşk ve Yaşam' temalı sergi, Emaar Art Sanat Galeri'de sanatseverlerle buluştu. Sanat buluşmasına İstanbul Aydın Üniversitesi Mütevelli Heyet Başkanı ve Avrasya Üniversiteler Birliği Başkanı Dr. Mustafa Aydın, İran'ın İstanbul Başkonsolosluğu Kültür Ataşesi Abdolreza Rashed, Emaar Square Mall Genel Müdürü Müge Tuna katılarak Ahad Saadi'nin sergisi hakkında konuşma yaptılar.
Dr. Mustafa Aydın'ın konuşmasında İran kültür ve sanatının tarihi derinliğini ve günlük hayattaki yansımasını anlattığı "Art–Talk" başlığı altında birçok sanat konuşmasına imkân veren etkinlikte, Saadi'nin kendi icât ettiği Azarnegari sanatı, yaratıcılık, sanattan bireylerin beklentileri ve etkileşimleri, doğu ülkelerinin kültür ve sanat bağları, doğu sanatının varlıkları ve gidişatı, Özgüven ve Sanata Yön Vermek" konuları çerçevesinde konuşuldu.
Sanat hayatına 1999 yılında başlayan Ahad Saadi tarafından icat edilen Azarnegari sanatı, kalem ve boya kullanmadan küçük parçalar halinde kesilen kumaşların birbirinin üzerine yakılarak yapıştırılmasıyla oluşuyor.
Çocukluk yıllarından beri ateşin gücüne hayranlık duyan sanatçının Azarnegari sanatında ürettiği eserleri, 2008 yılında İran Kültür Bakanlığı tarafından yeni bir sanat tarzı olarak tescil edilerek resmi kayıtlara geçirildi.
—————————————————————————————————————————————————————————————
Iranian artist Ahad Saadi who use Azarnegari technic (by fire) in his art, has exhibited his artworks, themed "Love and Life" in Emaar Art Gallery. President of IAU Dr. Mustafa Aydın, Iran Consulate General Cultural Attache Abdolreza Rashed and General Director of Emaar Square Mall Müge Tuna has participated to the Expo as a speaker.
During the Art-Talk which related with Iranian culture and history and its reflection on life, Dr. Aydın has congratulated Saadi for his different technic and creativeness. He has also mentioned interactions and expectations of people from the art, culture and art bind in east countries, future of East art, self-confidence and dominating in Art.
Azarnegari art which was created by attaching pieces by fire was invented by Ahad Saadi who has started his career in 1999. His artworks which are created by fire is recognized by Iran Ministry of Culture as a new art style since 2008.