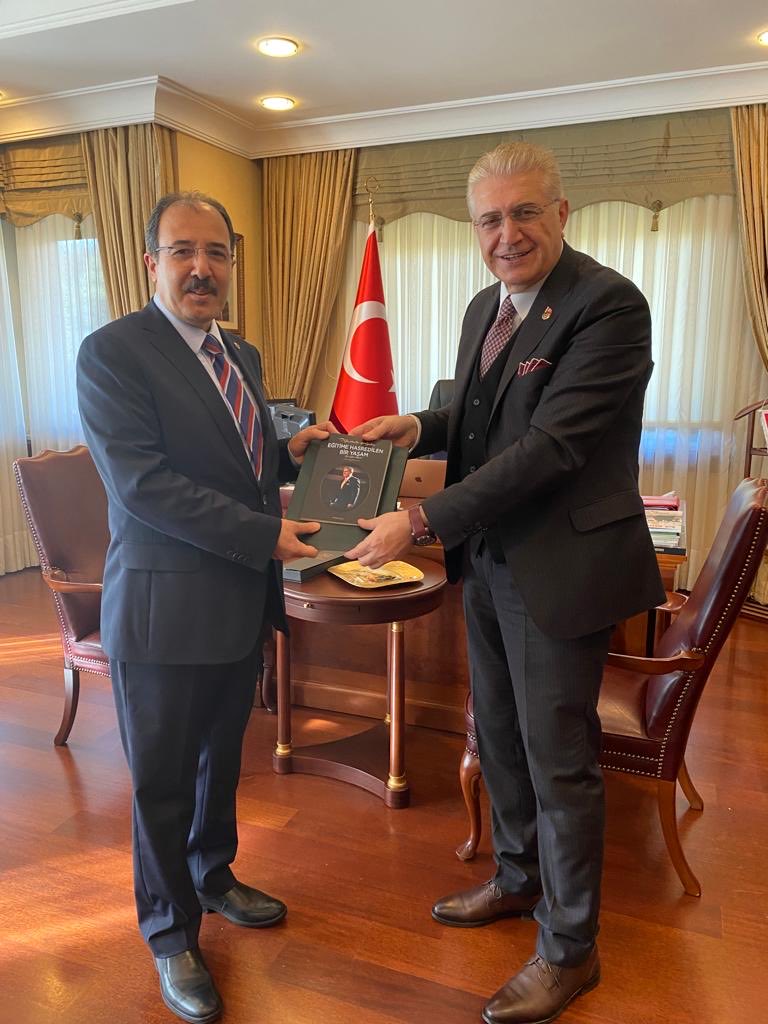 İstanbul Aydın Üniversitesi (İAÜ) Mütevelli Heyet Başkanı Doç. Dr. Mustafa Aydın, Azerbaycan ziyaretinde T.C. Bakü Büyükelçisi Doç. Dr. Cahit Bağcı'yı ziyaret etti.
Aydın ve Büyükelçi Bağcı'nın görüşmesinde, uluslararası öğrenci kabulünün önemi konuşuldu. Eğitimde uluslararasılaşmanın ülkeleri her zaman bir adım ileriye götürdüğünü ve dünya insanı yetiştirme noktasında önem taşıdığını ifade eden Doç. Dr. Aydın; uluslarasılaşmanın milletler, insanlar, kültürler, kurumlar ve sistemler arasındaki ilişkiyi de geliştirdiğini vurguladı.
Global eğitimin kültür alışverişi noktasındaki değerini anlatan Aydın; öğrenim hayatında 'uluslararası tecrübe' edinen öğrencilerin, bağlantı kurdukları ülkelerin kültürel ve sosyolojik yapılarına hâkim olarak iş olanaklarını da artırdıklarını söyledi. "Kültürlerarası anlayış ve fikirler, öğrenimin önemli bir parçasıdır." diyen Aydın; uluslararasılaşmanın sadece öğrenciler açısından değil, eğitimciler açısından da dikkat gerektiren bir konu olduğunu belirtti. Uluslararası vizyonun muhakkak kazanılması gerektiğine dikkat çeken Aydın, "Küresel bakışı ve uluslararası bir vizyonu müfredata yerleştirebilmek için kaynak taramak ve global eğitim stratejilerine hâkim olmak; hem bireysel hem de akademik gelişime katkı sağlar." dedi.
Aydın pandemi sonrası eğitimde karşı karşıya kalınan sorunların çözümü noktasında, özellikle de uluslararası öğrencileri desteklemek adına yapılan çalışmaların aralıksız devam ettirildiğini dile getirerek; dijital ve hibrit öğrenme modellerinin eğitimin genişletilmesi, iyileştirilmesi ve yeni kaynakların geliştirilmesinde önemli bir rol oynadığını söyledi. 
---
"INTERNATIONALIZATION IN EDUCATION ALWAYS TAKES COUNTRIES ONE STEP FURTHER"
The president of Istanbul Aydın University (IAU) Assoc. Prof. Mustafa Aydın visited T. R. Baku Ambassador Assoc. Prof. Cahit Bağcı.
During the meeting, they discussed the importance of international student recruitment. Stating that internationalization in education always takes countries one step further and that it is important in raising suitable people for the world, Assoc. Prof. Aydın emphasized that internationalization improves the relationship between nations, people, cultures, institutions and systems.
Explaining the value of global education in terms of cultural exchange, Aydın said that students who have international experience in their education life increase their job opportunities after they have mastered the cultural and sociological structures of the countries they contact. "Intercultural understanding is a part of every young person's learning process." he said. Aydın that internationalization is an issue that requires attention not only for students but also for educators. Aydın said, "For educators, scanning resources and mastering global education strategies in order to integrate global understanding and international thinking into the curriculum contribute to both individual and academic development."
Aydın stated that we continue to work to solve the problems faced in education after the pandemic, especially to support international students. Digital and hybrid learning models play a role in the development of new resources at the point of expanding and improving education.