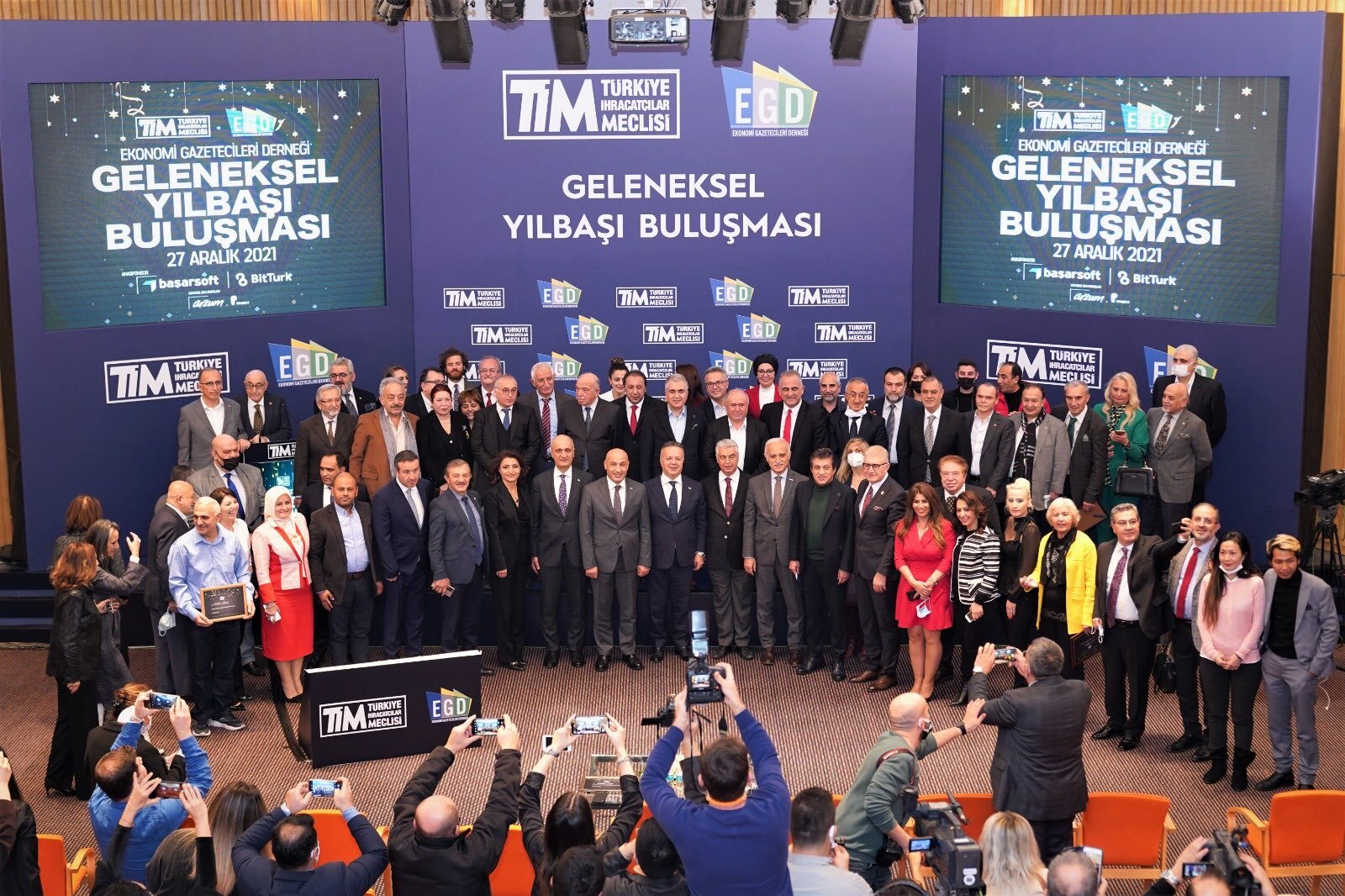 Ekonomi Gazetecileri Derneğinin (EGD) geleneksel "Yeni Yıl Buluşması", Doç. Dr. Mustafa Aydın'ın katılımlarıyla Türkiye İhracatçılar Meclisinin (TİM) ev sahipliğinde düzenlendi.
Doç. Dr. Mustafa Aydın konuşmasında hizmet ihracatının önemine değinerek, teknoloji ve iş süreçlerindeki dönüşümlerin hizmet faaliyetleri için de yeni olanaklar sunduğunu aktardı. Hizmetlere dayalı ekonomik dönüşüm potansiyelinin günden güne ilerlediğini ifade eden Aydın, özellikle büyüme stratejilerini güçlendirme çalışmalarının devam ettiğini vurguladı.
Doç. Dr. Mustafa Aydın, yüksek üretkenliğe sahip olma eğiliminde olan sektörleri destekleyebilecek ve etkilerini artırabilecek yapısal bir dönüşümün 2022 ile birlikte hız kazanacağını da söyledi. Ayrıca gecede, Türkiye ekonomisine katkıları nedeniyle Doç. Dr. Mustafa Aydın'a ödül takdim edildi.
---
THE TRADITIONAL NEW YEAR PROGRAM WAS ORGANIZED BY ECONOMY JOURNALISTS ASSOCIATION HOSTED BY TIM
Traditional "New Year Meeting" of the Association of Economic Journalists (EGD) was hosted by the Turkish Exporters Assembly (TIM) with the participation of Assoc. Prof. Mustafa Aydın.
In his speech, Assoc. Prof. Mustafa Aydın emphasized the importance of service exports and stated that the transformations in technology and business processes offer new opportunities for service activities. Aydın stated that the potential for economic transformation based on services is improving day by day and that efforts to strengthen growth strategies continue.
Assoc. Prof. Mustafa Aydın also said that a structural transformation that can support sectors tending to have high productivity and increase their impact will gain momentum by 2022. Also, Assoc. Prof. Mustafa Aydın was presented with an award at the organization for his contributions to the Turkish economy.