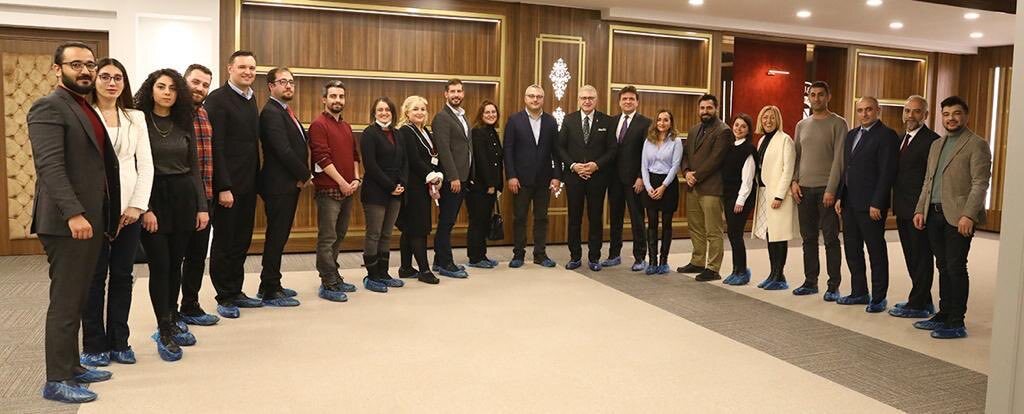 Hizmet İhracatçıları Birliği (HİB) Eğitim Hizmetleri Komitesi Toplantısı, HİB Eğitim Komitesi Başkanı Doç. Dr. Mustafa Aydın'ın katılımlarıyla İstanbul Aydın Üniversitesinde (İAÜ) gerçekleştirildi.
Toplantıda, uluslararası öğrenci teminindeki uygulamalar, sorun ve çözüm önerileri görüşüldü. Aydın; uluslararası öğrenci akışının, üniversite stratejilerinin birleştirilmesi için de bir fırsat olduğunun altını çizdi. Ayrıca eğitim için 2022 yılındaki kilit noktanın, pandemiden sonra belirlenen yeni eğitim modelleri olduğunu dile getiren Doç. Dr. Mustafa Aydın; ders stratejileri ile teknolojilerindeki teori-pratik dengesine ve çağdaş, yenilikçi faaliyetlerin devamlılığına da dikkat çekti. 
---
"IT IS NECESSARY TO DEVELOP A FLEXIBLE AND STRONG LEARNING MODEL"
Service Exporters' Association (HIB) Education Services Committee Meeting was held at Istanbul Aydın University (IAU) with the participation of the president of HIB Education Committee Assoc. Prof. Mustafa Aydın.
At the meeting, practices, problems and solutions in the provision of international students were discussed. Aydın underlined that international student mobility is also an opportunity for combing university strategies. In addition, the key point for education in 2022 is the new education models determined after the pandemic, Assoc. Prof. Mustafa Aydın drew attention to the theory-practice balance in course strategies and technologies, and the continuity of contemporary and innovative activities.