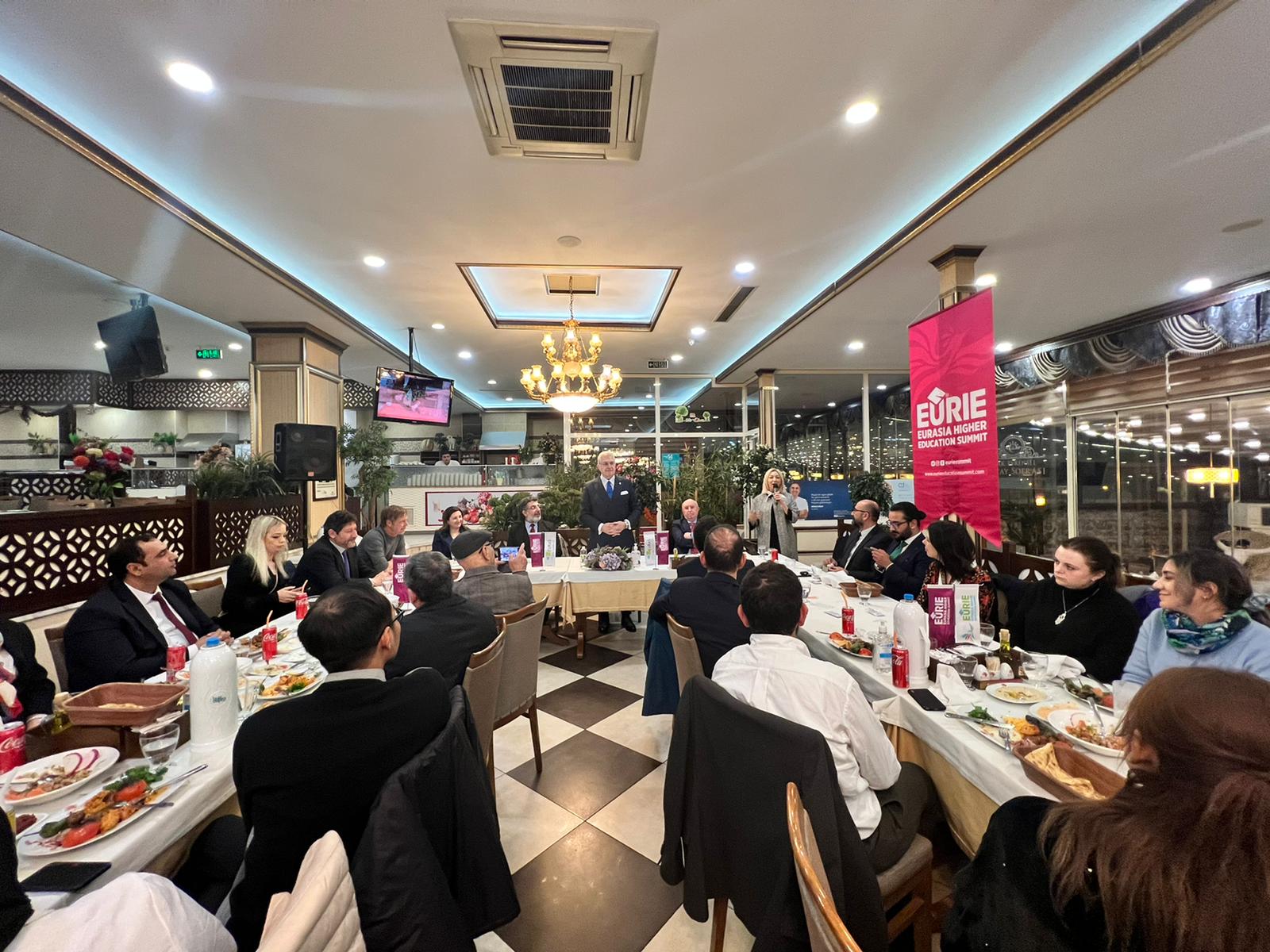 Dünyanın üçüncü en büyük eğitim zirvesi olan EURIE'nin (Eurasia Higher Education Summit-Avrasya Yükseköğretim Zirvesi) 7.si gerçekleştirildi. Pandemi döneminde çevrim içi yapılan, bu yıl ise hibrit olarak gerçekleşen zirveye 62 farklı ülkeden katılım oldu.
02.03.2022 günü İstanbul Aydın Üniversitesi'nde açılışı yapılan 7. zirveye yüz yüze iştirak eden EURAS üyesi üniversitelerin temsilcileri, 04.03.2022 günü misafirler için düzenlenen özel akşam yemeğinde buluştu.
Kendilerini ve kurumlarını tanıtarak yükseköğretimin uluslararası boyutu ile ilgili görüş alışverişinde bulunan konuk temsilciler, zirveye yönelik bireysel değerlendirmelerini de paylaştılar.
Ev sahibi olan EURAS & EURIE Başkanı Doç. Dr. Mustafa AYDIN ise katılımcı üniversitelerin temsilcilerine tek tek teşekkür ederek, yükseköğretimin iletişim boyutunu son derece önemsediklerini ve bu iletişim ağlarını uluslararası arenada çok daha geniş zeminlere taşımayı hedeflediklerini belirtti.
---
EURIE GALA DINNER HELD TO THE UNIVERSITY REPRESENTATIVES WHO ATTEND THE EURIE 2022
The world's third largest education summit, 7th EURIE (Eurasia Higher Education Summit) hosted 62 different countries at a hybrid setting.
Representatives of EURAS member universities participated face-to-face at the 7th summit which was held at Istanbul Aydın University on 02.03.2022. They met in organized special dinner on 04.03.2022.
The representatives introduced themselves and their institutions. They shared their individual evaluations for the summit by exchanging their views on the international dimension of higher education.
Host and President of EURAS & EURIE Assoc. Prof. Mustafa Aydın thanked participant university representatives and attached great importance to higher education's communication's part by targeting to move the communication networks to much wider areas in the international era.