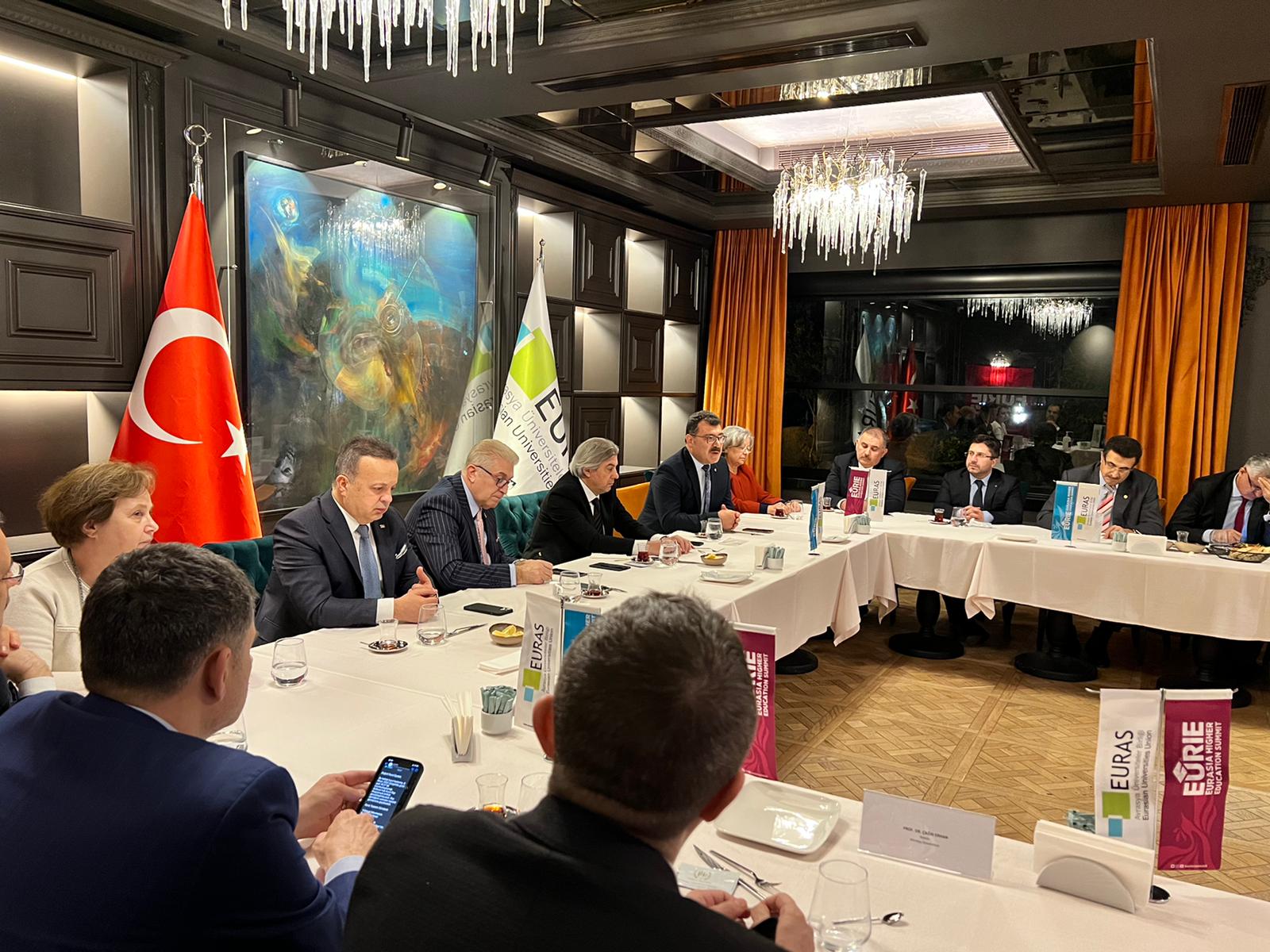 EURIE Danışma Kurulu Toplantısı, 4 Nisan 2022 tarihinde gerçekleştirildi. İstanbul Aydın Üniversitesi Mütevelli Heyet Başkanı Doç. Dr. Mustafa Aydın'ın başkanlığında gerçekleşen toplantıya; T.C.Kültür ve Turizm Bakan Yardımcısı Ahmet Misbah Demircan'ın yanı sıra EURIE paydaşlarından TÜBİTAK Başkanı Prof. Dr. Hasan Mandal, TİM Başkanı İsmail Gülle, Yeditepe Üniversitesi, İstanbul Üniversitesi, Marmara Üniversitesi, İstanbul Ticaret Üniversitesi ve Altınbaş Üniversitesi rektörleri de katıldı.
Hem iftar yemeği hem de toplantı şeklinde gerçekleşen organizasyonda EURIE 2022'nin değerlendirmesi yapıldı, bir EURAS markası olan EURIE'nin gelecek dönem hedefleri görüşüldü. Mevcut projelerin son durumlarına ilişkin fikir alışverişinde bulunularak planlanan faaliyetlere ilişkin hazırlıklar konuşuldu, genel sorunlar ve çözüm önerileri değerlendirildi, tanıtım faaliyetleriyle ilgili çalışmalar gözden geçirildi. Toplantı, EURIE başarısının gelecekte daha da ileri noktalara taşınabilmesiyle ilgili dilek ve temennilerle son buldu.
---
EURIE PARTNERS CAME TOGETHER AT THE ADVISORY BOARD MEETING
EURIE Advisory Board meeting was held on 2022, April 4. Deputy Minister of Tourism and Culture Ahmet Misbah Demircan, the partners of EURIE, Rectors of Yeditepe University, İstanbul University, Marmara University, İstanbul Ticaret University, Altınbaş University, the President of TUBITAK Prof. Dr. Hasan Mandal and the President of TİM İsmail Gülle attended to the meeting where hosted by İstanbul Aydın University President Assoc. Prof. Mustafa Aydın.
EURIE 2022 was evaluated and ongoing EURIE activities discussed in the organization took place both in the form of an iftar dinner and a meeting. EURIE Advisory Board exchanged their opinions about final situations of current projects, talked about preparations of planned activities and evaluated problems and solutions. In addition, they reviewed studies on advertising activities.
The meeting ended with wishes and requests to move further for the success of EURIE in the future.