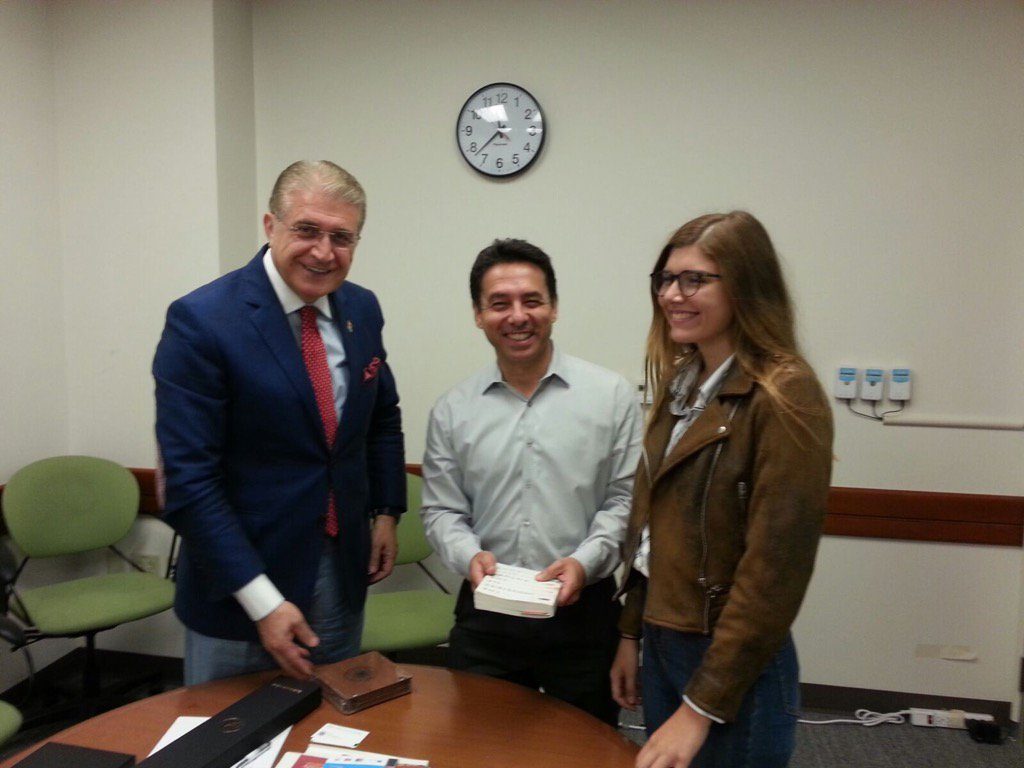 Cumhurbaşkanı Recep Tayyip Erdoğan'ın katılımı ile 36. Geleneksel Birlik Vakfı İftarı gerçekleştirildi.
İftara Cumhurbaşkanı Erdoğan'ın yanı sıra TBMM Başkanı İsmail Kahraman, Maliye Bakanı Naci Ağbal, Kültür ve Turizm Bakanı Nabi Avcı, Ulaştırma Denizcilik ve Haberleşme Bakanı Ahmet Arslan, İstanbul Valisi Vasip Şahin, İstanbul Büyükşehir Belediye Başkanı Kadir Topbaş, Fatih Belediye Başkanı Mustafa Demir ve İstanbul Aydın Üniversitesi Mütevelli Heyet Başkanı Dr.Mustafa Aydın'ının da aralarında bulunduğu çok sayıda davetli katıldı.
"RAMAZAN HER ŞEYDEN ÖNCE İNFAK AYIDIR"
Daha sonra bir konuşma yapan Cumhurbaşkanı Erdoğan ise Vakfın yeni bir neslin yetişmesinde ciddi kakılar sağladığını belirtti. Birlik Vakfı'nın özlenen neslin yetişmesine sağladığı katkılarla yeni Türkiye'nin inşa hareketinde öncü ve önemli bir rol oynadığını aktaran Cumhurbaşkanı Erdoğan, "Ramazan her şeyden önce infak ayıdır. Yoksulların sofralarını şenlendirmeyen bir kimse maddi olarak ne kadar zengin olursa olsun fakirdir. Peygamber efendimiz aleyiselatü vesselam 'yarım hurma ile de olsa cehennem ateşinden korunun, bunu da bulamayan güzel bir sözle ateşten korunsun diyerek' bizlere çok temel bir ilke vazetmiştir. Bu sebeple durumum şu seviyeye geldiği zaman hayır yapacağım gibi bu meselelere yaklaşamaz, bilakis yarım hurma ile de olsa kendini ateşten korumanın yollarını arar" diye konuştu.
---
Traditional Birlik Foundation Iftar Dinner
36th traditional Birlik Foundation iftar dinner took place with the participation of the President Recep Tayyip Erdogan.
President Recep Tayyip Erdogan, TBMM president Ismail Kahraman, Minister of Finance Naci Agbal, Minister of Culture and Tourism Nabi Avci, Minister of Transportation, Maritime Affairs and Communications Ahmet Arslan, Istanbul Governor Vasip Sahin, Istanbul Metropolitan Municipality Mayor Kadir Topbas, Fatih Mayor Mustafa Demir and Istanbul Aydin University President Dr. Mustafa Aydin attended the iftar dinner.
"Ramadan is a month to help others"
Speaking at the dinner President Erdogan mentioned that the Foundation contributes raising the new generation. "Ramazan is a month of helping others. Doesn't matter how rich the person, if she doesn't help the poor, she is in fact as poor as that person. Our prophet said you can offer even a half date which will protect you against the fire of hell, if you can't do that at least you can be nice to others. So one can never wait until a certain age to help others, she will look for ways to protect herself against the fire."
12.06.2016