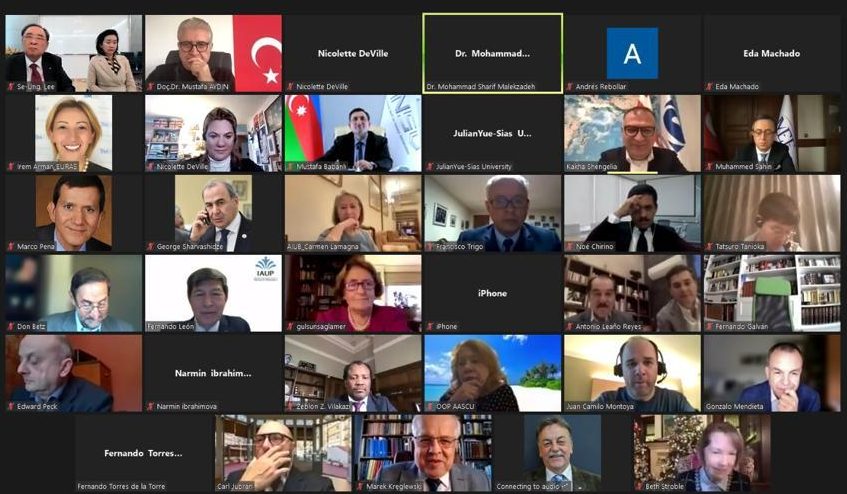 Uluslararası Üniversiteler Başkanları Birliği (IAUP) Yönetim Kurulu Toplantısı, Doç. Dr. Mustafa Aydın'ın katılımlarıyla düzenlendi. Toplantıda, 2021 yılı aktiviteleri ve gelecek dönem faaliyetleri değerlendirildi.
IAUP'un yeni dönem çalışmalarına yönelik önerilerde bulunan Aydın, eğitim yoluyla kültürlerarası diyalog ve anlayışı teşvik etme taahhüdünün üstünde durulması gerektiğini vurguladı. Aydın ayrıca "Sürdürülebilirliği desteklemek için net bir yol haritası belirlenmelidir." diyerek, net durum tespitlerinde bulunmanın çözüme giden yolu kolaylaştırdığını da işaret etti.
Aydın IAUP'un Birleşmiş Milletler (BM) ilkeleri doğrultusunda cinsiyet, ırk, din veya etnik kökene bakılmaksızın tüm insanlar için eğitim fırsatı sunmayı ve eğitim yoluyla küresel vatandaşlığı teşvik etmeyi amaçladığına da vurgu yaparak; bu gaye doğrultusundaki çalışmaların her anlamda desteklendiğini dile getirdi.
Tüm üye üniversitelerin başkanlarına, global eğitim anlayışına yönelik faaliyetleri ilerletme ve iş birliğini geliştirme çağrısında bulunan Aydın; "Araştırma, fikir ve ifade özgürlüğünün de aralarında bulunduğu insan haklarına bağlılık ilkeleri doğrultusunda dünya vatandaşı yetiştirmek; yeni çağın temel bir gerekliliğidir." dedi.
---
"WE SHOULD DEVELOP GLOBAL EDUCATIONAL APPROACH"
International Association of University Presidents (IAUP) Board of Directors Meeting was organized with the participation of Assoc. Prof. Mustafa Aydın.  At the meeting, activities for 2021 and activities for the next period were evaluated.
Aydın made suggestions for IAUP's new term work, and he emphasized that its commitment to promoting intercultural dialogue and understanding through education should be emphasized. Aydın also said, "We should determine a clear roadmap to support sustainability." He also pointed out that making clear due diligence facilitates the way to a solution.
Aydın emphasized that IAUP aims to provide education opportunities for all people regardless of gender, race, religion or ethnicity and to promote global citizenship through education, in line with United Nations (UN) principles stated that the efforts towards this goal are supported in every sense. Aydın spoke to the presidents of all member universities to advance the activities towards the understanding of global education and to develop cooperation; "To educate world citizens in line with the principles of commitment to human rights, including freedom of speech is a fundamental necessity of the new age." he said.