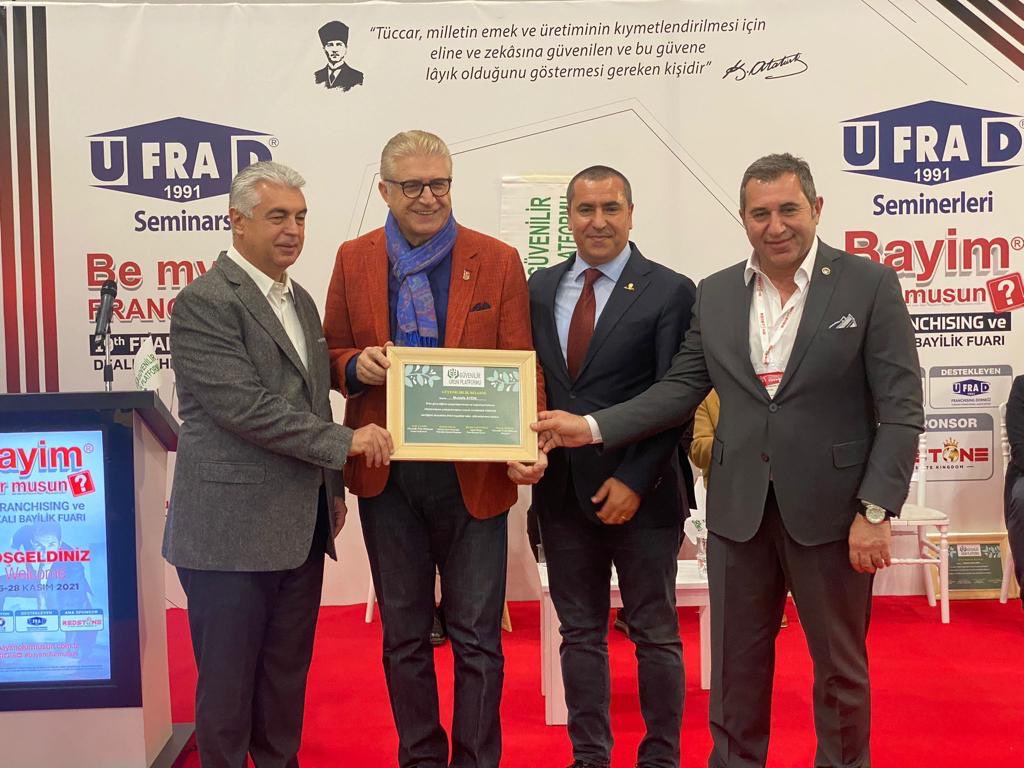 Bu yıl 19'uncusu düzenlenen Bayim Olur Musun Franchising ve Markalı Bayilik Fuarının UFRAD seminerleri ev sahipliğinde "Güvenilir Ürün Platformunun" "Güvenilir Markalar Konuşuyor" paneli ve ödül töreni gerçekleştirildi.
Alanında otorite kabul edilen birbirinden değerli konuşmacıların katıldığı panelde Güvenilir Marka olmanın şartları konuşuldu. Panelin hemen ardından güvenilirlik konusunda başarılı çalışmaları olan kişi ve kurumlara güvenilirlik ödülleri verildi.
UFRAD Genel Başkanı Doç. Dr. Mustafa Aydın'a "Güvenilir Eğitim Güvenilir Bayilik Ödülü" takdim edildi. Aydın, plaket takdiminin ardından yaptığı konuşmada eğitim hizmetlerinin dünya çapındaki ülkelerle olan ticari ilişkilerde de kritik bir unsur olduğunu söyledi. Öğrenimi teşvik etmenin, inovasyon, iş gücü geliştirme ve doğrudan yabancı yatırımları çekme yoluyla ekonomik kalkınmayı da güçlendireceğini sözlerine ekledi.
---
"RELIABLE EDUCATION RELIABLE DEALERSHIP AWARD"
"Reliable Brands Talk"panel and the award ceremony hosted by UFRAD were held at the 19th Be My Franchise Franchising and Dealership Fair.
The conditions of being a Reliable Brand were discussed in the panel where valuable speakers who are accepted as authority in their field attended. Right after the panel, reliability awards were given to individuals and institutions that had successful works on reliability.
The president of UFRAD Assoc. Prof. Mustafa Aydın was presented with the "Reliable Education Reliable Dealer Award". After the plaque presentation, Aydın said that education services are also a critical element in commercial relations with countries around the world. He added that promoting learning will also strengthen economic development through innovation, workforce development and attracting foreign direct investment.