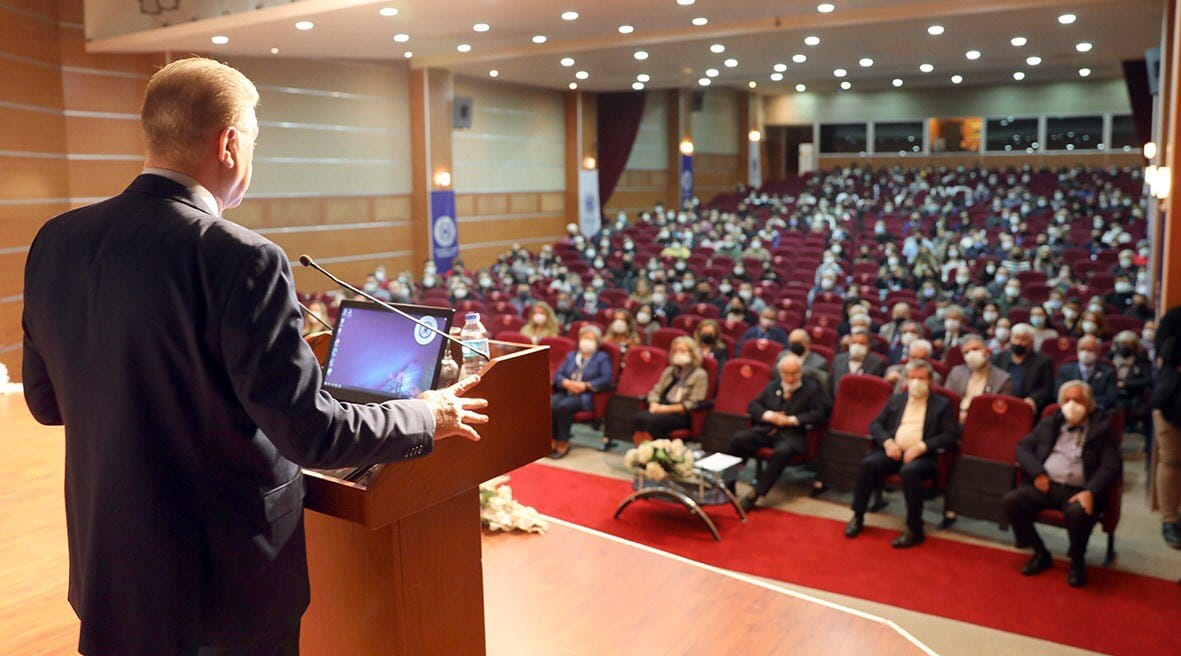 Türkiye Cumhuriyeti'nin kurucusu Ulu Önder Mustafa Kemal Atatürk'ün ölümünün 83. yıl dönümünde İstanbul Aydın Üniversitesinde (İAÜ) "10 Kasım Atatürk'ü Anma Töreni" düzenlendi. Konferansta Mütevelli Heyet Başkanı Doç. Dr. Mustafa Aydın, Rektör Yadigâr İzmirli ve Fen-Edebiyat Fakültesi Tarih Bölüm Başkanı Prof. Dr. Abdülhaluk Mehmet Çay konuşma yaptı.
Aydın, törende yaptığı konuşmada Atatürk'ü anmanın artık Atatürk'ü anlamak anlayışına evrilmesinden duyduğu mutluluğu dile getirerek "10 Kasım, son yıllarda Atatürk'ü anlamaya ve anmaya doğru evrildi bence çok da doğru oldu. Hayırlı bir evlada yakışan da budur." ifadelerini kullandı.
"Böyle bir liderin bu topraklarda doğması, onun öncülüğünde çağdaşlığa dayalı modern Türkiye'nin kurulmuş olması bizim için bir gururdur." diyen Aydın, "Atatürk'ü anlamak için 10 Kasım büyük bir fırsat olarak görülmelidir. Bu vesileyle, Atatürk'ün getirmiş olduğu yenilikler, onun bağımsızlık ve çağdaşlık anlayışı, Atatürk'ün milli ve manevi değerleri tekrar gündeme getirilmeli ve arkadan gelen nesillere aktarılmalıdır." açıklamasını yaptı.
---
"THIS IS WHAT BEFITS A DUTIFUL CHILD."
"10 November Atatürk Commemoration Ceremony" was held at Istanbul Aydın University (IAU) on the 83rd anniversary of the death of the Great Leader Mustafa Kemal Atatürk, the founder of the Turkish Republic. At the conference, the president of Istanbul Aydın University (IAU) Assoc. Prof. Mustafa Aydın, Rector Yadigâr İzmirli and Head of the History Department of the Faculty of Arts and Sciences Prof. Dr. Abdülhaluk Mehmet Çay made speeches.
In his speech at the ceremony, Aydın expressed his happiness that commemorating Atatürk has now evolved into understanding Atatürk and said, "November 10 has evolved towards understanding and commemorating Atatürk in recent years, I think it has been very correct. This is what befits a dutiful child."
"It is a pride for us that such a leader was born in these lands, and that a modern Turkey based on modernity was established under his leadership." Aydın said, "November 10 should be seen as a great opportunity to understand Atatürk. On this occasion, Atatürk's innovations, his understanding of independence and modernity, Atatürk's national and moral values ​​should be brought to the agenda again and transferred to the next generations.