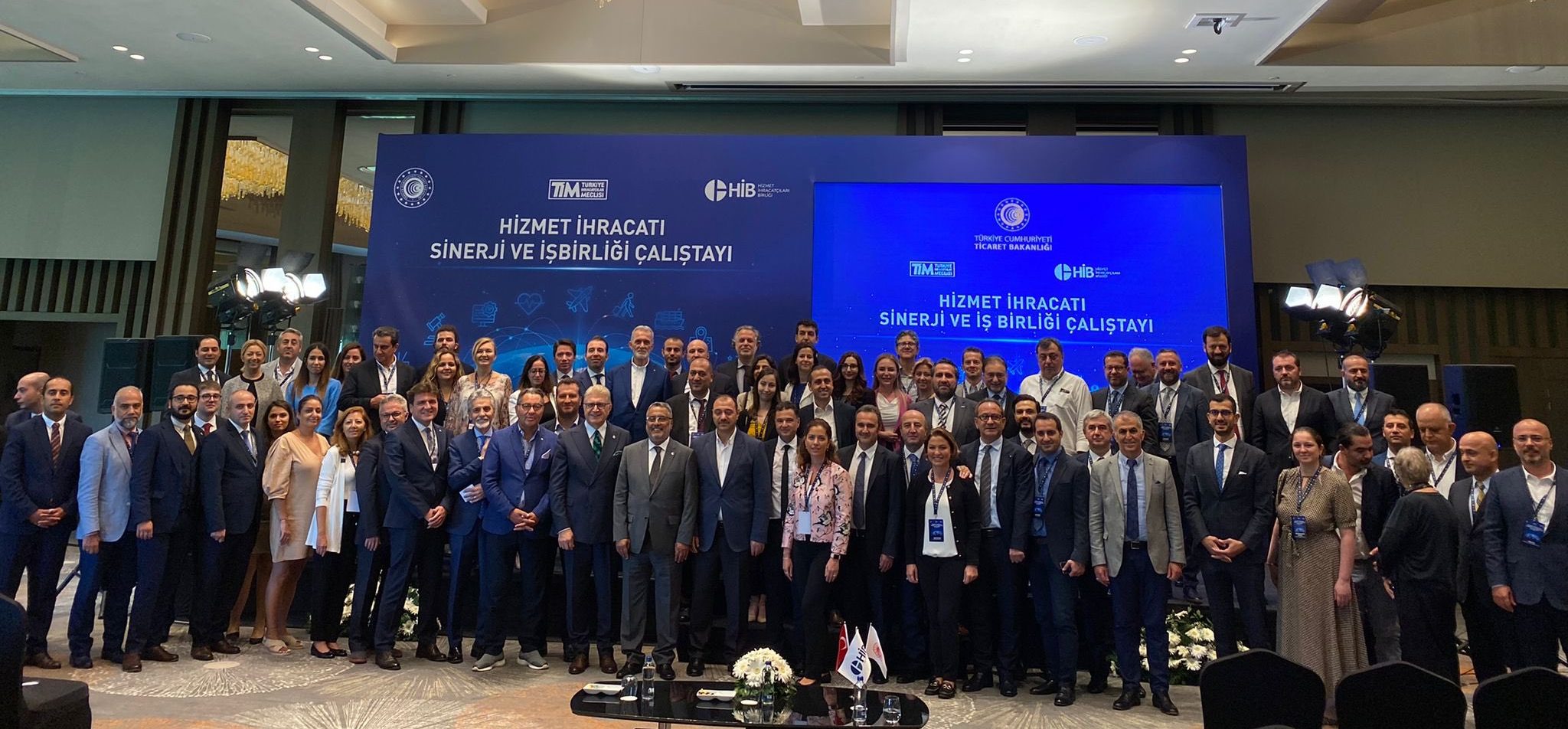 Türkiye İhracatçılar Meclisi (TİM) çatısı altında faaliyet gösteren Hizmet İhracatçıları Birliği (HİB); hizmet sektörlerini bir araya getirerek sektörler arası bilgi ve tecrübe paylaşımını sağlamak, aralarında iş birliği ve sinerji yaratarak ortak çalışmalar gerçekleştirebilmek amacıyla "Sektörler Arası Sinerji ve İş Birliği Çalıştayı" düzenledi.
Üç gün süren ve Sapanca'da gerçekleşen çalıştaya; T.C. Ticaret Bakanı Mehmet Muş, T.C. Turizm ve Kültür Bakanı Mehmet Nuri Ersoy, T.C. Ulaştırma ve Altyapı Bakanı Adil Karaismailoğlu, Ticaret Bakan Yrd. Rıza Tuna Turagay, Sakarya Valisi Çetin Oktay, TİM Başkanı Mustafa Gültepe, HİB Başkanı Prof. Dr. Ahmet Bolat, Ticaret Bakanlığı Genel Müdürü Dr. Emre Orhan Öztelli, Ticaret Bakanlığı Bürokratları, HİB Komite Başkanları, hizmet sektörü liderleri ve temsilcileri katıldı.
HİB Bşk. Yrd. ve Eğitim Komitesi Başkanı Doç. Dr. Mustafa Aydın'ın da katılım gösterdiği çalıştayda; sektör temsilcilerinin ihracat stratejileri üzerine verimli fikir alışverişleri gerçekleştirildi ve hizmet sektörlerinin Türkiye ekonomisindeki rolü üzerinde duruldu.
---
"INTERSECTORAL SYNERGY AND COLLABORATION WORKSHOP" WAS HELD BY SERVICE EXPORTERS ASSEMBLY
Service Exporters' Assembly operating under the umbrella of Turkish Exporters Assembly, organized "Intersectoral Synergy and Collaboration Workshop" on the purpose of sharing intersectoral knowledge and experience by bringing together the service sectors and carrying out common works by creating cooperation and synergy between the sectors.
T.R. Minister of Commerce Mehmet Muş, T.R. Minister of Tourism and Culture Mehmet Nuri Ersoy, T.R. Minister of Transport and Infrastructure Adil Karaismailoğlu, Deputy Minister of Commerce Rıza Tuna Turagay, Governor of Sakarya Çetin Oktay, TİM President Mustafa Gültepe, HİB President Prof. Dr. Ahmet Bolat, the Ministry of Commerce General Manager Dr. Emre Orhan Öztelli, bureaucrats of the Ministry of Commerce, HİB Committees Presidents, the leaders and representatives of service sector attended the workshop which lasted for 3 days in Sapanca.
At the workshop that HİB Vice President and Education Committee President Assoc. Prof. Mustafa Aydın also attended, fruitful opinions about export strategies of sector representatives were exchanged and the role of the service sectors in the Turkish economy was dwelled on.