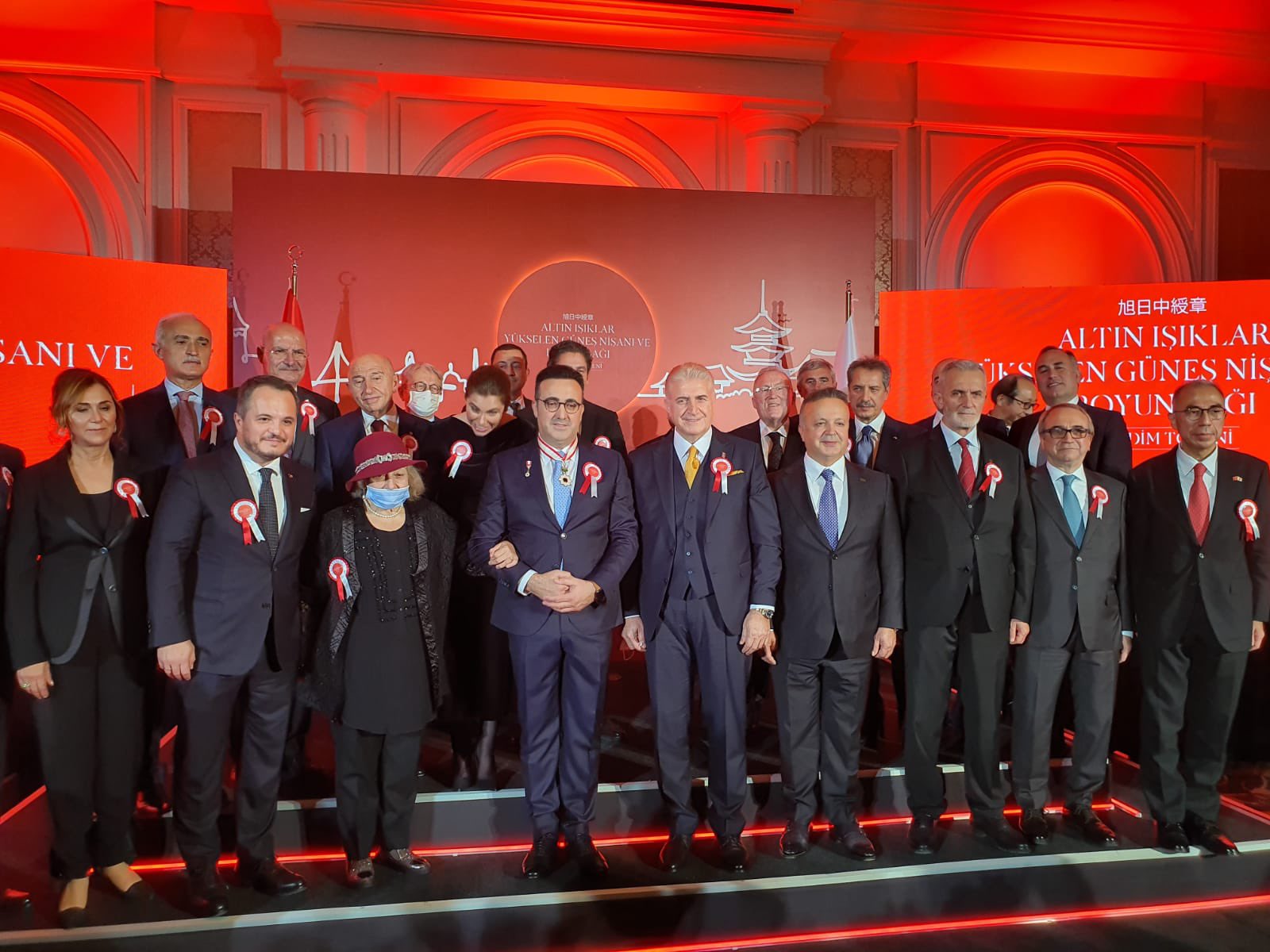 İstanbul Aydın Üniversitesi (İAÜ) Mütevelli Heyet Başkanı Doç. Dr. Mustafa Aydın, Türk Hava Yolları (THY) Yönetim Kurulu ve İcra Komitesi Başkanı M. İlker Aycı'ya, Japonya Büyükelçisi Suzuki Kazuhiro tarafından verilen ve Çırağan Sarayında düzenlenen "Altın Işıklar Yükselen Güneş Nişanı ve Boyun Bağı" takdim törenine katıldı.
Japonya imparatoru adına verilen devlet nişanını alan en genç isim olan M. İlker Aycı'nın bu nişana layık görülmesinde başta ekonomi ve kültürel alanda olmak üzere Türkiye ve Japonya arasındaki iş birliğini geliştirmeye yönelik çalışmaları rol oynadı.
Doç. Dr. Mustafa Aydın, tören sonrası yaptığı konuşmada "Başkanımızı canı gönülden tebrik ediyoruz. THY ve HİB adına gurur duyduk. Birlikte daha nice başarılara inşallah." ifadelerini kullandı. 
---
AN AWARD TO THE CHAIRMAN OF HIB ILKER AYCI FROM JAPAN
The president of IAU Assoc. Prof. Mustafa Aydın attended the "Golden Lights Rising Sun Order and Neck Tie" presentation ceremony held at Çırağan Palace. In the ceremony, Japanese Ambassador Suzuki Kazuhiro presented an award to the chairman of Turkish Airlines Board and Executive Committee M. İlker Aycı.
M. İlker Aycı, who is the youngest person to receive the state medal given in the name of the Emperor of Japan, deserves this award due to his efforts to develop cooperation between Turkey and Japan, especially in the economic and cultural fields.
In his speech after the ceremony, Assoc. Prof. Mustafa Aydın said, "We congratulate our President wholeheartedly. We are proud on behalf of THY and HİB. I hope we achive many more successes together."