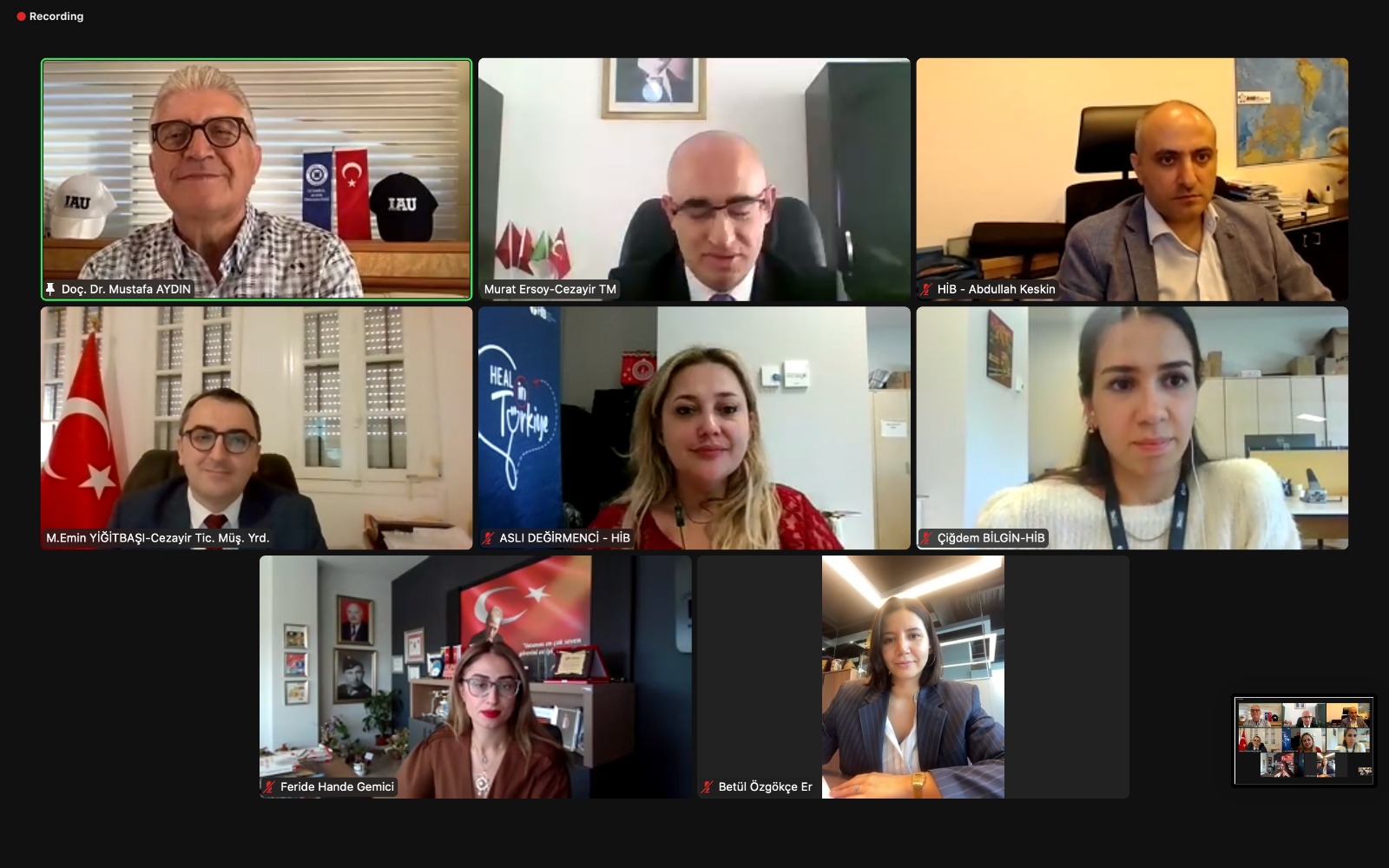 Türkiye İhracatçılar Meclisi (TİM) çatısı altında faaliyet gösteren Hizmet İhracatçıları Birliği (HİB) tarafından düzenlenen "Ticaret Müşavirlerimizle HİB Söyleyişleri" başlıklı çevrim içi konferans dizisinin Eylül ayındaki ikinci oturumu, 14 Eylül 2022 tarihinde Cezayir teması ile gerçekleştirildi.
HİB Yönetim Kurulu Başkan Yardımcısı Doç. Dr. Mustafa Aydın'ın açılış konuşması ile başlayan çevrim içi program; Cezayir Ticaret Müşaviri Murat Ersoy ve Cezayir Ticaret Müşaviri Yardımcısı Mehmet Emin Yiğitbaşı'nın sunumlarıyla devam etti.
Cezayir'deki hizmet ihracatına ilişkin güncel durum hakkında detaylı bilgiler içeren sunumlarda; Cezayir'in mevcut ekonomik durumu, Cezayir'in dış ticareti, Cezayir-Türkiye arasındaki ikili ticaret ve yürürlükteki anlaşmalar, Cezayir'deki hizmet ihracatının mevcut durumu, hizmet ihracatındaki alt sektörler, yatırım fırsatları ve Cezayir'de gerçekleşmesi planlanan fuarlar gibi birçok konuya değinildi. Sunum sonrasında ise katılımcı firmaların temsilcilerinden gelen sorular cevaplandı.
---
THE SECOND SEPTEMBER SESSION OF THE "COMMERCIAL COUNSELORS INTERVIEWS "OF HİB WAS HELD
The second session of September of online conference series titled "HIB Conversations with Commercial Counsellors" that coordinated by Service Exporters' Association which operates under the umbrella of Turkish Exporters Assembly, was held on 14th September 2022 with the theme of Algeria.
The online program that started with the opening speech of HİB Vice President Assoc. Prof. Mustafa Aydın, continued with presentations of Algeria Commercial Counsellor Murat Ersoy and Algeria Commercial Vice Counsellor Mehmet Emin Yiğitbaşı.
In the presentations involving detailed information about current situation on service export in Algeria, touched on many subjects such as current economic conditions, foreign trade, bilateral trade and agreements between Algeria and Türkiye, current situation of service export in Algeria, sub-sectors in service export, investment opportunities and planned fairs in Algeria. After the presentation, the questions from representatives of participating companies were answered.