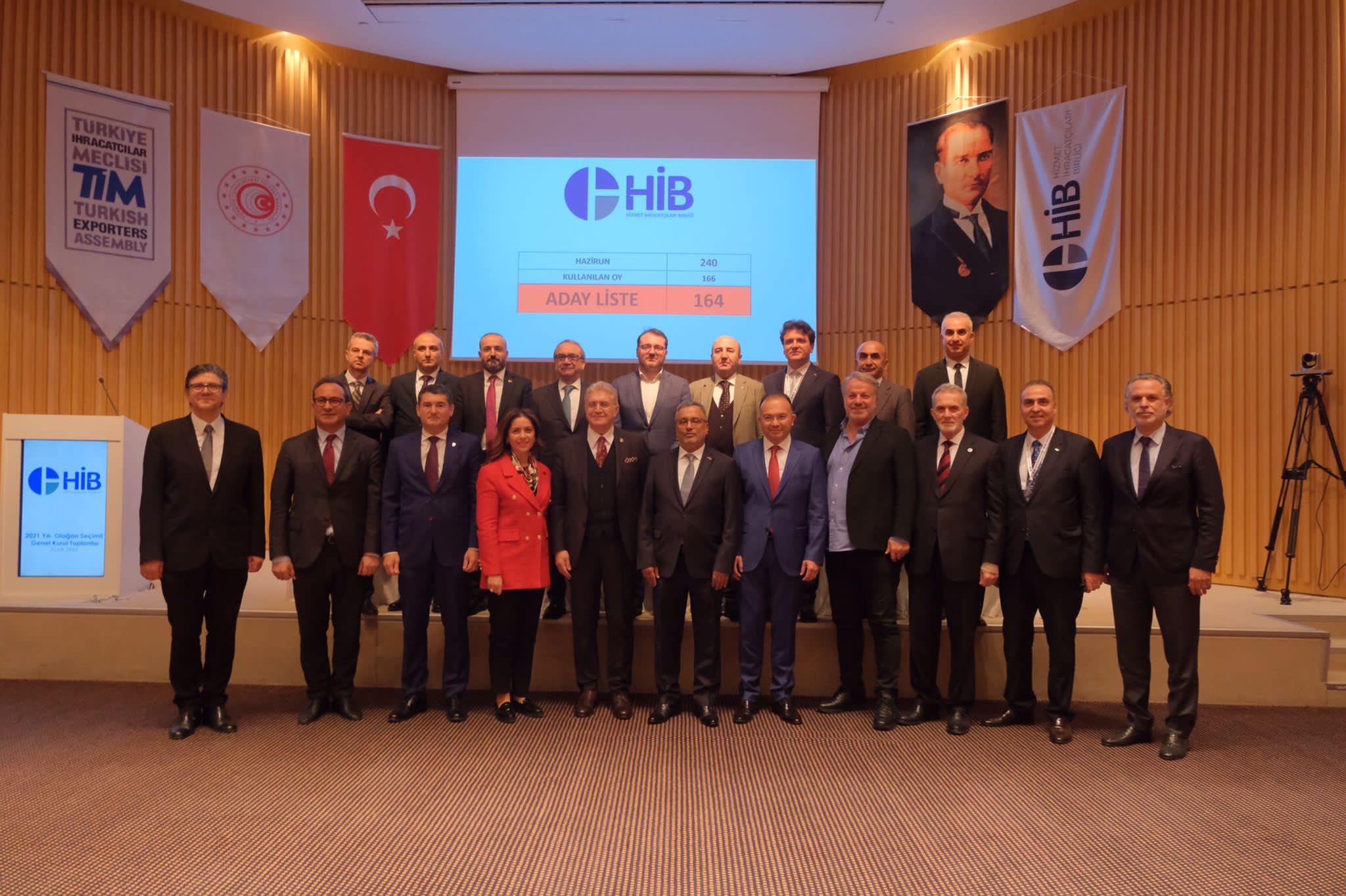 Türkiye İhracatçılar Meclisi'nin (TİM) çatısı altında faaliyet gösteren Hizmet İhracatçıları Birliği'nin (HİB) Olağan Genel Kurul Toplantısı gerçekleştirdi. 20 Nisan 2022 tarihinde Dış Ticaret Kompleksinde yapılan, T.C. Ticaret Bakanlığı ve Türkiye İhracatçılar Meclisi (TİM) temsilcilerinin de katılım sağladığı Olağan Genel Kurula, üye firmalar da yoğun bir ilgi gösterdi.
HİB Eğitim Komitesi Başkanı Doç. Dr. Mustafa Aydın'ın Yönetim Kurulu Başkan Yardımcılığına da seçildiği Genel Kurulda; yeni Yönetim Kurulu Listesi ise Türk Hava Yolları (THY) Anonim Ortaklığı (Başkan), 15 Temmuz Denizcilik ve Ticaret Anonim Şirketi (Üye), İstanbul Aydın Üniversitesi (Üye), Med Yapım Televizyon ve Filmcilik A.Ş. (Üye), İGA Havalimanı İşletmesi A.Ş. (Üye), Kazova Yapı İnşaat Sanayi ve Dış Ticaret Anonim Şirketi (Üye), Medipolitan Sağlık ve Eğitim Hizmetleri A.Ş. (Üye), NG Tasarım Otelcilik ve Turizm A.Ş. (Üye), Telenity İletişim Sistemleri Sanayi Ticaret A.Ş. (Üye), TAV Gazipaşa Alanya Havalimanı İşletmeciliği Anonim Şirketi (Üye) ve Baynak Ulus. Nak. Turz. Dış. Tic. Ltd. Şirketi (Üye) şeklinde oluştu.  
---
THE SERVICE EXPORTERS' ASSOCIATION ORDINARY GENERAL ASSEMBLY WAS HELD
The Turkish Exporters General Assembly Meeting (TİM) which operates under the Service Exporters' Association (HİB)was held. Member companies also showed great interest in the General Assembly with the participation of the Ministry of Commerce's and Turkish Exporters Assembly's representatives at Foreign Trade Complex in 20th March 2022.
HİB Education Committee President Assoc. Prof. Mustafa Aydın was elected also as a Vice President at the Ordinary General Assembly. The new members of the Board are as follows; Turkish Airlines (THY)(President), 15th July Maritime and Trade Incorporated Company, Istanbul Aydın University, Medyapım Television and Film-Making Inc., IGA Airport Operation Inc., Kazova Yapı Construction Industry& Foreign Trade Inc., Medipolitan Health and Education Services Inc., NG Design Hotel Management and Tourism Inc., Telenity Communication Systems Industry Trade Inc., TAV Gazipaşa Alanya Airport operation Inc. And Baynak International Transport Tourism Foreign Trade Ltd.