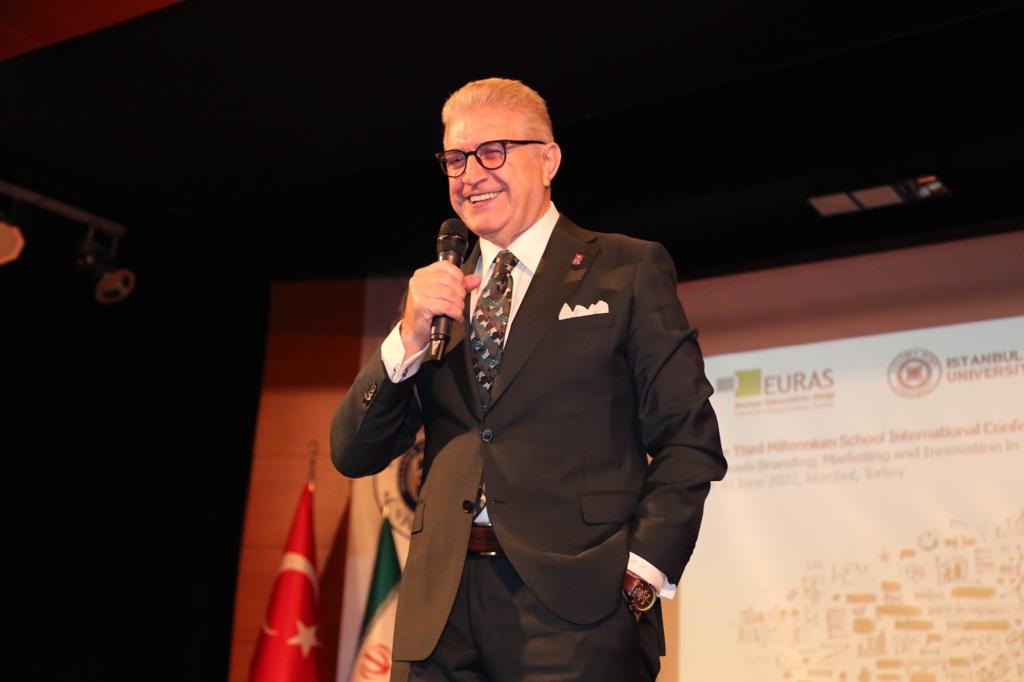 Vaka sayılarının oldukça azalması ve virüsün varlığını yitirmesi neticesinde; yaşanan süreci eğitim perspektifinden analiz eden markalaşma, pazarlama ve inovasyon temalı konferans İAÜ'de gerçekleştirildi. Avrasya Üniversiteler Birliği (EURAS) tarafından düzenlenen etkinliğe, eğitim dünyasından ve bürokrasiden çok sayıda uluslararası konuk katıldı.
İranlı birçok eğitimci ve iş insanının katıldığı konferansa, Avrasya Üniversiteler Birliği (EURAS) Başkanı ve İstanbul Aydın Üniversitesi (İAÜ) Mütevelli Heyet Başkanı Doç. Dr. Mustafa Aydın da iştirak etti. İki gün boyunca süren konferans kapsamında, alanında uzman isimlerin katılımlarıyla verimli bir seminer programı da düzenlendi. Yükseköğretimin uluslararasılaşmasındaki güncel konular ve yükseköğretim yönetimindeki kilit konular ele alınarak önemli değerlendirmelerde bulunuldu.
EURAS Başkanı ve İstanbul Aydın Üniversitesi (İAÜ) Mütevelli Heyet Başkanı Doç. Dr. Mustafa Aydın, yaptığı açılış konuşmasında Covid-19 pandemisi sonrasında eğitimin yeniden yapılandırıldığından bahsetti ve "Bu döneme, eğitimde inovasyon dönemi olarak yaklaşmalıyız. Ortak bir coğrafyayı paylaşan ülkeler ve kurumlarla gerçekleştirilecek akademik iş birlikleri, hiç kuşkusuz eğitimde kaliteyi artıracaktır. Bizler, öğrencilerimizin ilkokuldan başlayıp üniversiteden mezun olana kadar uluslararası düzey ve standartlarda eğitim alabilmeleri için çalışmaktayız. O nedenle, bu tür etkinlikler oldukça önem arz etmektedir. Bugünkü etkinliğimizin önemli iş birlikleri, proje ve programlara vesile olacağını umuyorum." dedi.
---
PANDEMIC EXPERIENCE FROM EDUCATIONAL SERVICES PERSPECTIVE WAS DISCUSSED AT THE TWO-DAY IAU CONFERENCE ATTENDED BY THE IRANIAN DELEGATION
The conference on branding, marketing, and innovation, which analyzed the process experienced as a result of the decrease in the number of cases and the disappearance of the virus from the perspective of education, was held at IAU. Various international guests from the education spheres and bureaucracy attended the conference organized by the Eurasian Universities Association (EURAS).
Eurasian Universities Association (EURAS) President and Istanbul Aydın University (IAU) PresidentAssoc. Prof. Dr. Mustafa Aydın attended the conference which was participated by numerous Iranian education and business sphered. Within the scope of the conference, which lasted for two days, a productive seminar program was organized with the participation of experts in their relative fields. Important evaluations were made by discussing the current issues in the internationalization of higher education and key issues in higher education administration.
EURAS President and Istanbul Aydın University (IAU) President Assoc. Dr. Mustafa Aydın, in his opening speech, mentioned the restructuring of education after the Covid-19 pandemic and stated that "We should approach this period as an innovation period in education. Academic collaborations with countries and institutions that share common geography will undoubtedly increase the quality of education. We work to ensure that our students can receive education at an international level and standards, starting from primary school until they graduate from university. Therefore, such events are of great importance. I hope that our event today will lead to important collaborations, projects, and programs".