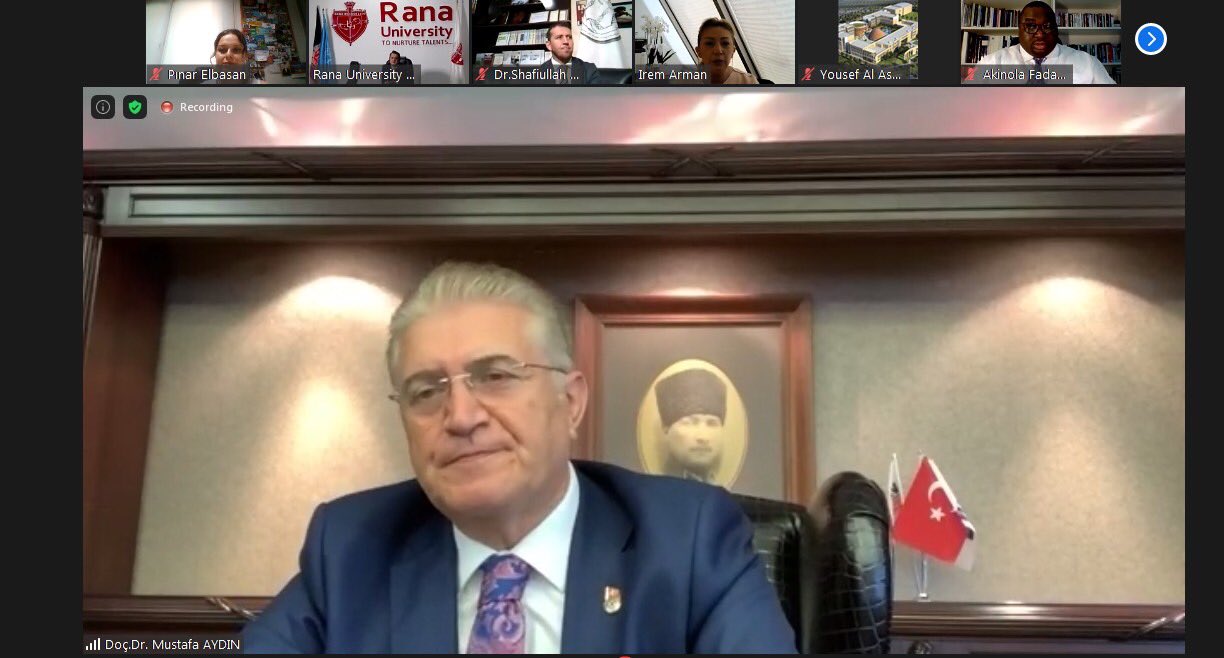 İş Ortağı Kuruluşumuz Apuıhea ile Konferans, Doç. Dr. Mustafa Aydın'ın Başkanlığında online olarak gerçekleştirildi
İş ortağı kuruluşumuz Apuıhea ile konferans, Avrasya Üniversiteler Birliği Euras ve Avrasya Yükseköğretim zirvesi Eurie Genel Başkanı Doç. Dr. Mustafa Aydın, Euras üyesi ve Afganistan Üniversiteler Birliği Başkanlığını da yürüten Rana Üniversitesi tarafindan düzenlenen "Pandemi sonrası yükseköğretim" konulu web konferansta keynote speaker olarak yer aldı. Doç. Dr. Mustafa Aydın konuşmasında; "İlk dalgayı atlattığımız ve yeni bir eğitim çağına geçtiğimiz bu dönemde; öncelikle riskleri minimize etmeye çalışmalı; maceracı bir ruhla değil, tecrübe ettiğimiz ve başarılı olduğumuz uygulamaları tercih ederek örneğin gerekli lisans alımlarını yaparak ve gereksinim duyduğumuz donanımları tesis ederek bunları yeni koşullara derhal hazır duruma getirmeliyiz." Sözleriyle etkili bir süreç olmasından bahsetti. Toplantıda genel olarak, hedefler ve yeni kararlar değerlendirildi.
Conference With Our Business Associate Establishment Apuıhea Was Carried Out Online Under the Presidency of Assoc. Prof. Dr. Mustafa Aydın.
Conference with our business associate establishment Apuıhea; Eurasian Universities Union -EURAS and Eurasia Higher Education Summit- EURIE President Assoc. Prof. Dr. Mustafa Aydın was keynote speaker in the web conference "Post pandemic higher education" held by Rana University which is a EURIE member and hold the presidency of the Union of Afghanistan Universities. Assoc. Prof. Dr. Mustafa Aydın stated, "We got over the first wave and entered a new education age. First, we need to minimize the risks and be prepared for new conditions not with a sporting blood but preferring the applications we experienced and achieved, for example buying required licenses and providing the required equipment's." Objectives and new decisions were evaluated in the meeting.