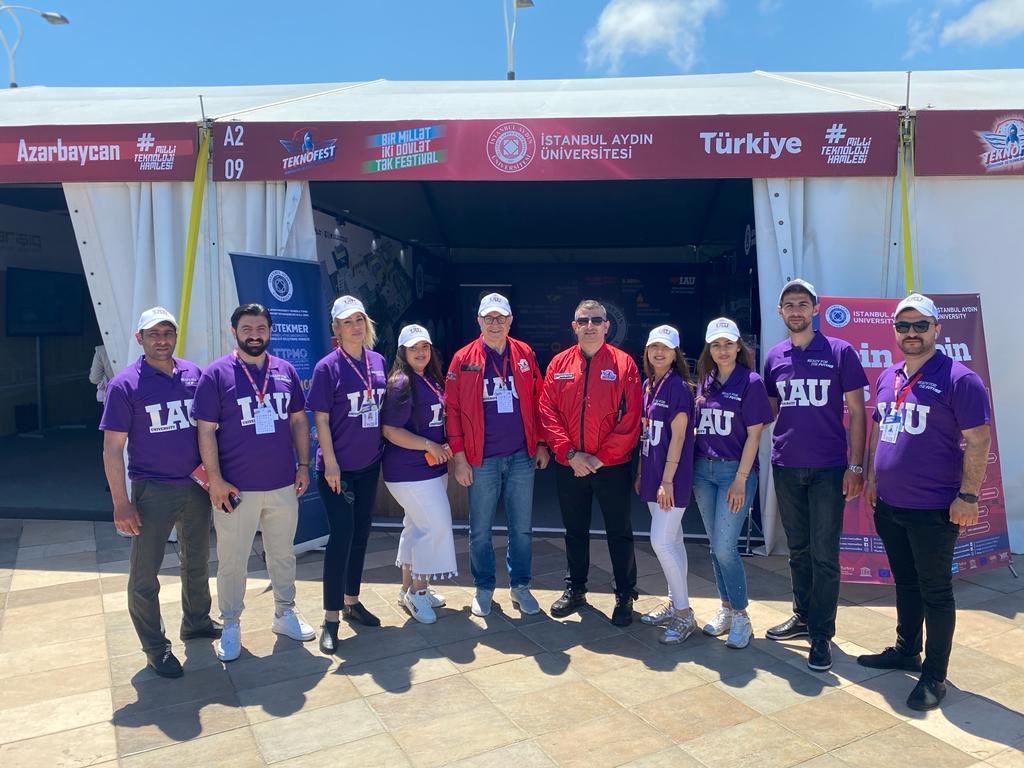 Dünyanın en büyük havacılık, teknoloji ve uzay fuarı Teknofest 2022; 26-29 Mayıs 2022 tarihlerinde Azerbaycan'ın başkenti Bakü'de gerçekleşti. Dört gün boyunca 300 bin kişinin ziyaret ettiği bu önemli fuarda, İAÜ ailesi de yer aldı. İstanbul Aydın Üniversitesi (İAÜ) Mütevelli Heyet Başkanı Doç. Dr. Mustafa Aydın'ın da katıldığı Teknofest Azerbaycan yoğun bir ilgi gördü ve son derece coşkulu bir atmosferde geçti.
Festival kapsamında 10 farklı kategoride düzenlenen teknoloji yarışmalarında dereceye girenler, ödüllerini Türkiye Cumhuriyeti Cumhurbaşkanı Sn. Recep Tayyip Erdoğan ve Azerbaycan Cumhurbaşkanı Sn. İlham Aliyev'den aldı. Nobel ödüllü Türk bilim insanı Prof. Dr. Aziz Sancar'ın da katıldığı festival, Azerbaycanlılar tarafından büyük ilgi gördü.
Festival için Azerbaycan'a giden, fuardaki İAÜ standının hazırlıklarını ve işleyişini yakından takip eden Doç. Dr. Mustafa Aydın; "İAÜ olarak bu önemli fuarda ülkemizi temsil etmekten büyük bir onur ve gurur duyuyoruz. Teknoloji sahasındaki hızlı değişimi yakından takip etmeli ve özgün teknolojik üretimler noktasında net hedefler belirlemeliyiz." dedi.
---
IAU ATTENDED TO TEKNOFEST AZERBAIJAN
The world's biggest aviation, technology and space fair Teknofest 2022 was held in the capital of Azerbaijan Baku on 26-29 May 2022. The IAU family also took part in this important fair visited by 300 thousand people for four days. Attending İstanbul Aydın University President Assoc. Prof. Mustafa Aydın, Teknofest Azerbaijan attracted intensive attention and took place in an extremely enthusiastic atmosphere.
The winners of the technology competitions organized in 10 different categories within the scope of the festival received their awards from Republic of Turkey President Recep Tayyip Erdoğan and Azerbaijan President Ilham Aliyev. The festival, which was also attended by Nobel laureate Turkish scientist Prof. Aziz Sancar, attracted great attention from Azerbaijanis.
Going to Azerbaijan for festival, following closely the preparations and operation of the IAU stand at the fair Assoc. Prof. Mustafa Aydın said, "As Istanbul Aydın University, we are honored and proud to represent our country in this important fair. We must follow closely the rapid change in the field of technology and set clear targets for original technological productions."