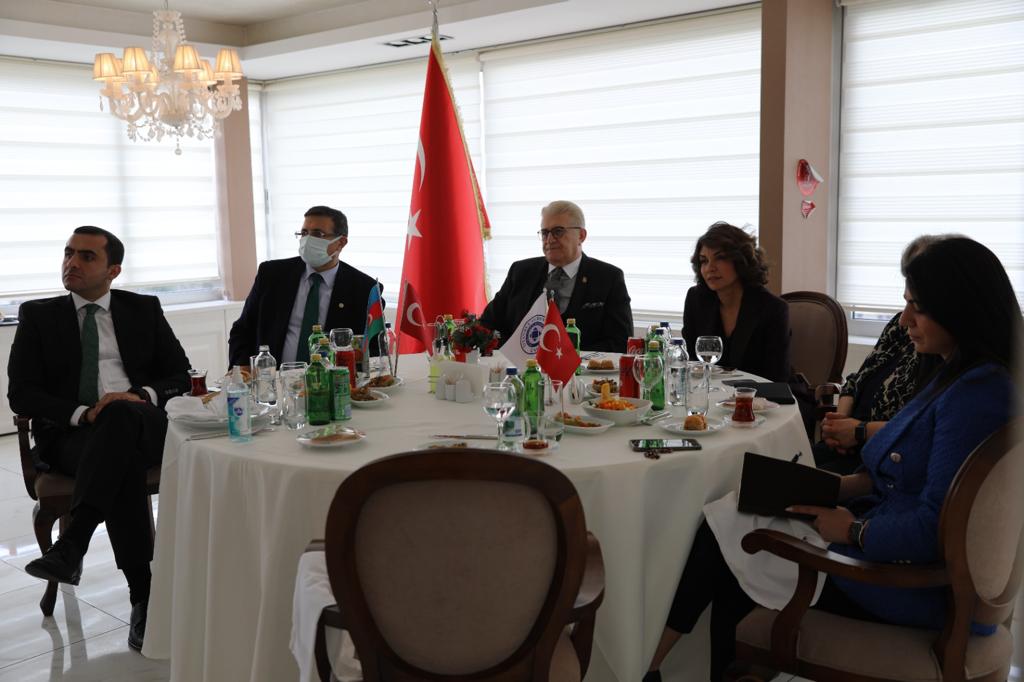 Azerbaycan İstanbul Başkonsolosu Nermina Mustafayeva'nın katılımlarıyla, İstanbul'daki Azerbaycanlı üniversite öğrencileri buluşması gerçekleşti. İAÜ'nün ev sahipliğinde düzenlenen buluşmada, Azerbaycanlı öğrencilerin eğitim süreçleriyle ilgili konular görüşüldü; karşılaşılan sorunlar çerçevesindeki çeşitli talepler ile İstanbul Başkonsolosluğuna yönelik beklentiler paylaşıldı.
Öğrenci buluşmasında konuşma yapan İAÜ Mütevelli Heyet Başkanı Doç Dr. Mustafa Aydın ise gençlerin kariyer planlamalarına ve gelecek hedeflerine ilişkin fikirlerini sunarak, millî ve manevî yolculuğun daha verimli noktalara taşınabilmesi adına çeşitli öneri ve tavsiyelerde bulundu.
---
MEETING DAY WAS ORGANIZED WITH THE PARTICIPATION OF AZERBAIJAN STUDENTS AND AZERBAIJAN CONSUL GENERAL IN ISTANBUL NERMINA MUSTAFAYEVA AT ISTANBUL AYDIN UNIVERSITY
The Azerbaijani university students meeting was held with the participation of Azerbaijan Consul General in İstanbul, Nermina Mustafayeva. They shared issues related to the Azerbaijani students education process hosted by İstanbul Aydın University; various demands within the framework of the problems encountered and their expectations from the consulate discussed at the meeting.
Speaking at the student meeting ;IAU President Assoc. Prof. Mustafa Aydın shared his ideas about career planning and future goals. He made various suggestions and recommendations in order to move the national and spiritual journey to more productive points.