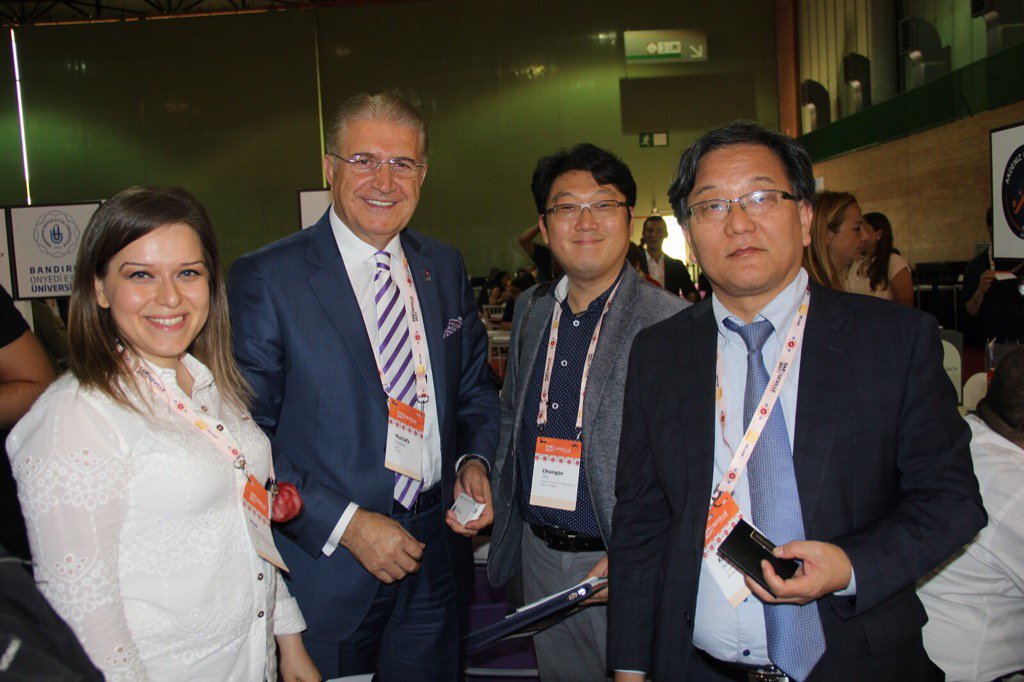 İstanbul Aydın Üniversitesi, darbe girişimindeki demokrasi yanlısı tutumu nedeniyle Türk halkını 2017 Nobel Barış Ödülü'ne aday göstermeye hazırlanıyor.
15 Temmuz'da gerçekleşen darbe girişiminde, demokrasi ve barış adına verilen mücadele nedeniyle 2017 Nobel Barış Ödülü'ne önümüzdeki günlerde Türk halkı aday gösterilecek.
İstanbul Aydın Üniversitesi Mütevelli Heyet Başkanı Dr. Mustafa Aydın, " Türk halkı Nobel Barış Ödülü'nü " hak etti sloganıyla başvuru yapacaklarını belirtti. Bunun için bir komisyon kurulduğunu ve Eylül ayı itibariyle başvuru yapılacağını ifade eden Dr.Aydın, " Türk Halkını ortaya koyduğu bu irade ve fedakarlık, güçlü liderliği arkasından koşması ve meydanları dolduruşu dünyanın hiçbir yerinde görülmüş bir şey değildir. Biz üniversite olarak, Türk halkının Nobel Barış Ödülü'nü hak ettiğini düşünüyoruz. Bu maksatla üniversitemiz bir girişim başlattı. Bu haince saldırının nasıl meydana geldiğini, bunu hazırlayan sebeplerin neler olduğunu; Türk halkının buna nasıl tepki gösterdiğini, belge, bilgi, fotoğraf ve farklı dokümanlarla ortaya koyarak Nobel Seçici Kurumu'na müracaat edeceğiz" dedi.
Türk Halkının Başarısı Her Türlü Takdirin Üzerinde
İstanbul Aydın Üniversitesi Rektörü Prof. Dr. Yadigar İzmirli ise; " Türk halkının darbe girişimi karşısındaki milli duruşu her türlü takdirin üzerinde. Halkımıza bunun için çok şey borçluyuz. Canını ortaya koyan halkımız, darbecilerin girişimini ortadan kaldırmayı başardı" diye konuştu.
Basın toplantısına ayrıca Çevre ve Şehircilik Eski Bakanı Erdoğan Bayraktar Beyoğlu Belediye Başkanı Ahmet Misbah Demircan başta olmak üzere birçok siyasetçi ve lider de katıldı.
---

A Meaningful Attempt by Istanbul Aydın University
Istanbul Aydın University is preparing to nominate Turkish people for 2017 Nobel Peace Prize for their attitude siding with democracy against coup attempt.
Turkish people will be nominated for 2017 Nobel Peace Prize for their fight for democracy and peace on the night of July 15 during coup attempt. Istanbul Aydın University president Dr. Mustafa Aydin said that they will apply for the award with the slogan ' Turkish People Deserves Nobel Peace Prize.' He mentioned that a special commission was established for the application on September and added, " The will and sacrifice delivered by Turkish people and following a powerful leader and filling the squares were never seen anywhere in the world. As a university we think Turkish people deserves the Nobel Peace Prize. With this purpose, we initiated an attempt. We will apply to the Nobel Committee with the documents, information, pictures that show how this attempt was planned and took place and the reasons behind it."
The Success of the Turkish People is Beyond any Appreciation
" Turkish people's national stand against coup attempt is beyond any appreciation. We owe a lot to our people. Our people fought with their lives and successfuly defeated the coup attempt," said
Yadigar Izmirli, Ph.D., Istanbul Aydın University rector.
Former Minister of Environment and Urbanization Erdogan Bayraktar and Beyoglu Mayor Ahmet Misbah Demircan and many politicians and leaders attended the press conference.
28.07.2016