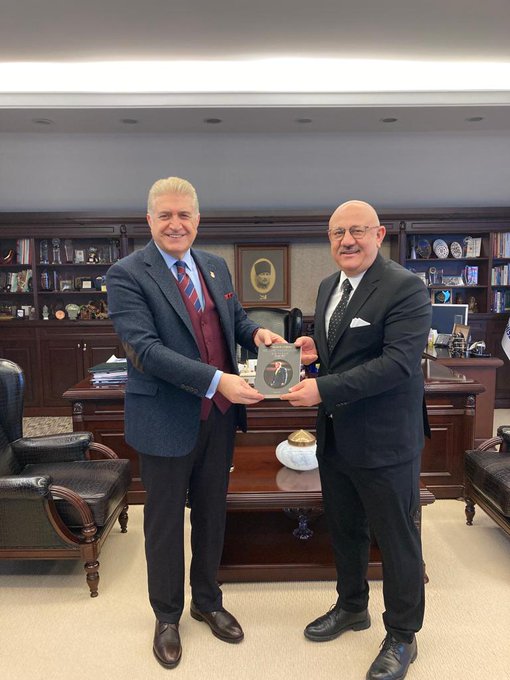 Avrasya Üniversiteler Birliği (EURAS) tarafından 7.si gerçekleştirilen EURIE'ye (EURASIA Higher Education Summit-Avrasya Yükseköğretim Zirvesi) katılım gösteren İstanbul Gençlik ve Spor İl Müdürü Prof. Dr. Burhanettin Hacıcaferoğlu, zirve sonrası İstanbul Aydın Üniversitesini ziyaret ederek İAÜ Mütevelli Heyet Başkanı Doç. Dr. Mustafa Aydın'a tebrik ve teşekkürlerini iletti.
Zirvenin yükseköğretim alanında uluslararası iş birliklerine ve iletişim kalitesine büyük katkılar yaptığını ifade eden Hacıcaferoğlu, yeni döneme ait projelerle ilgili de bilgi aldı. Görüşmede ayrıca gündemdeki ortak projelere dair taslak planlar üzerinde değerlendirme yapıldı.
---
ISTANBUL YOUTH AND SPORTS PROVINCIAL DIRECTOR PROF. DR. BURHANETTİN HACICAFEROĞLU VISITED ISTANBUL AYDIN UNIVERSITY
Istanbul Youth and Sports Provincial Director Prof. Dr. Burhanettin Hacıcafereoğlu who attended EURIE (Eurasia Higher Education Summit) organized by EURAS (Eurasian Universities Union), visited İstanbul Aydın University after the summit and he presented congratulations to the Assoc. Prof. Mustafa Aydın, President of Istanbul Aydın University.
Prof. Dr. Burhanettin Hacıcaferoğlu received informations ongoing projects, stating that EURIE contributes to international cooperations and communication quality. In addition, they evaluated the draft plans for the joint projects on the agenda at the meeting.