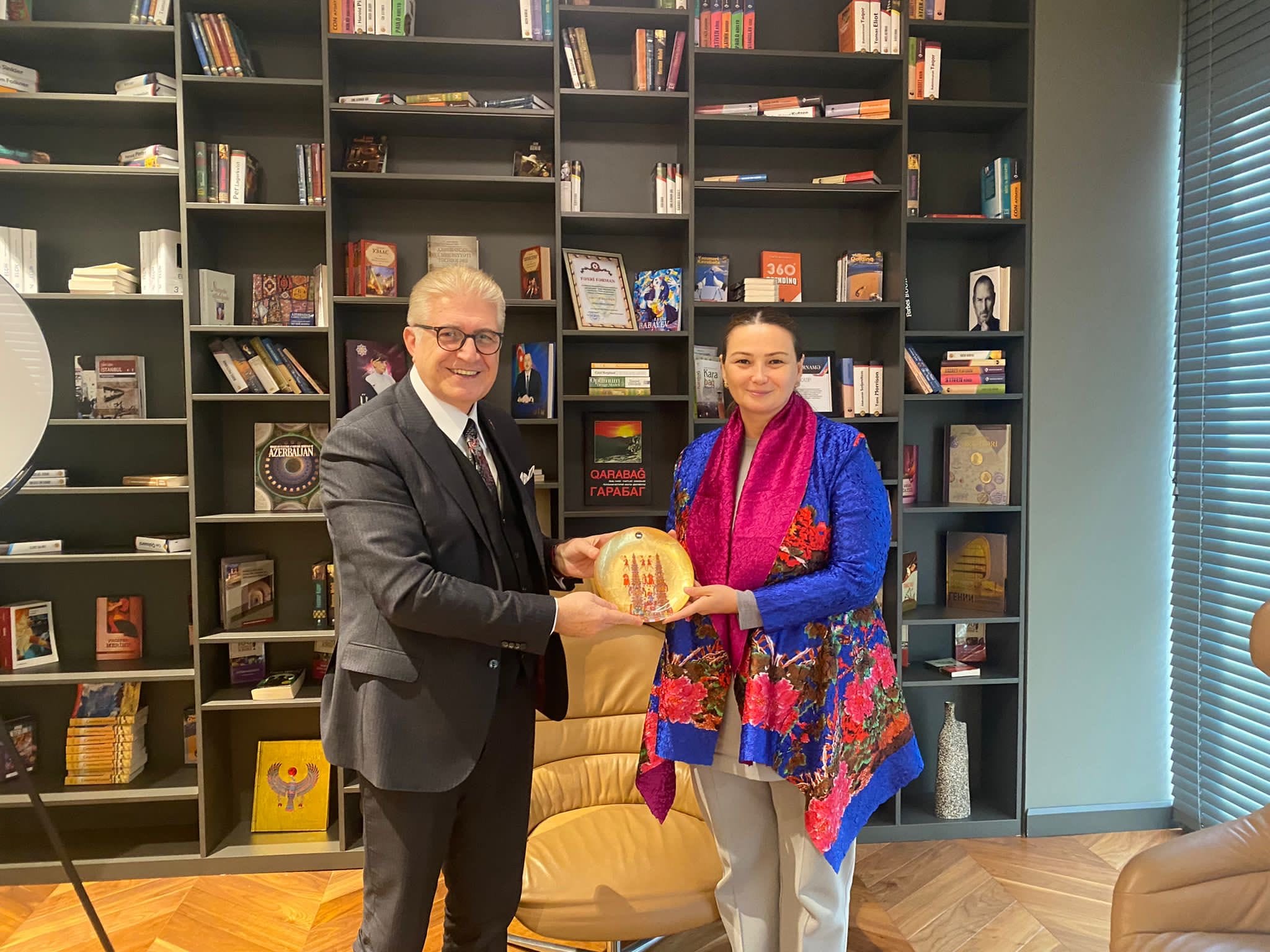 İstanbul Aydın Üniversitesi (İAÜ) Mütevelli Heyet Başkanı Doç. Dr. Mustafa Aydın, Azerbaycan'da Millî Meclis Milletvekili ve Kültür Komitesi Başkanı Ganire Paşhayeva ile bir araya geldi.
Türk dünyasına yönelik çalışmalarının konuşulduğu toplantıda Türk kültürüne ait örf, âdet, gelenek-görenek ve değerleri ortaya çıkarmayı amaçlayan bilimsel üretimlerin aralıksız gerçekleştirildiğini dile getiren Aydın; bu temel bakış açısının çeşitli yayınlar ve etkinliklerle işlendiğini, ilgili içeriklerin bilim dünyası ve kamuoyuyla paylaşılarak nesilden nesile aktarılabilmesi için gayret sarf edildiğini anlattı. Aydın, millî ve manevî değerlere dikkat çekerek medeniyete dair bir farkındalık oluşturma noktasında hassas olduklarını kaydetti.
Aydın, yurt içi ve yurt dışındaki ilgili kuruluşlarla yapılacak iş birlikleriyle; renkli ve zengin bir kültürel mirası olan Türk milletinin tarihinin, dilinin, kültürünün ve medeniyetinin ulusal/uluslararası ölçekte daha iyi araştırılıp tanıtılması için Azerbaycan ile etkin projeleri yürütmeye de hazır olduklarını söyledi. 
---
"WE HAVE TO RAISE AN ESSENTIAL AWARENESS OF CIVILIZATION"
The president of Istanbul Aydın University (IAU) Assoc. Prof. Mustafa Aydın met with Deputy of the National Assembly and Head of the Cultural Committee Ganire Pashayeva in Azerbaijan.
Aydın stated that scientific productions aiming to reveal the customs, traditions and values ​​of Turkish culture are carried out non-stop at the meeting where works for Turkish nation were discussed. He explained that this basic point of view is covered by various publications and activities, and efforts are made to transfer the relevant content from generation to generation by sharing it with the scientific world and the public. Aydın noted that they are sensitive about raising awareness of civilization by drawing attention to national and spiritual values.
Aydın also said that with the cooperation to be made with the relevant institutions in the country and abroad, they are ready to carry out effective projects with Azerbaijan in order to better research and promote the history, language, culture and civilization of the Turkish nation, which has a colorful and rich cultural heritage, on a national/international scale.