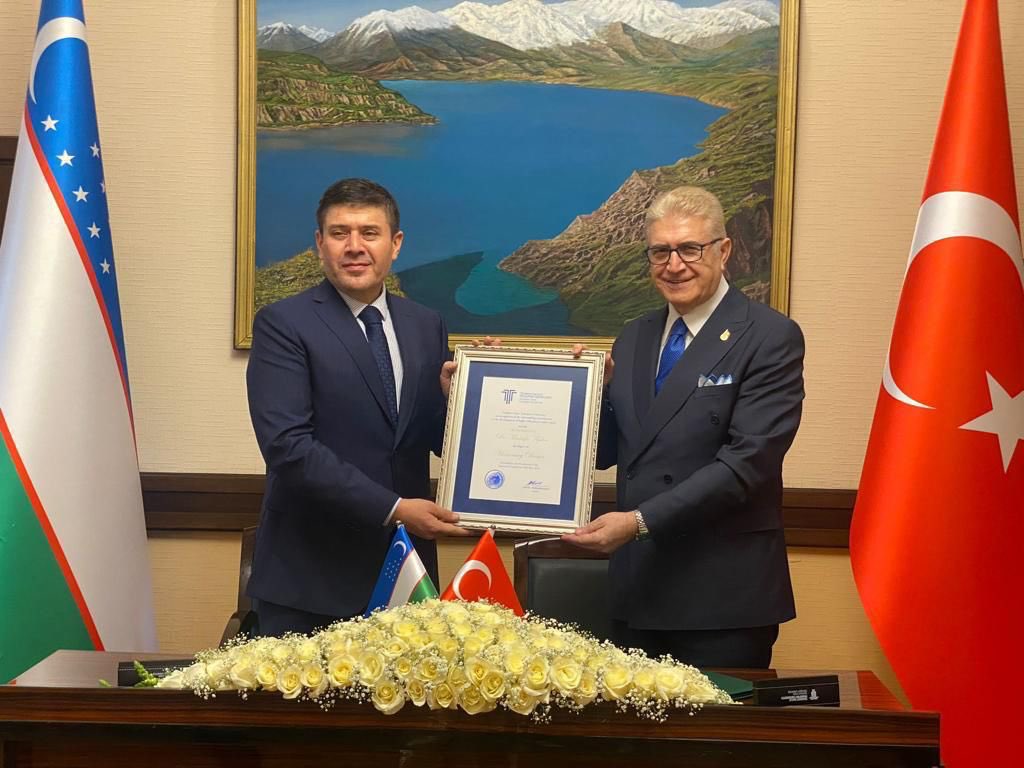 Özbekistan Taşkent Devlet Transport Üniversitesi; 90 yıllık tarihinde ilk kez, İAÜ Mütevelli Heyet Başkanı Doç. Dr. Sn. Mustafa Aydın'ı Avrasya coğrafyasında eğitim ile ilgili sergilemiş olduğu yoğun faaliyetlerinden ve yükseköğretim sürecine olan önemli katkılarından dolayı fahri doktora unvanına layık gördü.
Özbekistan'ın en eski ve prestijli üniversitelerinden olan Taşkent Devlet Ekonomi Üniversitesinin Rektörü ve aynı zamanda Özbekistan Rektörler Birliği Başkanı olan Sn. Odil Qalandarovich Abduraxmanov başkanlığındaki üniversite meclisi tarafından, İAÜ Mütevelli Heyet Başkanı Doç. Dr. Mustafa Aydın'a fahri doktora unvanı verildi. Sadece İAÜ için değil, aynı zamanda Türkiye için de büyük bir onur ve gurur kaynağı olan gelişme; iki ülkede de olumlu yankı buldu. Ayrıca resmî tören sonrasında, iki üniversite arasında iş birliği protokolü de imzalandı.
---
THE TITLE OF HONORARY PhD TO ASSOC. PROF. MUSTAFA AYDIN FROM TASHKENT STATE TRANSPORT UNIVERSITY
Uzbekistan Tashkent State State Transport University in recognition of the intense activities on education in Eurasia and the contributions to the higher education deemed Assoc. Prof. Mustafa Aydın worthy of the degree of Honorary Doctor.
IAU President Assoc. Prof. Mustafa Aydın received the title of honorary PhD by the university council under the presidency of one of the oldest and prestigious universities, Tashkent State University of Economics, Rector who is the president of Rector's Uninon at the same time.