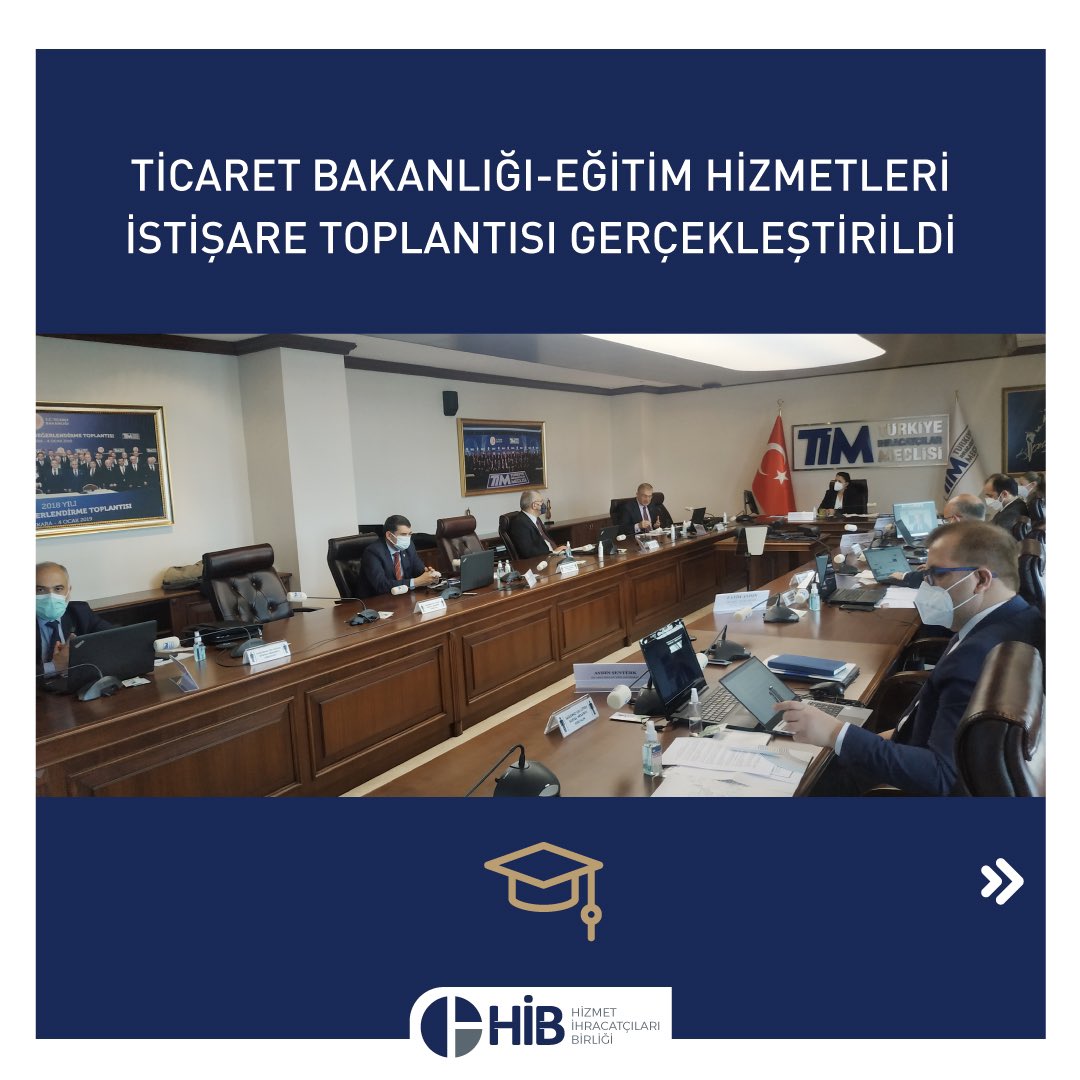 "Ticaret Bakanlığı – Eğitim Hizmetleri İstişare Toplantısı" online olarak gerçekleştirildi. Eğitim hizmetleri sektörüne yönelik olan istişare toplantısına Ticaret Bakan Yardımcısı Gonca Yılmaz Batur ve YÖK Başkan Vekili Prof. Dr. Rahmi Er katıldılar.
Hizmet İhracatçıları Birliği (HİB) Eğitim Hizmetleri Komitesi Başkanı Doç. Dr. Mustafa Aydın ve komite üyelerinin katılımlarıyla gerçekleşen toplantıda Gonca Yılmaz Batur'un yaptığı açılış konuşmasının hemen ardından Türk üniversitelerinin uluslararası öğrenci temininde sağladığı başarıların sürdürülebilir olması amacıyla kamunun ve üniversitelerin uygulaması gereken stratejilere yönelik görüş ve önerilere yer verildi.  Prof. Dr. Rahmi Er' in de konuşmasında yer verdiği gibi Covid-19 sürecinde dünyada uluslararası öğrenci temini konusunda sıkıntı yaşanırken, bu konuda Türkiye'nin dünyaya nispeten daha iyi durumda olduğu vurgulandı.
"Ministry of Commerce – Education Services Consultation Meeting" was held online and Deputy Minister of Trade Gonca Yılmaz Batur and YÖK Deputy President Prof. Dr. Rahmi Er attended to the consultation meeting regarding education services.
Service Exporters Association (HIB) Education Services Committee President Assoc. Dr. Mustafa Aydın and committee members participated in the meeting and after Gonca Yılmaz Batur made the opening speech, opinions and suggestions regarding the strategies that the public and universities should implement in order to ensure the sustainability of the success of Turkish universities in recruiting international students were discussed. Prof. Dr. As Rahmi Er also mentioned in his speech, it was emphasized that while there was a problem in the recruitment of international students in the world during the Covid-19 process, Turkey was in a relatively better position to the world in this regard.