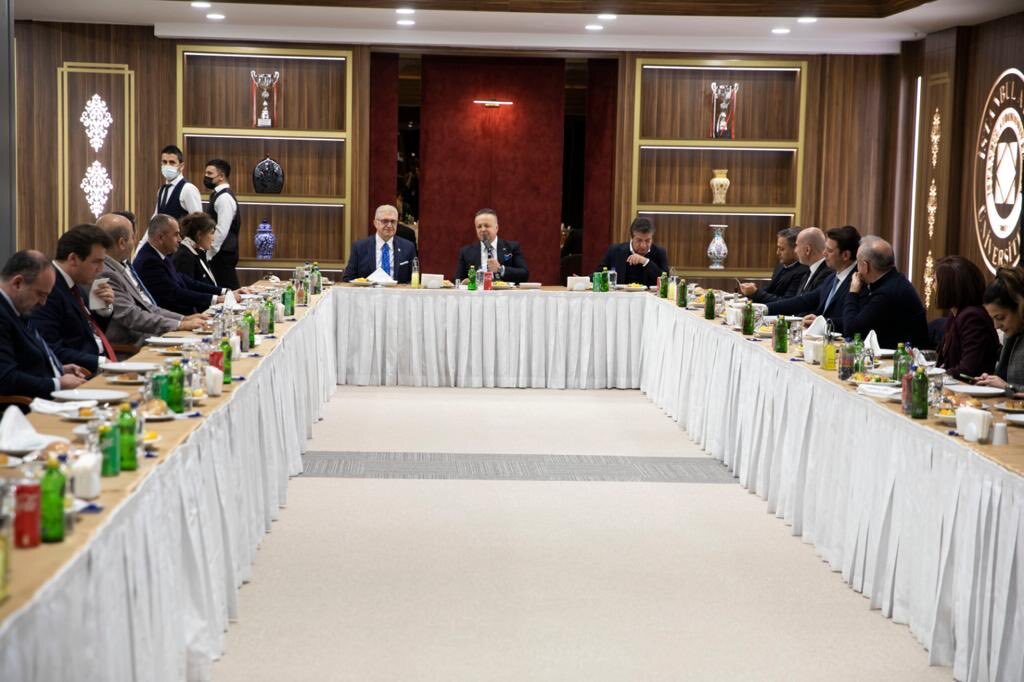 Türkiye İhracatçılar Meclisi (TİM) Marka Konseyi Toplantısı; İstanbul Aydın Üniversitesi (İAÜ) Mütevelli Heyet Başkanı Doç. Dr. Mustafa Aydın ve TİM Başkanı İsmail Gülle'nin katılımlarıyla, İAÜ T Blok Müze Alanında gerçekleştirildi.
Toplantıya, Aydın ve Gülle'nin yanı sıra İAÜ Rektör Yrd. Prof. Dr. Ahmet Kasım Han, İAÜ Lisansüstü Eğitim Enstitüsü Müdürü Prof. Dr. Ragıp Kutay Karaca, İAÜ Öğr. Üyeleri Dr. Özgür Tör ve Dr. Naim Babüroğlu konuşmacı olarak katıldı.
İAÜ'de düzenlenen TİM Marka Konseyi Toplantısında, dünyadaki siyasi ve ekonomik gelişmeler ışığında hizmet ihracatının geleceği konuşuldu. Özellikle COVID-19 pandemisinin ardından hizmet ihracatının genişlemesi için yeni pazarlar bulmanın önemi üzerinde durularak, ihracat için stratejik yaklaşımların kullanılması gerektiğinin altı çizildi. Dünyadaki ekonomik göstergelerin takibinin, ekonomik kalkınma ideallerinin oluşturulması adına belirleyici olduğu da vurgulanarak; diğer pazarlarda bu ideal koşulların araştırılması gerektiği aktarıldı.
Hizmet ihracatçılarının, iş geliştirmek için potansiyel alanlarla sıkı temasının bir ihtiyaç olduğunun ifade edildiği toplantıda; konferanslar ve uluslararası ticaret etkinliklerinin önemine de dikkat çekildi.
---
TIM BRAND COUNCIL MEETING WAS HELD AT IAU
Turkish Export Council (TİM) Brand Council Meeting was held at IAU T Block with the participation of the president of Istanbul Aydın University (IAU) Assoc. Prof. Mustafa Aydın and the president of TİM Ismail Gülle.
Besides Aydın and Gulle, Vice rektor Prof. Dr. Ahmet Kasım Han, Director of IAU Graduate Education Institute Prof. Dr. Ragıp Kutay Karaca, lecturers Dr. Özgür Tor and Dr. Naim Baburoğlu, attended as speakers.
At the TIM Brand Council meeting held at IAU, the future of service exports was discussed in light of the political and economic developments in the world. The importance of finding new markets to expand service exports, especially after the COVID-19 pandemic, was emphasized and the need for strategic approaches to export was underlined. It was also emphasized that the monitoring of economic indicators around the world determines the creation of economic development ideals, and that we investigate these ideal conditions in other markets.
The importance of conferences and international trade activities was also noted at the meeting, where service exporters expressed a need for tight contact with potential areas to develop business.