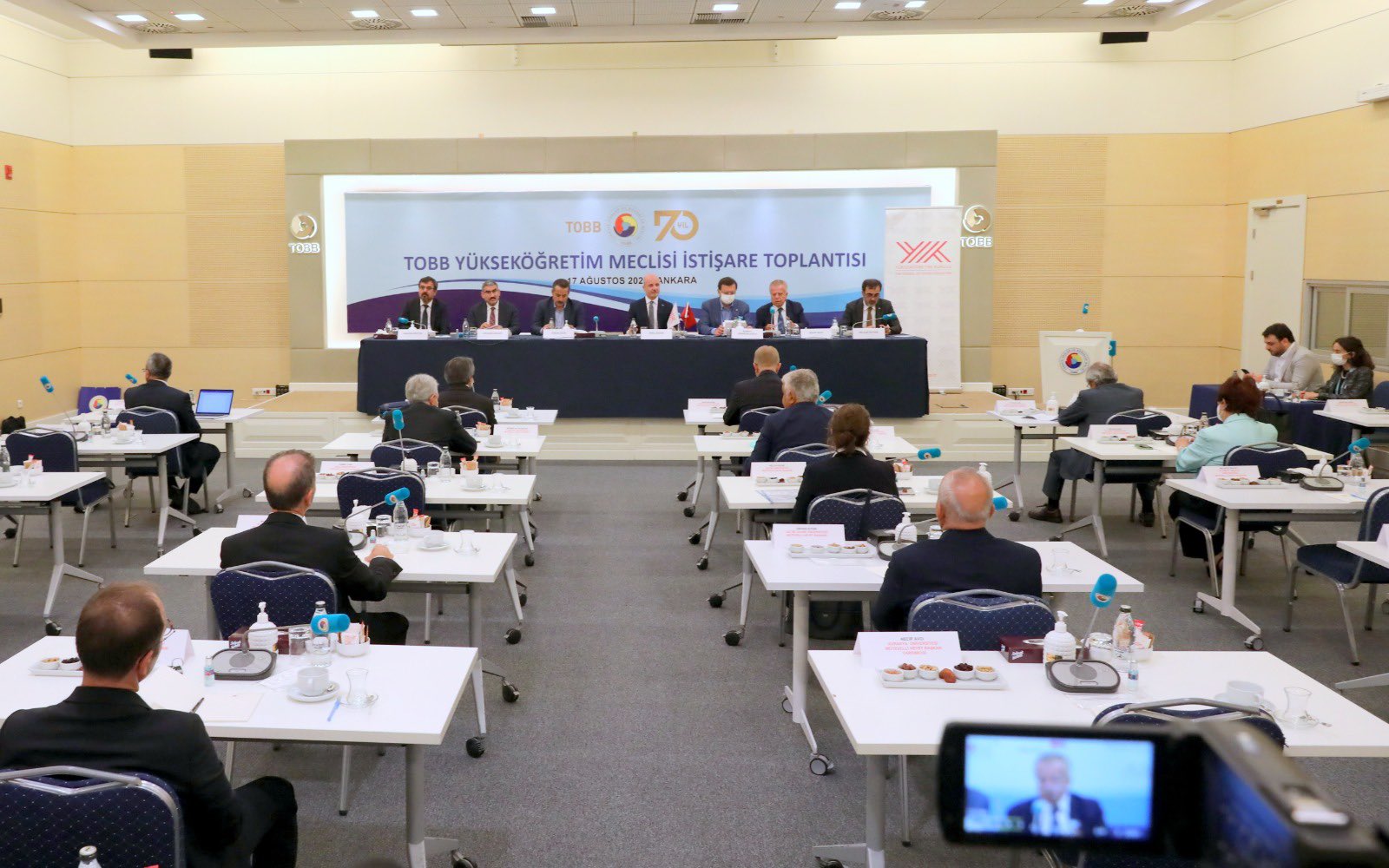 YÖK Başkanı Prof. Dr. Erol Özvar'ın ve Vakıf Yükseköğretim Kurumları temsilcilerinin katılımlarıyla; Türkiye Odalar ve Borsalar Birliği (TOBB) İkiz Kuleler'de, "TOBB Yükseköğretim Meclisi İstişare Toplantısı" gerçekleştirildi. İstanbul Aydın Üniversitesi Mütevelli Heyet Başkanı Doç. Dr. Mustafa Aydın'ın da iştirak ettiği toplantıda; yükseköğretim sistemine ilişkin birçok başlıkta fikir alışverişi yapıldı.
Vakıf yükseköğretim kurumlarının öğrenim ücretleri konusunda öğrencilere destek vermesinin ve barınma ihtiyaçlarının çözümü için gayret sarf etmesinin karara bağlandığı toplantıda; kontenjanların yüksek oranda dolmuş olması nedeniyle yaşanabilecek birçok problem masaya yatırıldı ve kayıt yaptıracak öğrencilerin karşılaşabileceği olası sorunlara ilişkin tedbirler görüşüldü.
---
TOBB HIGHER EDUCATION COUNCIL CONSULTATION MEETING WAS HELD
"TOBB Higher Education Council Consultation Meeting" was held in The Union of Chambers and Commodity Exchanges of Türkiye (TOBB) Twin Tower with the participation of YÖK President Prof. Dr Erol Özvar and foundation higher education institutions. At the meeting that İstanbul Aydın University President Assoc. Prof. Mustafa Aydın participated in, ideas were exchanged on many topics relating to higher education system.
It was decided that foundation higher education institutions should support students about education fees and make efforts to solve their accommodation needs. Many possible problems due to the high rate of filling of the quotas and precautions about the potential issues that students who will enroll may encounter were discussed.