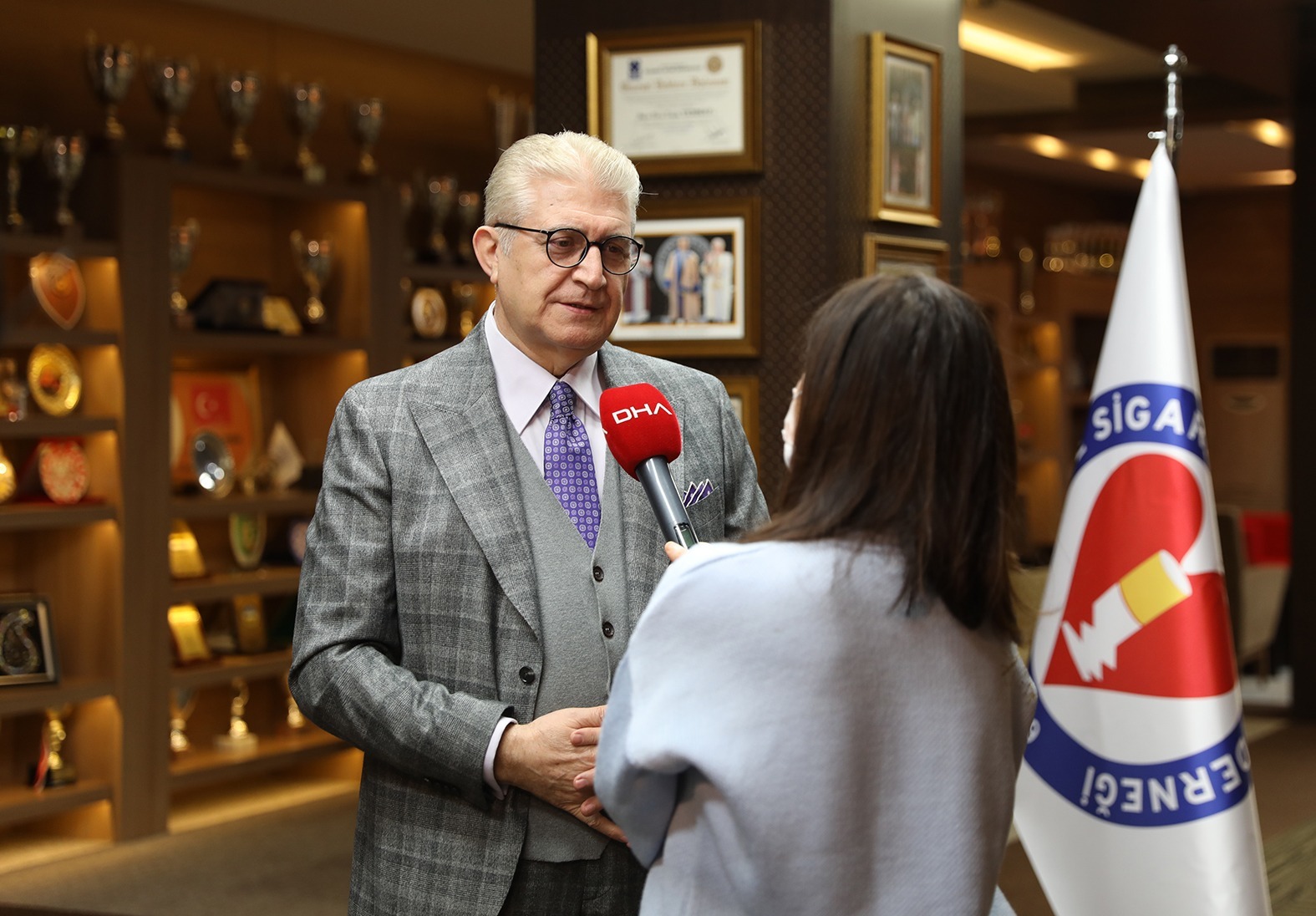 "SİGARA, BULAŞICI BİR HASTALIKTIR"
Türkiye Sigarayla Savaş Derneği (TSSD) Başkanı Doç. Dr. Mustafa Aydın, "9 Şubat Dünya Sigarayı Boykot Günü" dolayısıyla Demirören Haber Ajansı (DHA) ve Anadolu Ajansına (AA) açıklamalarda bulundu.
Doç. Dr. Mustafa Aydın, Türkiye'de 20 bin pasif içici olduğuna dikkat çektiği açıklamasında, "İntihar ederek ölmekle sigara içerek ölmek arasında herhangi bir fark yok. Sigara gelecek nesilleri yok ediyor." dedi. Sigara içen bir babanın çocuğunun kanser olma oranının yüzde 20 olduğunu ifade eden Aydın, "Sigaranın içindeki zehirler, insanı kansere karşı koruyan p50 genini yok ediyor. Bu gen de genetik olarak babadan çocuğa geçiyor. Sigara içen bir babanın p50 geni yok olduğu için, çocuk da bu genden yoksun doğuyor. Çocuk sigara içmediği hâlde, 25 yaşında kanser oluyor." ifadelerini kullandı.
Sigaranın sadece insana değil çevreye de zarar verdiğinin altını çizen TSSD Başkanı Aydın, Türkiye'deki orman ve şehir yangınlarının yaklaşık yüzde 50'sinin de sigaradan kaynaklandığını belirtti. Doç. Dr. Mustafa Aydın, ayrıca sigaranın bulaşıcı bir hastalık olduğunu vurgulayarak "Sigaranın içerisinde 3 bine yakın zehir var. Sigara üreticileri, ekonomik gücü ellerinde tutmak için sigaraya farklı aroma katıyor. 13 ve 20 yaş aralığındaki insanlar, özenti yoluyla sigaraya başlıyor. Gençlerimizi korumalıyız. Sigara, özenti yoluyla yayılan bulaşıcı bir hastalıktır." dedi.
---
TSSD PRESIDENT ASSOC. PROF. MUSTAFA AYDIN GAVE AN INTERVIEW FOR AA AND DHA WITHIN THE SCOPE OF "9 FEBRUARY WORLD SMOKING BOYCOTT DAY"
"SMOKING IS A CONTAGIOUS DISEASE"
The President of the Turkish Anti-Smoking Association (TSSD) Assoc. Prof. Mustafa Aydın made statements to Demirören News Agency (DHA) and Anadolu Agency (AA) for "9 February World Smoking Boycott Day".
In his speech, Assoc. Prof. Mustafa Aydın underlined that there are 20 thousand passive smokers in Turkey "There's no difference between death because of suicide and death because of smoking. Smoking is destroying future generations." he said. Stating that the cancer rate of a smoking father's child is 20%, Aydın said, "Toxins in cigarettes destroy the p50 gene that protects you from cancer. And this gene is genetically inherited from father to child. Since a smoking father's p50 gene is gone, a child is born without it. The child has cancer when she or he is 25, even though she or he doesn't smoke."
Stressing that smoking is not only damaging to people but also the environment, TSSD President Aydın said that about 50% of the forest and city fires in Turkey are caused by cigarettes. Assoc. Prof. Mustafa Aydın also stressed that smoking is a contagious disease and said, "There are about 3 thousand poisons in the cigarette. Cigarette makers add different flavors to cigarettes to keep economic power in their hands. People between the ages of 13 and 20 start smoking because they are wannabe. We must protect our youth. Smoking is a contagious disease spread because of wannabe ones."