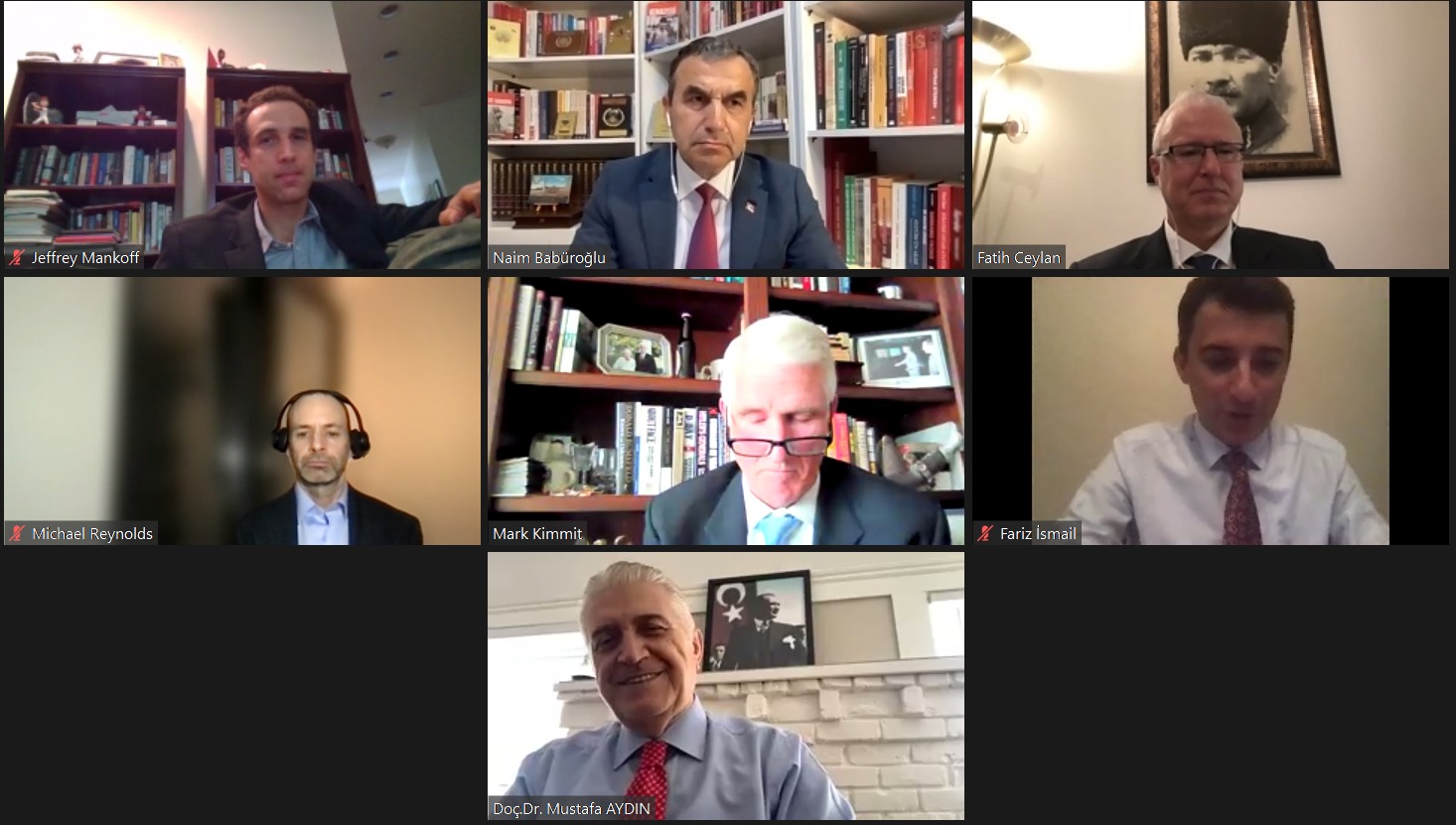 İstanbul Aydın Üniversitesi (İAÜ) Ulusal Güvenlik ve Strateji Uygulama ve Araştırma Merkezi (USAM) tarafından, Türkiye-ABD İlişkilerinin Geleceği ve Rusya Etkisi konulu uluslararası webinar gerçekleştirildi
İAÜ Mütevelli Heyet Başkanı Doç. Dr. Mustafa Aydın'ın açılış konuşması ile başlayan webinarın moderatörlüğünü USAM Müdürü Dr. Öğr. Üyesi Naim Babüroğlu gerçekleştirdi. Analiz ve katkıları ile webinarın konukları, Emekli Büyükelçi Fatih Ceylan, Emekli Büyükelçi John Herbst, Emekli Tuğ. Gen. Mark T. Kimmitt, Doç. Dr. Michael Reynolds, Dr. Fariz İsmailzade, Dr. Jeff Mankoff oldu.
Webinarda; Türkiye-ABD ilişkileri çeşitli boyutlarıyla değerlendirilerek Rusya'nın ikili ilişkideki müdahilliği tartışıldı. Rusya ve ABD'nin çıkar mücadelesi temelindeki ilişkilerinin Türkiye'ye yansımaları değerlendirildi. Suriye Krizi, YPG/PKK terör örgütü, S-400 hava savunma sistemlerine ilişkin meseleler Türkiye-ABD ilişkileri ve NATO müttefikliği üzerinden analiz edilen diğer başlıklar üzerinde duruldu. 14 Haziran 2021'de NATO zirvesinde bir araya gelecek olan liderler seviyesindeki görüşmenin, Transatlantik ilişkiye nasıl etki edebileceğine dair projeksiyon çizildi.
Istanbul Aydın University (IAU) National Security and Strategy Application and Research Center (USAM) held an international webinar on the Future of Turkey-US Relations and The Future of USA-Turkey Relations and Russian Influences.
The president of IAU Assoc. Prof. Mustafa Aydın made the opening speech of the webinar, USAM Director Dr. Instructor Naim Babüroğlu moderated it. Retired Ambassador Fatih Ceylan, Retired Ambassador John Herbst, Retired Brigadier. Mark T. Kimmitt, Assoc. Prof. Michael Reynolds, Dr. Fariz Ismailzade, Dr. Jeff Mankoff attended the meeting and made great contributions with their analysises.
In the webinar; Guests discussed Turkey-US relations from various dimensions and Russia's involvement in bilateral relations. The reflections of the relations between Russia and the USA on the basis of the struggle of interests in Turkey were evaluated. Also, they discussed the Syrian Crisis, the YPG/PKK terrorist organization, the issues related to the S-400 air defense systems, Turkey-US relations and other topics analyzed through NATO alliance. Guests made assumptions about how the meeting which will be held on 14 July, 2021 with leaders affect transatlantic relationship