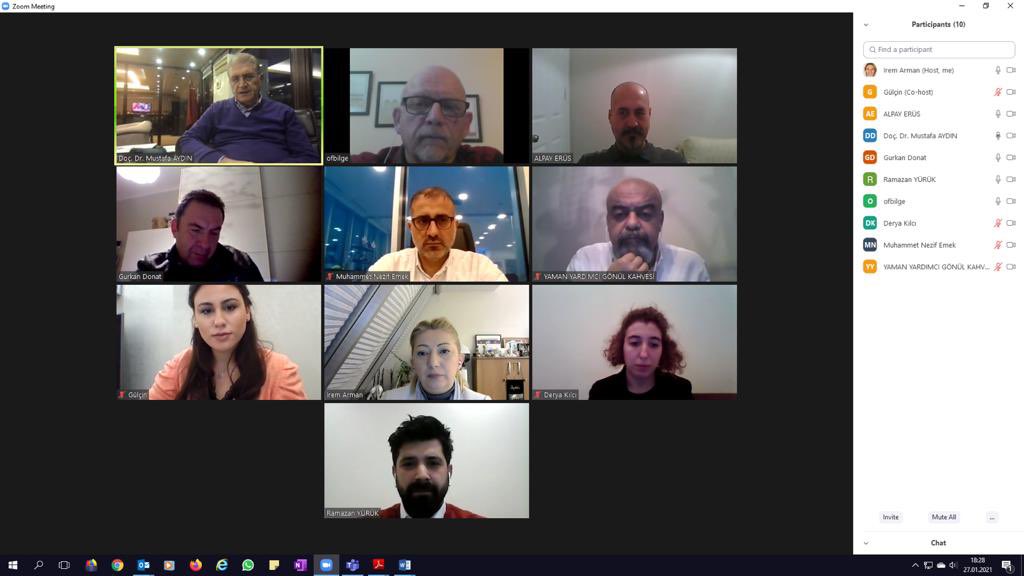 UFRAD Franchising Derneği Yönetim Kurulu Üyeleri 2021 yılının ilk toplantısını online olarak gerçekleştirdi
UFRAD Franchising Derneği Ocak ayı yönetim kurulu toplantısı gerçekleştirildi. Yılın ilk toplantısında, yeni üyeliklerin değerlendirilmesinin yanı sıra fuar görüşmelerinin verimli sonuçlarına istinaden yeni UFRAD üyeleri ve mevcut üyelerin başarılarının daha aktif bir şekilde tüm dijital platformlarda paylaşılmasına karar verildi. Bu kararla girişimci adaylarına örnek olmak hedeflenirken markaların sektördeki yerinin önemi de paylaşılacak.
Franchise sektörünün, markaların ve gündemdeki konuların değerlendirildiği, rutin haline getirilen UFRAD webinar serileri hız kesmeden devam edecek.  Basın bültenleri ve ortak istişare toplantıları ile UFRAD çalışmaları, markaların pandemi sürecini minimum zararla atlatması için çalışmalarına devam edecek. Ocak ayı UFRAD Yönetim Kurulu toplantısı UFRAD yönetim kurulu üyeleri ve UFRAD Genel Başkanı Doç. Dr. Mustafa Aydın'ın görüş ve paylaşımlarıyla sona erdi.  
UFRAD Franchising Association Board Directors Members was held the first meeting of 2021.
The UFRAD Franchising Association's Board Directors Members was held the first meeting of 2021. It was decided to share our new and our existing member's success' more actively in digital platforms based on the efficient results of the fair negotiations as well as the evaluation of new memberships. Thus, both an example for entrepreneur candidates and the importance of our brands in the sector will be shared. The UFRAD webinar series, which routinely evaluated in the franchise industry, brands and current issues, will continue without slowing down. UFRAD studies will continue with press bulletins and joint consultation meetings for our brands to overcome the pandemic process with minimum damage. The January UFRAD Board of Directors meeting ended with the valuable opinions and shares of our valuable President and Board Members.