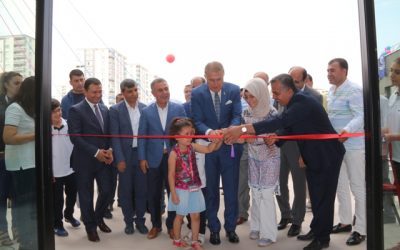 UFRAD Franchise Derneği'nin Yönetim Kurulu Üyesi Sayın Cenk Kınay ev sahipliğinde Steigenberger Istanbul Maslak Hotel'de, UFRAD üyeleri ve diğer birçok markanın katılımıyla Geleneksel 25. UFRAD İftar Yemeği 14 Haziran tarihinde gerçekleştirildi.
Yönetim Kurulu Üyeleri ve destekçi üyelerle iftar programında bir araya gelen UFRAD Genel Başkanı Dr.Mustafa Aydın, " UFRAD Franchising Derneği'nin üye sayısının gün geçtikçe artarak devam ediyor.. Tabi bu artışın yanı sıra üye seçiminde oldukça hassas davranılıyor, farklı sektörlerden gelen adayların adaylığını o sektörde deneyimli kişi ve markalar tarafınca değerlendirilip sonrasında asil, yedek ya da destekçi üyeliğine karar verilmektedir" dedi.
Steigenberger Istanbul Maslak Hotel'de düzenlenen iftarda; UFRAD Franchise Derneği Yönetim Kurulu Üyeleri, asil üyeler ve destekçi üyeler, UFRAD Franchise Derneği'nin misafiri olarak ağırlandı.
İftar yemeğinden sonra misafirlere hitaben bir konuşma yapan Başkan Aydın, Günümüzde teknolojinin oldukça fazla kullanılmasıyla birlikte bu teknolojiyi markaların gelişim sürecinde kullanılacağını da ifade etti. Bununla birlikte UFRAD ailesi olarak bizlerde gelişen teknolojiye ve artan üye sayımıza ayak uydurabilmek adına yeni bir kurumsal web sitesinin hazırlandığını, sitenin dönümüzdeki haftadan itibaren yayına gireceğini de belirtti.
Dr.Aydın, markaların gelişim süreçlerinde mutlaka yurtdışına çıkmaları gerektiğini, rakip firmaların da neler yaptıklarının takip etmesi gerektiğini ve mutlaka ithalat yapmalarının gerekliliğini önemle vurguladı.
"UFRAD ve Hürriyet İK İşbirliği"
2017 yılında İstanbul'da  gerçekleştirilecek olan WFC fuarı, UFRAD işbirliği ile yapılan Bayim Olur Musun? Fuarı ile eş zamanlı olacağını belirten Dr.Aydın, "Hürriyet Gazetesi ve UFRAD işbirliğinin üye markalarımıza ve ülkemizin Franchise sektörüne hissedilir katkılar sağlayacağı kanaatindeyiz. Hürriyet Gazetesi İK ekinde yer alacak olan UFRAD sayfasında markalarımızın başarı hikayeleri Türkiye'nin dört bir yanındaki yatırımcılarımıza arayışlarında yol gösterecek, genç girişimcilere ilham kaynağı olacaktır. Bu çalışma markalarımızın çok değerli başarılarının daha detaylı olarak geniş kitleler ile paylaşılmasına da büyük katkı sağlayacaktır. Tüm markalarımızın katılmasını arzu ettiğimiz bu önemli çalışmada yer almak isteyen üyelerimiz Hürriyet gazetesi yetkilileri veya Derneğimizle iletişime geçebilirler" dedi.
---
UFRAD MEMBERS MEET AT 25TH TRADITIONAL IFTAR DINNER
Participated  by UFRAD members and many other brands, 25th Traditional Iftar Dinner hosted by Cenk Kinay,  board  member of UFRAD, at Steigenberger Istanbul Maslak Hotel on June 14th.
Gathering with the Board members and members of the association, UFRAD president Dr. Mustafa Aydin said, "The number of UFRAD members are increasing day by day. We choose our members rigorously. Candidates applying from different sectors are evaluated by the individuals or brands experienced in that sector and are selected as full, associate and supportive members."
Speaking at the dinner, Dr. Aydin said that with the advancement in technology it can redirected for the use of the brands' development process. As UFRAD family, we are constructing a new website in order to catch up with the advancement in technology and increasing number of memberships at our association and that the new website will be in use next week.
Dr. Aydin emphasized the need for going abroad, following rival companies and export their goods.
"UFRAD and Hurriyet HR Collaboration"
Dr. Aydin announced that WFC exhibition which will take place in Istanbul in 2017 and Bayim Olur Musun? fair will occur concurrently and added, " The collaboration between UFRAD and Hurriyet Newspaper will contribute to our members and to our franchise sector. Success stories of UFRAD brands will inspire investors looking for good investments around the country. It will also help these success stories to be disseminated in details. Members who want to be part of this collaboration can contact us or Hurriyet daily newspaper."
14.06.2016