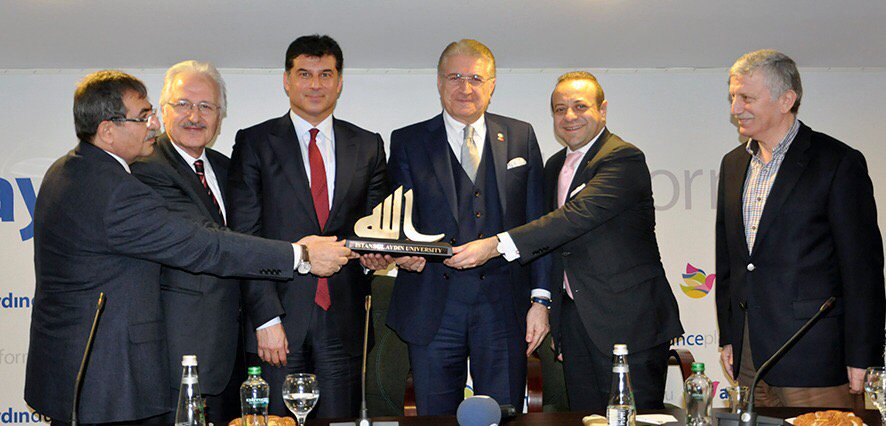 UFRAD Yönetim Kurulu Toplantısı; DEİK ( Dış Ekonomik İlişkiler Kurulu) Ev Sahipliğinde Gerçekleştirildi.
Toplantının gündeminde; 15 Temmuz Cuma günü Türk Silahlı Kuvvetleri içindeki bir grubun, Türkiye'nin demokratik hukuki düzenine ve milli iradeye yönelik kalkışmasına karşı; ülkenin Milli Birlik ve Beraberliğinin korunmasında her türlü desteğin verilmesi gerektiği kararı alındı.

UFRAD Genel Başkanı Dr.Mustafa Aydın; " Ülkemiz son dönemlerde sıkıntılı bir zamandan geçiyor. Bu nedenle ülkedeki haklılığın, terör örgütlerinin ülkede neyi hedeflediklerine dair, markaların bir duyuru yaparak ülkemizi desteklemesi gerekiyor "dedi.
"BAYİM OLUR MUSUN? FUARI 13 – 16 EKİM'DE CNR'DA "
Toplantıda; UFRAD Bayim Olur Musun? Franchising ve Markalı Bayilik Fuarı'nın detayları ele alındı.
Franchising Fuarı 13-16 Ekim 2016 tarihleri arasında CNR Fuar Merkezi'nde yapılacak.
MedyaFors Fuarcılık organizasyonu ve UFRAD işbirliği ile gerçekleştirilecek olan14.Bayim Olur Musun? Franchising ve Markalı Bayilik Fuarı'na her sektörden ulusal ve uluslararası marka katılacak.
"DUBAI FRACHISE FUARI'NDA UFRAD MARKALARI YER ALACAK"
Dr.Aydın; Türk markaları ile Ortadoğu'lu yatırımcıları buluşturacak olan  Dubai Franchise Fuarı'nda UFRAD üye markaları ile yerini alacağını belirtti.
Markaların yurtdışı fuarlarına katılmasını önemle vurgulayan Dr.Aydın; "Yurtdışı fuarlarına heyet ile katılmak için çalışmalara başladık. Bu katılımlar için yapılan masrafların %70 gibi bir oranında destek alınabilmesi için Ekonomi Bakanlığı ile görüşüp bakanlıktan teşvik alabileceğimiz yönünde olumlu sinyaller aldık" dedi.
---

DEIK- Foreign Economic Relations Board hosts UFRAD Board Meeting
During the meeting, it was decided to support the national unity and solidarity no matter what the cost is against July 15th July coup attempt by a group of individuals in Turkish Armed Forces against the lawful order of Turkey and its national will.
President of UFRAD, Dr. Mustafa Aydın said, "Our country went through difficult times lately. For this reason, brands should publish a notice about the righteousness of our country and the targets of the terrorist organizations in our country, in order to support our country."
Be My Dealer Exhibition to be held at CNR, October 13-16, 2016
Board members discussed the details of Be My Dealer Exhibition, a franchising fair, during the meeting.
Franchising Fair will be organized between 13-16 October at CNR Exhibition Center. National and international brands of all sectors will attend the 14th Be My Dealer Franchising and Brand Dealership Exhibition which is organized by MedyaFors Exhibition in collaboration with UFRAD.
UFRAD Brands to participate at Dubai Franchising Exhibition
Dr. Mustafa Aydın mentioned that UFRAD's member brands will attend Dubai Franchise Exhibition which will bring together Middle Eastern investors with Turkish Brands.
Emphasizing the importance of participation of brands at international fairs, Dr. Mustafa Aydın said, "We began working on participating at international fairs with a delegation. We have some good news in our efforts to receive 70% subsidy from the Ministry of Economy to cover the expenses to participate in such exhibitions."
24.08.2016