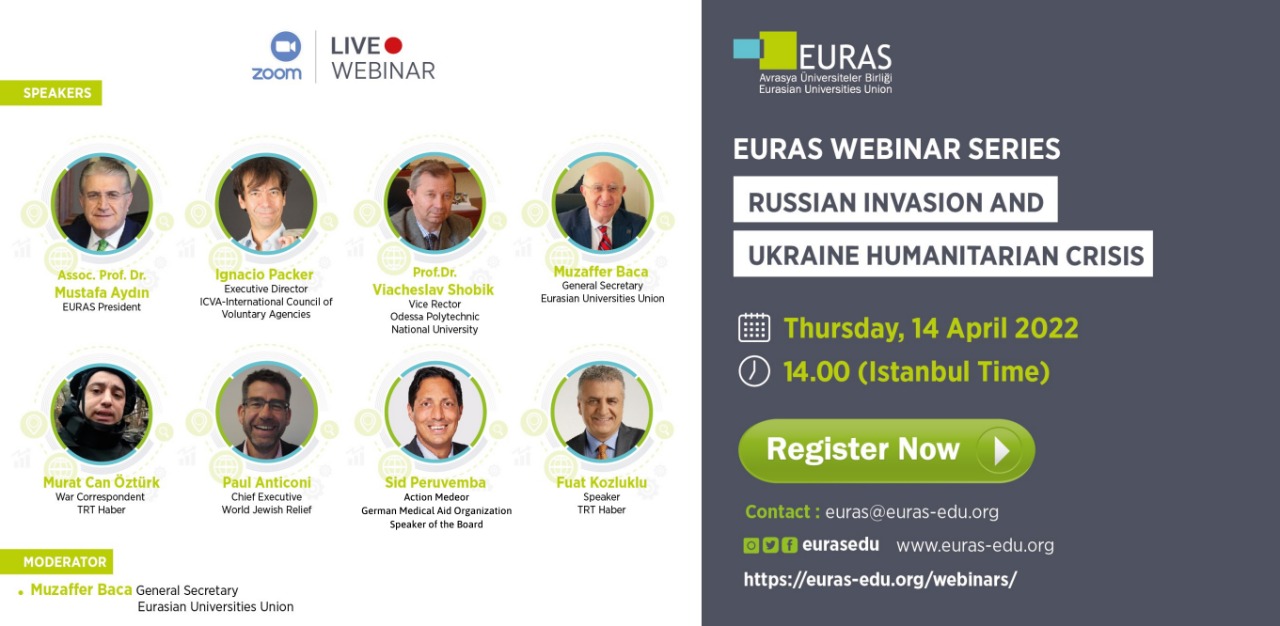 Avrasya Üniversiteler Birliği (EURAS) tarafından düzenlenen "Ukrayna'ya Rus İstilası ve Bölgeye İnsani Etki" konulu webinar, online olarak gerçekleştirildi. Webinara Ukrayna'dan ve dünyanın çeşitli bölgelerinden uzmanlar katıldı. TRT haber muhabirlerinin de Kiev'den bağlandığı webinara katılan konuşmacılar; savaş suçları, yıkım vb. konularda tespitlerini aktardılar.
Mavi Hilal Vakfı Başkan Vekili Muzaffer Baca'nın yönettiği toplantıda, EURAS başkanı Doç. Dr. Mustafa Aydın da konuşma yaptı. Ukrayna'da yaşanan haksız durumun, insanoğlunun önceki sıkıntılarından ders çıkarmadaki başarısızlığının sonucu olduğunu vurgulayan Aydın; "Gerçek barış için standardımız sadece silahlı çatışmanın olmaması değil; aynı zamanda bir hoşgörü kültürünün varlığının tesis edilmesi, halklarımız arasındaki anlayışın geliştirilmesi, bilim ve eğitimin yanı sıra ekonomide de uluslararası iş birliğinin ve kültürel alışverişin teşvik edilmesi olmalıdır." dedi. Ukrayna'da yaşananların bir an önce sona ermesi ve insanlık onurunun ve barış fikrinin dünyaya hâkim olması temennisinde bulunan Doç. Dr. Mustafa Aydın; "Hiçbirimizin bu tabloya kayıtsız kalması düşünülemez." dedi.
---
THE WEBINAR ON "RUSSIAN INVASION OF UKRAINE AND ITS HUMANITARIAN IMPACT ON THE REGION" WAS ORGANIZED BY EURAS
The webinar organized by EURAS on "Russian Invasion of Ukraine and Its Humanitarian Impact on the Region" was held participation of speakers from Ukrain and various parts of the World. Speakers participating in the webinar where TRT news reporters also connect from Kiev; war crimes, destruction, etc. presented their findings on the subject.
The EURAS President Assoc. Prof. Mustafa Aydın gave a speech at the meeting moderated by IBC President (International Blue Crescent Relief and Development Foundation) Muzaffer Baca. Emphazing that the unfair situation in Ukraine is the result of humankind's failure to learn from its pevious troublesand Aydın said "Our standard for true peace is not just the absence of armed conflict; it should also be the establishment of a culture of tolarance, the development of understanding between peoples, the promotion of international cooperation and cultural exchange in the economy as well as in science and education". Adding his wishes for the happenings in Ukraine to end as soon as possible and for human dignity and the peace to dominate the World, Assoc. Prof. Mustafa Aydın said "It is unimaginable for any of us to be indifferent to these circumstances."